E-waste market powers ahead: 7.9% CAGR through 2027
A new survey by Valuates Reports indicates that in 2020, the global e-waste recycling market size was US$14bn (eds. €12.1bn) and is expected to reach US$25bn (eds. €21.6bn) by the end of 2027, with a CAGR of 7.9% during 2021-2027.
The report is titled, "E-Waste Recycling Market By Type – Infocomm Technology (ICT) Equipment, Home Appliances, Other Types, By Application – Refrigerator, TV Set, Air Conditioner, Washing Machine. Global Opportunity Analysis and Industry Forecast, 2021 – 2027″.
Growing e-commerce sales of electronics is expected to drive the growth of the e-waste recycling market. With the majority of countries exporting their e-waste, e-waste importers have started to capitalise on the lucrative market. E-waste contains a variety of valuable metals, including gold, silver, and copper, which can be recovered and processed further.
Based on region, Europe is the largest market, with a share of about 30%, followed by China and North America, having a total share of about 35%. Based on product, Home Appliances is the largest segment, with a share of about 55%.
TRENDS INFLUENCING THE GROWTH OF THE E-WASTE RECYCLING MARKET
Governments all across the world are enforcing strict regulatory laws on the disposal of e-waste that are imposed on manufacturers.
E-waste can come from a variety of products, including televisions, air conditioners, refrigerators, computers, laptops, and gaming gadgets, to mention a few. Many states are seeing the value of not allowing these used items to end up in landfills, hence increasing waste streams. Instead, they're looking for ways to recycle. This, in turn, is expected to drive the growth of the e-waste recycling market.
Silver, gold, palladium, platinum, indium, and gallium are among the special and precious metals found in e-waste. These rare elements are frequently employed in consumer electronics, as well as in IT and communication systems. Because these metals are scarce, the prices of their goods are similarly high. This has boosted the demand for metals-based gadgets to be reused, refurbished, and recycled. As a result, these concerns compel electronic device producers to hunt for raw materials in recycled e-waste. This also helps countries cut greenhouse gas emissions, which helps to mitigate the dangers of global warming.
Consumers are buying more electronic devices than ever before. It is reported, for example, that the average American family owns up to 24 electronic products. Each year, as electronics become more sophisticated, previous models become obsolete. Thus the growing number of electronics devices is expected to drive the growth of the e-waste recycling market.
Despite the numerous benefits of electronics recycling, the market's growth is expected to be hampered by a lack of recycling infrastructure. In addition, a lack of awareness in less developed countries, as well as a scarcity of e-waste collection centres, could represent a danger to this sector.
German report echoes importance of dealing with E-waste
The third edition of The Global E-Waste Monitor 2020 launched in July last year by the Global e-waste Statistics Partnership (GESP), provided comprehensive insights into how to address the global e-waste challenge.
The Global e-waste Monitor is a collaborative effort between the Germany-based Sustainable Cycles (SCYCLE) Programme currently co-hosted by the United Nations University (UNU) and the United Nations Institute for Training and Research (UNITAR), the International Telecommunication Union (ITU), and the International Solid Waste Association (ISWA).
The report calls for decision-makers to adopt an internationally recognised methodological framework to measure and monitor e-waste, also commonly known as Waste Electrical and Electronic Equipment (WEEE). Monitoring the quantities and flows of e-waste is important to assess developments over time, and to set and evaluate targets. The report further stimulates the ongoing efforts to tackle the e-waste challenge and drive resource recovery policies and activities towards a sustainable society and circular economy.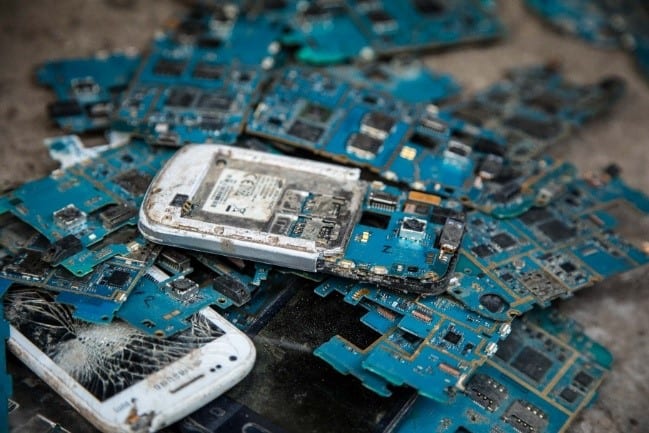 Discarded mobile phones are one of the fastest growing e-waste streams and can contain high levels of valuable materials.
The report reveals a 21% increase in the global generation of e-waste since 2014, fuelled by higher EEE consumption rates (growing 3 per cent annually), shorter lifecycles and limited repair options.
Here are some key takeaways from the new report that emphasise why quantifying e-waste should be a priority for countries around the globe.
Formal collection and recycling activities are not keeping pace with the global growth of e-waste.
In 2019, only 9.3 Mt (17.4%) of e-waste was officially documented as formally collected and recycled.
There is uncertainty over the fate of the other 44.3 Mt (82.6%) of e-waste generated in 2019, which if dumped, traded or recycled under substandard conditions, will have varying environmental impacts around the world.
In 2018, the highest policy-making body of the ITU, the Plenipotentiary Conference, established a target to increase the global e-waste recycling rate to 30% by 2023. The formal collection and recycling rate would have to increase at a much faster pace in order to hit that target.
The amount of e-waste formally collected and recycled per year increased by 1.8 Mt from 2014 to 2019, while e-waste generated increased by 9.2 Mt over the same time. This suggests that current collection and recycling methods are not keeping pace with global e-waste growth.
Increasingly countries are adopting national e-waste policy, legislation or regulation
The number of countries that have adopted a national e-waste policy, legislation or regulation has increased from 61 to 78 between 2014 and 2019. In many regions however, regulatory advances are slow, enforcement is low, and the collection and proper e-waste management is poor.
ITU Member States also set a target to raise the percentage of countries with an e-waste legislation to 50 per cent – or 97 countries – by 2023. ITU provides a programme dedicated to e-waste policy and regulatory development, where Member States can request ITU technical assistance and capacity building support.
It is essential to improve the rate of global e-waste collection and recycling through policy support as continued e-waste growth is expected.
…
Photo – top of page: John Cameron / Unsplash
…
Read also: Belkin commits to being 100% Carbon Neutral by 2025