12.65% CAGR forecast for smart kitchen appliance sales
According to a new report by Technavio, the global smart kitchen appliance market size is expected to increase by USD9.4bn (approx. €8.75bn) between 2020 and 2025, expanding at a CAGR of 12.65%.
The report provides a detailed analysis of the vendor landscape, growth opportunities across business segments, and market growth across regions.
The global smart kitchen appliance market is, says Technavio, quite fragmented. The market is characterised by the presence of several well-established vendors, who are focusing on technology for innovating products to sustain themselves in the competitive market. They are also focusing on building brand and brand equity in the market to differentiate themselves from competing brands.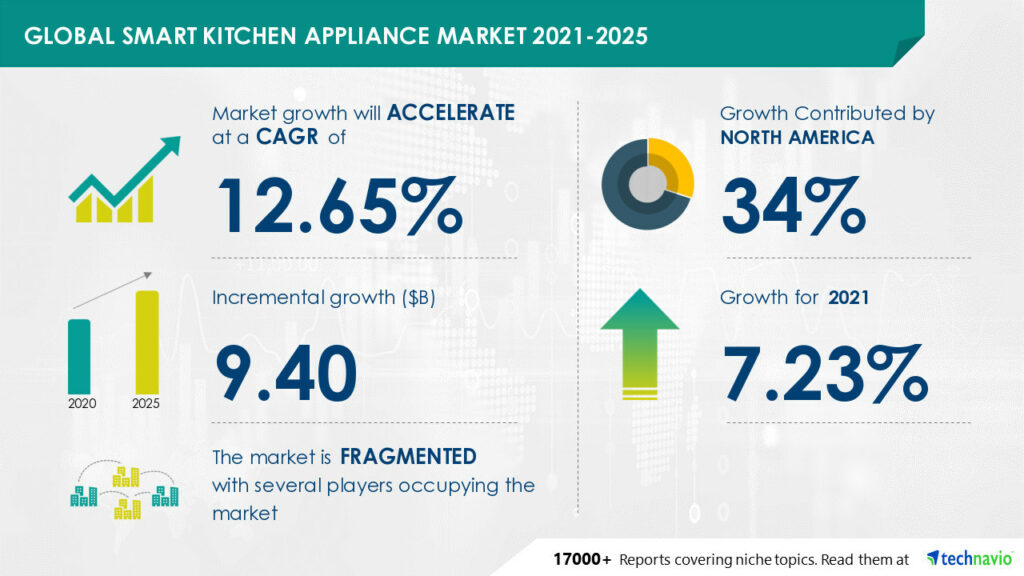 Technavio identifies AB Electrolux, Breville USA Inc., Haier Smart Home Co. Ltd., Koninklijke Philips NV, LG Electronics Inc., Miele & Cie. KG, Robert Bosch GmbH, Samsung Electronics Co. Ltd., Sub-Zero Group Inc., and Whirlpool Corp. are some of the major market participants.
Although the growing demand for premium, innovative appliances, increasing adoption of smart connected home system, and the ease of use and convenience offered by smart kitchen appliances will offer immense growth opportunities, the high cost of installation, lack of product and technology awareness, especially in developing regions, and the impact of COVID-19 pandemic on market will challenge the growth of the market participants. To make the most of the opportunities, market vendors should focus more on the growth prospects in the fast-growing segments, while maintaining their positions in the slow-growing segments.
The market will observe high demand for smart cooking appliances during the forecast period. Factors such as enhanced living standards and growing interest in smart connected home appliances are driving the demand for such products. Also, the growing trend of modular kitchens with large cooking appliances is further driving the demand.
In terms of sales channels, the offline segment will account for maximum growth in terms of sales and revenue generation. The segment is driven by increasing strategic alliances between vendors and household appliance retail chains.
According to the research organisation, about 34% of the market growth will originate from North America during the forecast period. Factors such as the availability of favorable infrastructure, high internet penetration, and the adoption of smart homes are driving the growth of the regional market.
…
Photo – top of page – Sidekix media / Unsplash
…
Read also: GLOBAL MICROWAVE OVEN MARKET: GROWING DEMAND FOR TECHNOLOGY AND SMART KITCHENS – FORECAST TO 2026