Sustainability and climate neutrality top issues highlighted by new SHIFT Mobility study
SHIFT Mobility – powered by IFA – has published the findings of a major study in cooperation with media intelligence firm pressrelations on mega-trends within the mobility industry.
Entitled "The Great Shift: Future of Mobility and New Urbanism", the study identified ten trending topics, including Mobility & Sustainability, Micromobility, Autonomous Driving and New Urbanism. Every single one of these trends will, explains the survey, have a significant impact in both, urban and rural environments, and deeply influence the future of mobility.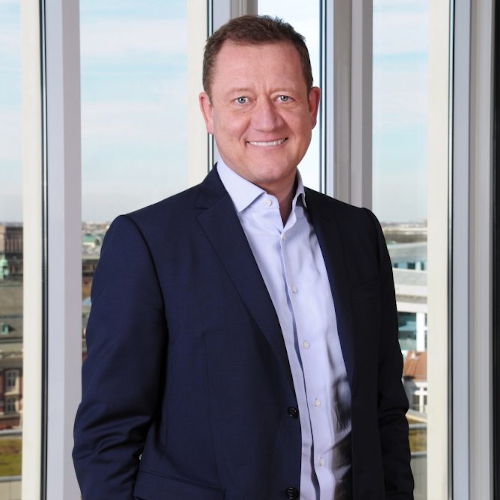 The results are based on an analysis using FirstSignals, a pressrelations tool used by experts worldwide to detect future trending topics.
"Today, many facets of our daily lives are constrained by what are mainly technological limits of mobility. To solve the question of what mobility can do and be for us, we need to understand the complex fabric of its interdependent factors. Only then will we be able to fully comprehend mobility, develop it further and maybe even revolutionise the industry," said Dr Hans H. Hamer, CEO SHIFT Mobility. "From actual discussions within our mobility industry, our new study identified exactly those factors as trending topics and delivers therefore an up-to-date picture of key trends."
The study is a preview of the fascinating subject matters and possible solutions awaiting all of us, and an in-depth look at the challenges, the latest developments and opportunities of the future.
Just in the field of mobility and digitisation, media coverage increased by a phenomenal 800% in the past year alone with the main focus on digital services in the automotive industry. For 40% of the European customers, and 80% of those from China, the improved range of products in that specific field was reason enough to change their automotive brand.
The inadequate charging infrastructure is still the main discussion point when talking about mobility. Huge electric charging stations with quick-charging points represent old conventional gas station-thinking from the time of combustion engines. That slows down an effective build-up of a network of charging points as they turned out to be too expensive, too complex, and take too much time to install. Small charging points – like parking meters – are needed instead to take advantage of the ever-present availability of electricity. That way the downtime of cars, 85% of their time after all, could be used effectively.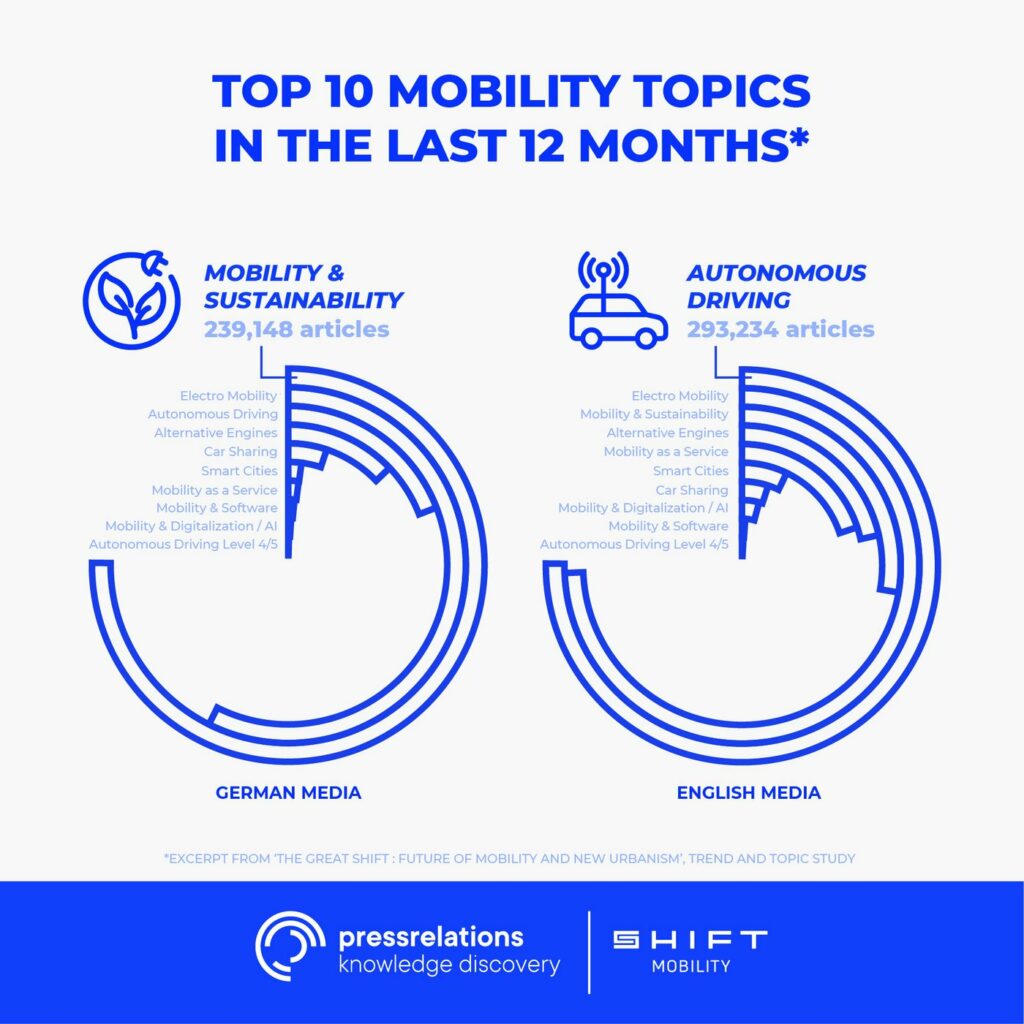 The paradigm of smart cities loses attractiveness, for years the dominant factor in urban research. Urban flight has become a mass phenomenon, and so has become a serious concern for the cities. In its stead, urban concepts are concentrating more and more on quality of life and climate resilience.
Mobility and Sustainability
Sustainability and climate neutrality, in combination with digitalisation, are the most important issues within mobility. With sustainable, climate-neutral mobility as the major goal, today's e-mobility concepts don't provide adequate solutions. Instead, alternatives to lithium are needed as much as an open-mindedness to new technologies such as innovative engine types.
The study also concludes that solid-state batteries and supplements, such as e-fuels, are needed to ensure that lithium does not become the "New Oil" and that electromobility will become viable in terms of sustainability. If the hydrogen power paste developed by the Fraunhofer Institute proves to be practical for a wider adoption, we may be at the start of a fuel revolution.
Micromobility
The data analysis shows that conventional parcel logistics already operate at full capacity and have reached their limit. However, the number of packages delivered to end customers continues to grow with the last mile being the major bottleneck. New mobility concepts – such as autonomous delivery drones and micro-depots – are urgently needed to prevent very bad shipping situations, or "Shipageddon", as the New York Times dubbed it.
Autonomous Driving
Throughout all of 2020, autonomous driving as a topic was largely left ignored. In 2021, however, the topic dominates the mobility media coverage driven by a rapidly advancing technical developments in the field.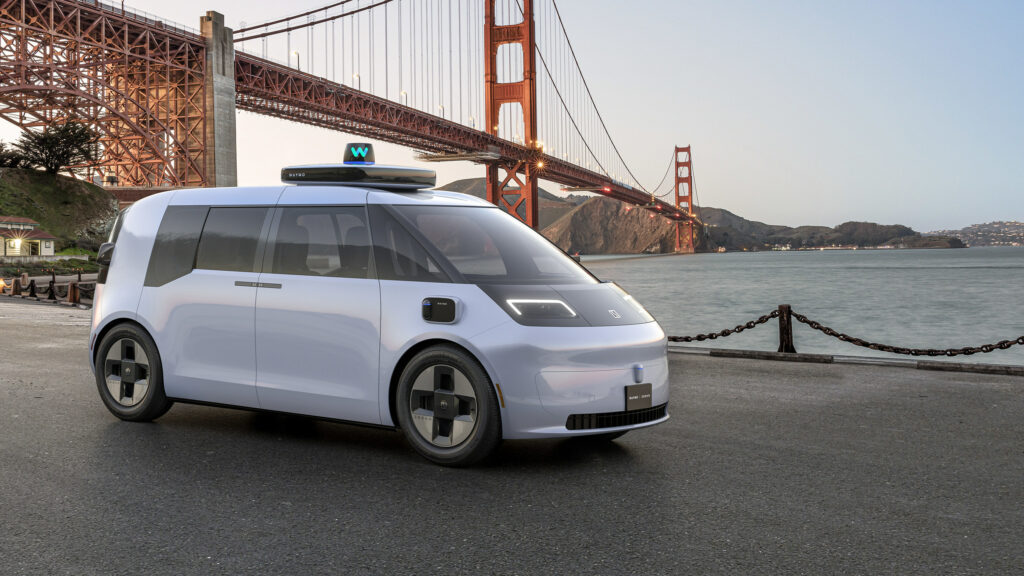 Google's autonomous driving project Waymo is considered a leader in the field of robotaxis since the organisation's vehicles have completed 35 million miles without any accidents. And in terms of data analysis and system testing, Waymo may set an industry-wide standard. Virtually all manufacturers outside Germany have already chosen Google's software as their standard. The study concludes that a new monopoly is forming posing a major threat to German car makers.
New Urbanism
Smart cities are controversially discussed in terms of data protection and surveillance. At the same time, however, many major cities such as Vienna, Paris, Barcelona and Berlin launched highly innovative, sustainable, integrated urban projects combined with intelligent traffic concepts.
All these projects aim to create climate neutral and healthy cities worth living in and make use of a concept called 'New Urbanism'. New Urbanism calls for sustainability, neighbourliness, mixing, densification, short distances and reduced traffic. The study concludes that due to digitalisation and telemigration, the urban–rural divide is slowly dissolving and cites village-style micro-homes in cities and the gentrification of idyllic vacation areas in the countryside as proof. Companies like Airbnb and the aviation industry in particular benefit from this global trend.
"Virtually all aspects of our mobile lives will be massively transformed in just a few years by new concepts and rapid technological developments," says Oliver Heyden, Chief Strategy Officer at pressrelations and co-author of the study. "In this context, it is more important than ever for companies in the mobility industry to develop a resilient strategic agenda right now and to position themselves effectively in the fields of the future. The most successful agenda will be one that successfully integrates digitalisation and sustainability."
In the course of the evaluation, different weightings were observed for topics covered in various linguistic regions. While sustainable mobility dominates the German headlines, autonomous driving is more prevalent in the UK and USA by a wide margin. E-mobility follows in second place in these linguistic regions. In addition, the survey noted that it is noticeable that in English-speaking regions, there is significantly more extensive coverage of technology-related fields of mobility.
…
Read also: SHIFTX 2021 EXPLORES HUGE POTENTIAL OF AUTONOMOUS VEHICLES
Photo – top of page: Academy of Robotics's Autonomous Vehicle "Kar-go" Self Drives Over London's Tower Bridge in February 2022.