ShareGallery: The platform where everything is for sale
ShareGallery is a marketplace platform that lets anything be for sale, anywhere you go, and lets everyone share in the profits.
Co-Founder & CEO Lisa Lopuck talks to IFA News about her company and how businesses such as Airbnb, hotels and restaurants can use ShareGallery to maximise their revenue by turning their spaces into "shoppable showrooms" – converting cost centre items into shoppable samples that their guests can order. The business recoups costs by earning a percentage of each sale while customers have the opportunity to see, touch and experience products in person before buying.
Tell us more about ShareGallery and how it works
ShareGallery is a truly innovative and unique revenue-sharing platform that operates on a distributed model, unlike anything else in the market. Essentially, anyone can turn their space into a retail shopping experience and share in the profits from sales. This means that Airbnb hosts, hotel owners, and restaurant operators can earn passive income by allowing their guests to purchase items they see, feel, sleep on, and use during their stay.
Here's how it works: We onboard products into our platform and provide the business with a unique QR code. When guests scan the code, they're directed to a page where they can purchase a copy of the item they loved during their stay. The vendors then drop ship the purchased item directly to the customer, and we share a percentage of the profit with the business venue.
Overall, ShareGallery's innovative approach to retail represents a significant departure from traditional models, with its distributed network of selling locations and an emphasis on a convenient way for customers to use and experience products before buying them.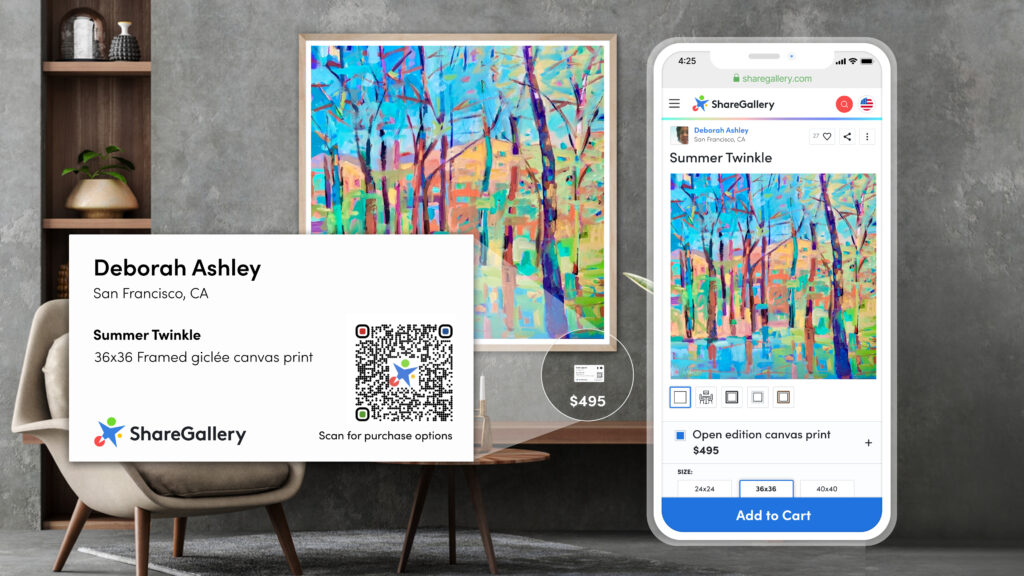 How do you think ShareGallery can help small businesses compete with larger retailers?
ShareGallery represents a game-changing opportunity for small businesses to compete with larger retailers. Specifically, small hospitality businesses such as Airbnbs, boutique hotels, and restaurants can maximise their revenue by making their venue shoppable through the ShareGallery platform.
Traditionally, businesses have to spend money on art, furnishings, electronics, and decor items as a necessary cost of doing business. Through ShareGallery, these cost-centre items are transformed into revenue-generating assets, as guests are able to order them after experiencing them during their stay at the business. This not only creates a new source of revenue for businesses but also offers an added level of convenience and product engagement for customers.
What's more, ShareGallery's innovative model allows businesses to recoup their initial investment on these items after just two to three guest sales, making it a cost-effective solution for small businesses looking to stay competitive in a crowded market. Overall, ShareGallery offers a powerful new way for small businesses to level the playing field and compete with larger retailers on their own terms.
What inspired you to develop ShareGallery?
The inspiration for ShareGallery came from our co-founder's experience as a luxury home builder. He noticed that buyers often fell in love with the beautiful home staging and asked how they could purchase the items on display. Similarly, restaurants sometimes display art for sale, but these arrangements are typically one-off occurrences that rely on personal relationships between the manager and the artists.
Realising that there was no turn-key platform available that offered businesses a way to monetise their space by becoming a "shoppable showroom," we set out to build the first prototype of ShareGallery. Today, we have a completed platform that enables decentralised retail, allowing customers to purchase whatever they see wherever they go.
What are your future plans for ShareGallery and how do you see it evolving?
At ShareGallery, our plans for the future are focused on enhancing the buying experience for both business venues and their customers. We aim to accomplish this by offering wholesale pricing on revenue-generating art, furnishings, and decor, as well as optimising the user experience and creating a self-serve onboarding portal for vendors to manage their products.
Our long-term goal is to build a marketplace platform that empowers both buyers and sellers to operate their own revenue-sharing business across a decentralised network of real-world retail locations.