Samsung updates TV Plus Mobile App enhanced for mobile users
With the latest update of TV Plus, Samsung optimises its free app for phones with a new vertical format and launches exclusive new content
The South Korean electronics giant's mobile app, Samsung TV Plus, offers free access to over 250 channels without requiring users to sign up, pay a fee, or subscribe, and it just got even better. The update, which will initially be rolled out in May and June in the UK, is set to be more user-friendly for phone viewers thanks to its new vertical format and video scrolling.
"We've made fresh and exciting updates to our popular Samsung TV Plus mobile app which will make watching premium TV shows and movies even better for our customers," said Head of Product at Samsung Europe, Gus Grimaldi.
"The number of people using the free app has more than doubled within the last year and our new update gives Galaxy users an opportunity to watch exclusive content in a more mobile-friendly way on-the-go."
Exclusive channels and content
According to Samsung, beyond the new mobile-friendly format, the upgrade will also usher in a host of exclusive content. Available on all Samsung mobile devices in 24 countries, the app already allows access to over 250 live TV channels and 1000s of movies and TV shows on demand in categories like news, entertainment, sports, international, comedy, gaming and music.
With the update, a range of new shows will become available in the UK in May and June including Vevo Pop which will air various hour-long block specials throughout May and music video programming such as "Best of Lewis Capaldi" and "Best of Beyonce", as well as "Eurovision Through the Years".
In addition, Samsung TV Plus viewers will have exclusive access to the 2023 season of America's Got Talent in June as well as the latest season of American Idol, including the finale which will be taking place on 25th May. And, for cooking fans, the app will be offering a special Jamie Oliver channel featuring a number of Jamie Oliver cooking specials.
From TV to phone to web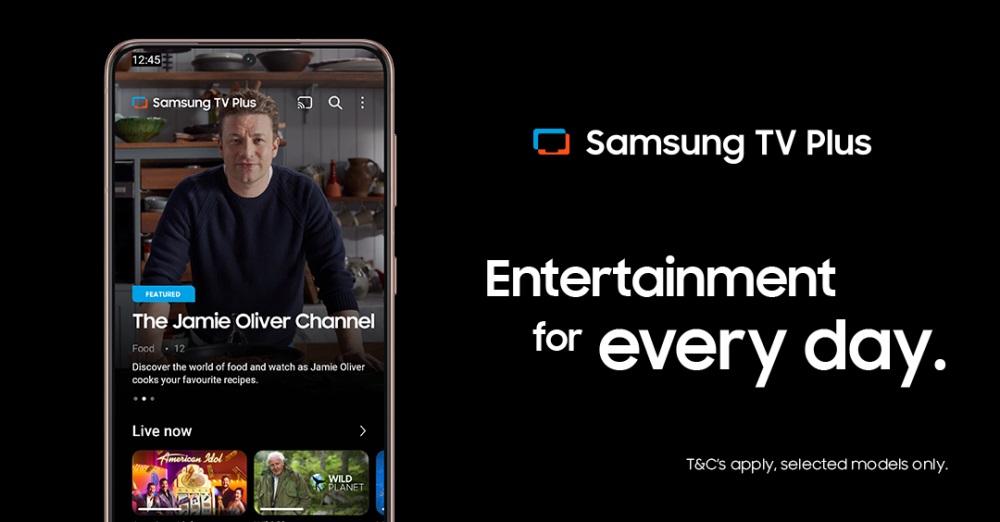 Now available on the firm's smart TVs, mobile devices and the web, TV Plus began as a streaming service for televisions. Samsung, as one of the biggest TV manufacturers in the world, launched the free, ad-supported streaming service with access to live channels for Samsung-made sets in 2015.
TV Plus later expanded to encompass the company's Galaxy mobile devices as an app in 2020 and to become available via the web in 2021. With an active user count of some 17.4 million, the firm claims that TV Plus has become one of the top apps on its Smart TVs.
Offering on-demand live TV channels, TV Plus is not looking to compete with the likes of Apple TV, Amazon Prime Video, or Netflix because the South Korean electronics maker does not produce any original TV shows or movies of its own. And unlike some of its perhaps more well-known competitors, TV Plus is completely free for users.
Samsung does not offer a paid add-free version or additional add-ons for a fee, nor does the firm limit the number of simultaneous connections it allows. Moreover, in order to access the app users do not need to have or create a Samsung account. As soon as Galaxy device users download it, they can immediately view thousands of TV shows and movies free of charge.
The app is available in the Samsung Galaxy Store and on Google Play Store and can be used on Samsung Galaxy mobile devices that run Android 8.0 or higher.
For more home communication news, click here.