MediaMarkt awarded for delivering #1 omnichannel shopping experience
Google's Omnichannel Excellence Study (GOES), undertaken in conjunction with the German Retail Federation (HDE) has placed MediaMarkt at the top of the pack when it comes to offering an attractive customer experience across all sales channels in Germany.
"We are very pleased to have scored so well in this renowned study, this is a great confirmation for our team, which is doing a fantastic job," said Dr Karsten Wildberger, CEO of CECONOMY and MediaMarktSaturn. "The result shows that we have made further progress on our way to becoming an end-to-end customer-oriented company. The future of retail is omnichannel. It is about the seamless linking of all sales channels. The aim is to offer customers a uniform and attractive shopping experience – both online and offline. We are consistently pursuing this path at MediaMarktSaturn. At the same time, the award from Google and the HDE is a motivation for us to improve even further."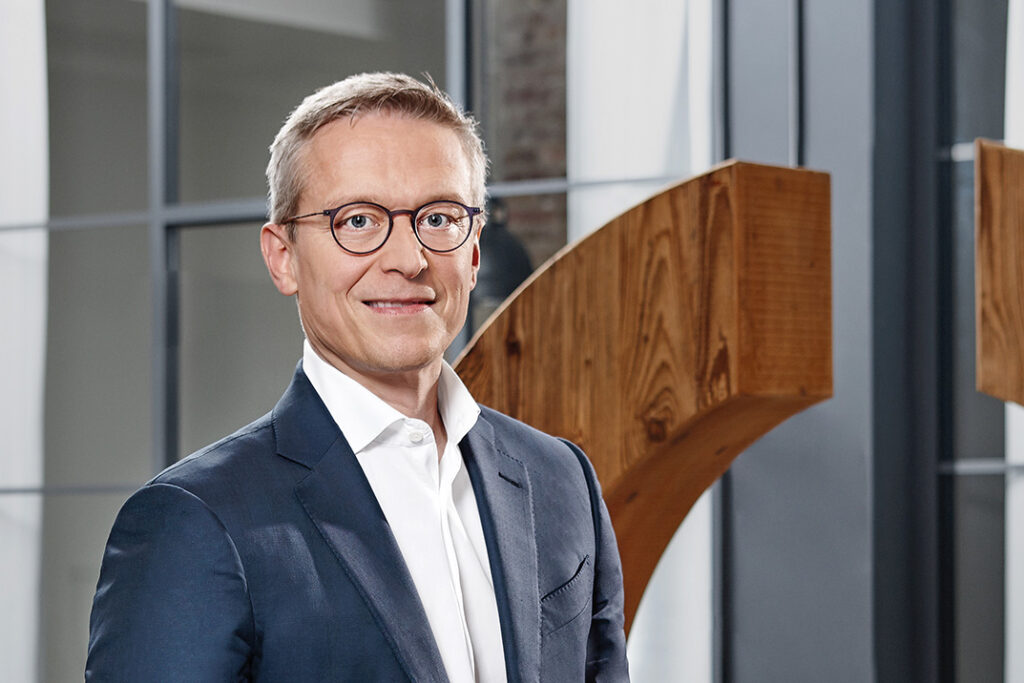 Based on 43 individual criteria, the experts of the Omnichannel Excellence Study evaluated the customer experience of 52 retail companies from all over Germany. The focus was on five basic principles: "Flexible", "Unified", "Informative", "Convenient", and "Personalised". In addition, 2,000 customers from Germany were asked about their expectations when shopping in a representative survey.
MediaMarkt and Saturn (which was placed fourth) report that they scored particularly well on topics such as: flexibility in delivery processing, including express and drive-in options for Click & Collect, a clear store layout with a separate Click & Collect area, and the integration of smartphones as a bridge between online and offline. In addition, the organisers of the study emphasised the role of the web shop as the "most important information hub" for customers.
MediaMarktSaturn plan to continue to consistently implement their omnichannel strategy and started the company-wide roll-out of the so-called "Omnichannel Spine" initiative in the Netherlands in April.
This programme represents the backbone for further improving, centralising, and simplifying the logistics, IT, and ordering processes. The company is thus linking and synchronizing its operations for the shopping basket, ordering, stock, and delivery across all channels.
"Based on Omnichannel Spine and the digitalisation of our stores, we will offer our customers an even more consistent, simple, and attractive shopping and service experience, regardless of where our customers come into contact with us – in the web shop, via our app or in the brick-and-mortar store," explains Andreas Blase, Chief Technology Officer (CTO) at MediaMarktSaturn.
After the launch in the Netherlands, the company will continue to roll out its Omnichannel Spine initiative to all countries.
Innovation in retail
The MediaMarktSaturn Retail Group meanwhile is turning fixed-location shopping into a "fascinating voyage of digital discovery" with the aid of robots, virtual reality, Smart Shelves and in-store navigation.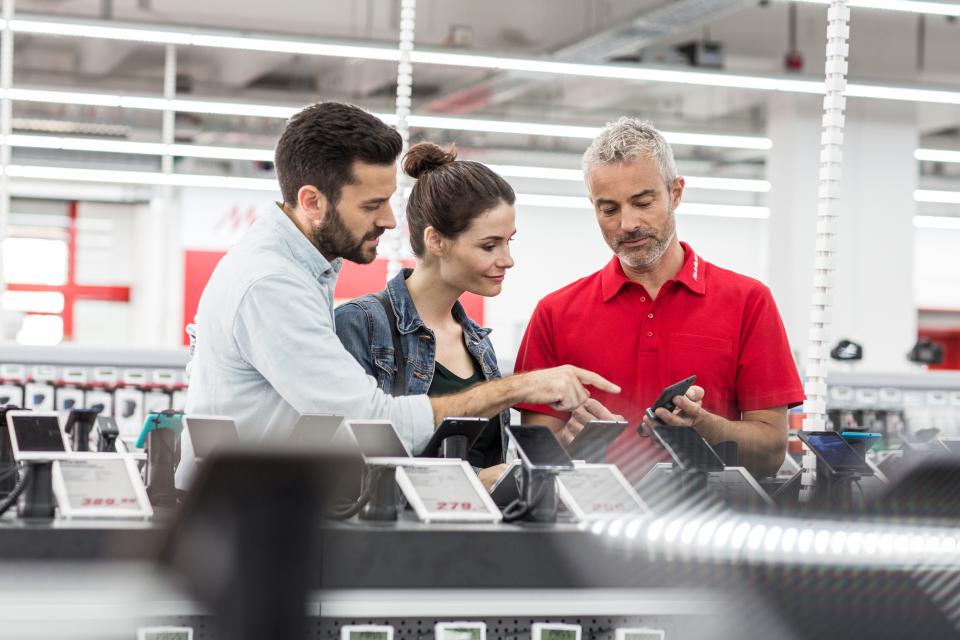 Is fixed-location retail set to become an attraction-driven circus arena? Not quite. But it is very likely to become a "showroom" offering customers personal advice and increasingly also new worlds of discovery. And this is where innovative technologies at the point of sale (PoS) is becoming increasingly important – by way of service for customers and as a direct link between e-commerce and fixed-location retail.
The MediaMarktSaturn Retail Group is already working with several digital concepts such as robotics, virtual reality, Smart Shelves and in-store navigation, which add extra dimensions to the physical sales area and enable customers to experience the PoS in new ways.
Meanwhile, Saturn is currently testing how virtual reality can help customers do their shopping at its stores in Ingolstadt and Alexanderplatz in Berlin. Kitchens can be configured in virtual space and be viewed at both locations. Kitchen planning is one of several areas of application the electronics retailer is evaluating the use of VR technology in.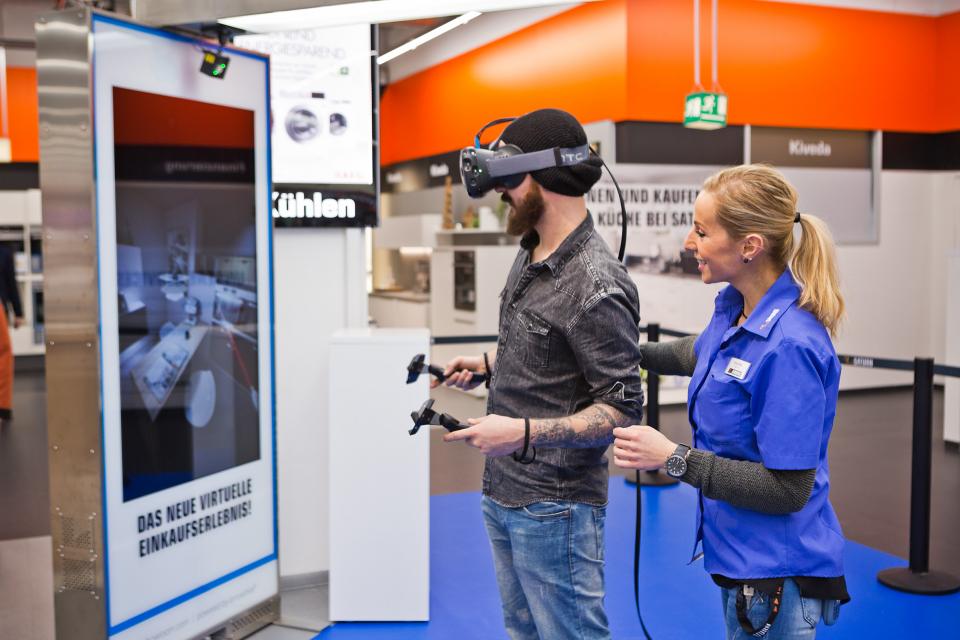 "Anyone who wants to develop the retail trade of the future must deal with the technologies and devices of the future already today," said Martin Wild, Chief Digital Officer of Media-Saturn-Holding GmbH. "At the same time, we feel it is important to include our customers in our pilot projects at an early stage. We can thus arrange for the initial practical experiences to feed into further development as effectively as possible," he adds.
Customers will find planning of new kitchens at the store both easy and convenient. They simply put on a virtual reality headset and move freely with it inside a virtual space. Here they have the opportunity to select different kitchen models and modify them to suit their needs by changing the front colour or by replacing the appliances, for example. Thanks to a VR showroom, other interested customers can follow what is happening on two large-format displays.
Virtual kitchen planning was developed in cooperation with the Munich-based technology company Innoactive that manufactures the VR showroom terminals and Kiveda, a company that specialises in kitchens. The electrical appliances are products from AEG Electrolux Hausgeräte and Bosch Hausgeräte. Other partners will follow shortly.
The headset is a developer version of the HTC Vive. The final version for use by customers will be available in a few months. With Vive, one can move freely within a defined area and transmit the movement in the real world completely into the virtual world. Hereby, and through the photorealistic illustration of kitchens, the boundaries between reality and virtual reality blur for customers.
Virtual kitchen planning is one of several virtual reality offers, with which Saturn intends to extend and intensify the shopping experience for its customers. At the same time, this makes Saturn the first point of contact where you can try out technology before it is actually launched. For instance, VR headsets can already be used with computer games at some stores. At Saturn Connect in Cologne, for example, customers can demonstrate their soccer skills by virtually kicking goals.
Martin Wild explains: "We view virtual reality technology to be enriching at many different levels, not only for computer games or movies. We will therefore continue to test new and innovative applications to offer our customers an exciting shopping experience and allow them to explore the virtual world in all its facets."
…
Read also: MEDIAMARKTSATURN ROLLS OUT NEW STORE FORMATS