Microsoft releases its first AI-powered smart camera
The Surface Hub 2 Smart Camera is Microsoft's "first AI [artificial intelligence] powered camera".
The Surface Hub 2 smart camera has seen a commercial release. Described as Microsoft's "first AI [artificial intelligence]-powered camera". Standout features include a 136-degree field of view, which can automatically frame participants in settings like a meeting room.
The camera supports AI facial recognition software, which is used to automatically adjust view and focus. Microsoft has notably declared in an announcement that they would not store facial recognition data.
Another key feature is a 12-megapixel sensor, which uses a special algorithm to create a natural setting, optimising the best lighting and removing warping, distortions or depth-of-field issues.
The Surface Hub 2 Smart Camera is compatible with Microsoft's video conferencing device, the Surface Hub 2S. The devices will reportedly be compiled in a package, along with 85-inch screens, due for release in May 2022.
There are certain system requirements to use the smart camera. Companies must be using the Windows 10 Team 2020 Update 2 operating system, along with the Surface Hub 2. Organisations are also required to have a system hardware update from January 21, 2022, or after. It has been speculated that these hardware requirements mean that the camera can only be compatible with Microsoft Surface Hub 2S products. However, the 50-inch and 85-inch Surface Hub 2S products feature a "modular compute cartridge" that can be changed, as reported by Redmond Magazine.
Users can test the smart camera's automatic framing by using Intune's Surface Hub configuration service provider, as Microsoft has outlined.
Hybrid meetings help drive smart camera usage
Frank Buhholz, Director of Product Marketing at Microsoft, explained the specific drivers for Surface Hub 2 Smart Camera. "With hybrid meetings fast becoming the new normal, it's exciting to see how the latest camera technology is helping dissolve boundaries and inclusively engage everyone's voices, faces, and ideas", he said in a public statement. "Announced today, the Surface Hub 2 Smart Camera1 promises to bring remote participants into the room like never before".
"No matter where you're located, you'll be able to see your colleagues interacting with content on the screen along with everyone else in the room – seamlessly and at the same time".
AI is used to optimise the smart camera for hybrid office environments. It does not matter if someone leaves the meeting, or people join, or if a member interacts with on-screen content, everything is captured by the camera.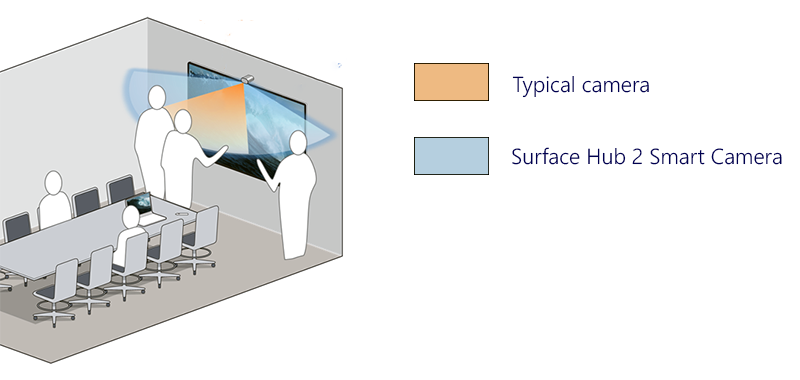 Microsoft focus on the future of work
The Microsoft Surface Hub 2 was first revealed back in 2019. The product was previewed in one of the company's signature "future vision videos", where office workers are depicted working collaboratively on mounted screens. "It's really designed for meeting rooms of the future, where people are expected to collaborate using the screen, rather than just sit and watch a presentation", reported The Verge.
"The unique thing about the Hub, in comparison with the rest of the Surface line, is that it's not a personal computer", said Ralf Groene, Hardware Design Chief at Microsoft in an interview with The Verge. "It's really a computer that belongs to space".
The device has a range of specialist hardware, including an Intel 8th Gen Core i5 processor, 8GB of RAM, a 128GB M.2 SSD, and Intel's UHD Graphics 620 integrated GPU. There is a single standard USB-A port, a USB-C port, Gigabit Ethernet, HDMI video in, and Mini DisplayPort out. That means users can plug devices in and use the Hub 2 as a monitor.