High-speed hairdryer unveiled by Laifen
The Laifen Swift hairdryer features a typical vortex-style jet architecture with a brushless motor that spins at 110,000 RPM at airspeeds of 22m/s – more than six times the air pressure of traditional hairdryers.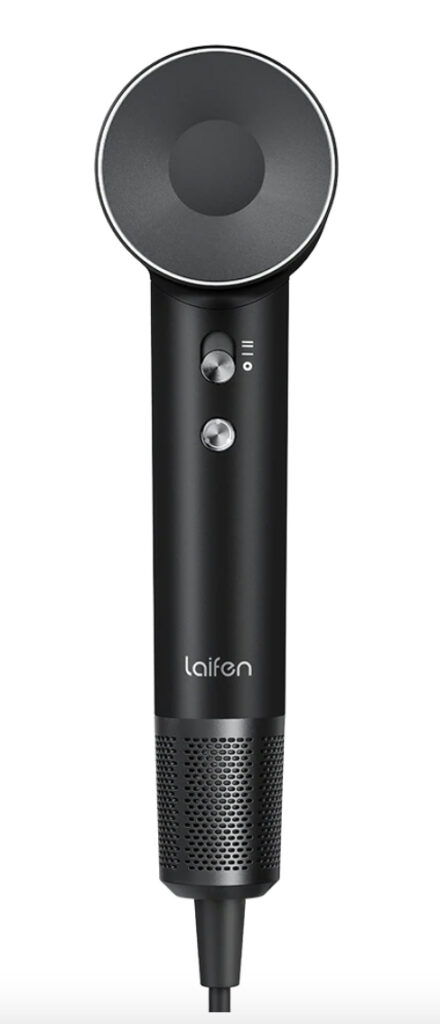 It weighs 407g, has a magnetic two-stage filter, 59dB operational noise, negative ion protection, and LED temperature indications. To prevent severe heat, each heat setting is also thermo-controlled and checked 100 times every second.
The engine has a 1,000-hour life cycle and should last about 15 years, Laifen explains. This, according to the company, is four times the normal lifespan of a brush motor, which is around 250 hours.
The hairdryer includes clever heat controls, meaning the thermal sensor changes the temperature of the air it blows out 30 times per second to prevent overheating and damage to hair
Depending on the mode, an LED ring surrounds the outside of the hairdryer. Blue light indicates cool air, the orange light indicates warm air, and a red light indicates maximum heat, which is ideal for quick drying and styling.
The air filter is located on the handle of the hairdryer and is magnetically attached, making it extremely easy to remove fluff and dust. Because of its positioning and tiny air filter pores, this also prevents hair from being sucked into the hairdryer.
The handle has two buttons: one for turning it on and toggling between the two-speed settings, and the other for switching between cool, warm, and hot modes. A nozzle that magnetically mounts to the front of the hairdryer is included for more focused airflow.
Key selling points
A 1,000-hour life cycle
Weighs just 407g
Air filter located on the handle of the hairdryer
…
Read also: SHARK LAUNCHES "REVOLUTIONARY" HAIR STYLING SYSTEM WITH INTELLIGENT TECHNOLOGY