How Evolve2 and Elite 4 headsets by Jabra are built for hybrid working
Jabra recently revealed its Evolve2 range of headsets and Elite 4 set of earbuds, with a range of features that are ideal for remote workers
The audio specialist unveiled the Evolve2 65 Flex, Evolve2 55 and Evolve2 50 headsets, all with varying features at different price points.
Jabra says the Evolve2 range is built for professionals, with aspects that help users focus on work and take phone calls and meetings in different environments. According to the company, 80% of meetings that took place around the world in 2022 were either virtual or hybrid, and its new range of headsets intends to meet the demand from consumers for audio devices that can help them focus and work regardless of location.
Jabra Evolve2 headsets: optimised for personal and professional use
With a flexible fold-and-go design, the Jabra Evolve2 65 Flex is described as Jabra's "most portable professional headset." The product has a hinged headband which can be collapsed, and comes with a pouch to house the headphones on-the-go.
If a user takes a call in a noisy location, Jabra ClearVoice microphones and digital algorithm helps them be heard, while Hybrid Active Noise Cancellation and memory foam earcups are used to keep intrusive sound out. Furthermore, the item is apparently "certified" to work with virtual meeting applications such as Zoom, Google Meet and Microsoft Teams.
Jabra's Evolve2 65 Flex headset is optimised for personal use too, with Jabra Air Comfort technology and flexible earcups making the product comfortable for users to wear for extended periods of time. The headset can offer up to 32 hours of music playback and up to 20 hours of calling time.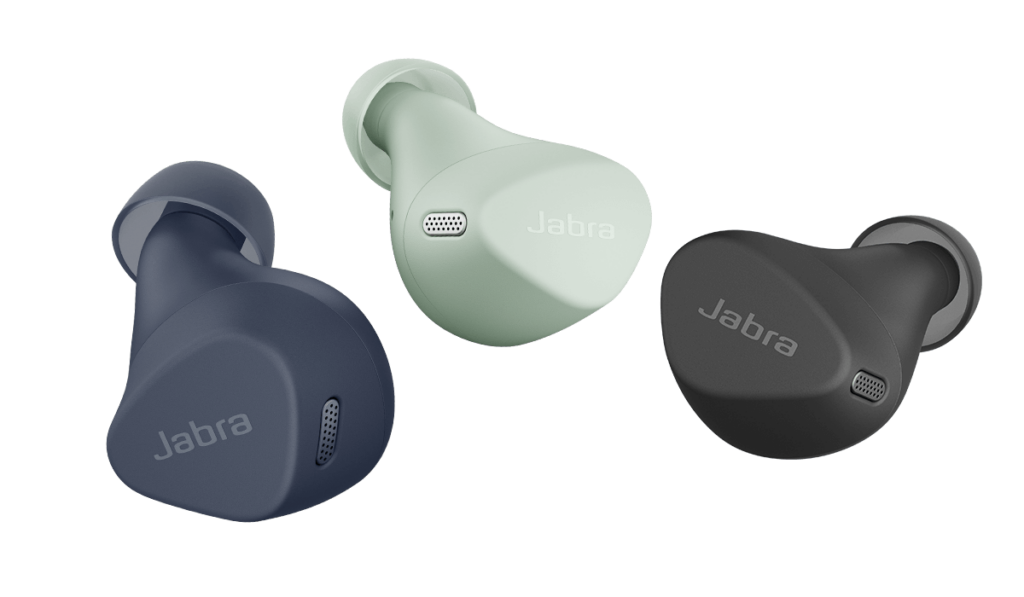 Jabra is also offering headsets for professionals via the Jabra Evolve2 55 and its corded equivalent the Evolve2 50. The headsets feature Active Noise Cancellation with an acoustic chamber design, as well as a chipset that can help separate speech and two noise-cancelling microphones. 
"The current generation of hybrid workers are in search for comfortable, flexible, and easy to use devices for both work and music. Meanwhile, headsets are evolving from mere accessories to a business necessity for productive work," said Holger Reisinger, SVP for Enterprise Solutions at Jabra.
"This was why we sought to create high-quality mid-range headsets so we can meet the needs of both the business and end-user. Particularly with the foldable version, everyone will have the ability to look, sound and be professional, working from anywhere."
Like the Evolve2 range of headsets, Elite 4 earbuds come with Active Noise Cancellation | Credit: Jabra
Jabra Elite 4 earbuds offer connectivity and sound cancelling professionals
Elite 4 earbuds are the latest entry to the Elite lineup for Jabra. The earbuds have Bluetooth Multipoint, the unique feature which can connect the device to two different devices at the same time.
The earbuds come with Fast Pair connectivity which lets users connect the device instantly to a mobile device, and Swift Pair connectivity which lets the device link directly to a laptop or desktop computer.
Like the Evolve2 range of headsets, Elite 4 earbuds come with Active Noise Cancellation which filter out intrusive noise. Furthermore, the device has four-microphone call technology and 6mm speakers, which makes the user sound clear in conversation. The earbuds offer up to 5.5 hours of playtime, or 22 hours using the headphone case.
In terms of design, the earbuds have a IP55 durability rating for dust and water resistance. Audio input can be customised via the music equaliser from Jabra as well as the Sound+ app.
"The modern earbud user is looking for tech that's ready for work and play at their fingertips, whilst not compromising on key features," said Calum MacDougall, SVP at Jabra.
"The Elite 4 offers a solution to this and is the perfect all-rounder, designed to help users to concentrate, connect, and call without distractions, and is the ideal companion to balance work and life."