One step closer to a hydrogen-based economy
GenH2, a key provider of hydrogen infrastructure solutions, has announced an agreement with Monfort Technology to develop solutions for mass transit and long-haul trucking sectors.
As hydrogen is increasingly seen as "the" energy source of the future, the biggest issue continues to be that of storage.
GenH2 is a major player in hydrogen infrastructure solutions. The Titusville, Florida-headquartered technology company was founded by Cody Bateman, who is reportedly widely recognised as a "visionary and expert" in this industry.
The GenH2 team includes former NASA researchers and developers who possess decades of experience researching, engineering, and producing hydrogen solutions. GenH2 is focused on the mass production of infrastructure equipment necessary for the transition to a clean energy economy. GenH2 technology aims to allow safe onsite production, storage, and distribution of liquid hydrogen, making the product accessible for everyday use.
GenH2's approaches include filling station solutions and servicing systems to make clean hydrogen readily available on-site for a host of end-use applications; the company has plans to deliver its product to hundreds of locations across the USA in the coming years.
GenH2 plans to manufacture hydrogen production, liquefaction, controlled storage and dispensing solutions to empower the fuelling infrastructure for buses and Class 1-8 trucks. Monfort, known for building the first working 80 passenger electric school bus, will produce EV hybrid vehicle conversation kits utilising their patented BMS and drivetrain technologies.
"The combination of reliable hydrogen infrastructure and Class 1-8 trucks powered by BEV and hydrogen fuel cells will serve as a total solution for transit and long-haul trucking companies," said Cody Bateman, Founder and CEO of GenH2. "Our alliance with Monfort Technology is a great example of industry leaders working together to build the future of the hydrogen economy."
Monfort Technology is a leader in power supply, automation, thermal dynamics, and zero emission vehicle conversions. Their background in product development, engineering and manufacturing led to the creation of multiple patents and inventions, including the COLDfire Process, the Ronaele Mustang, the Electric Driveshaft for Hybrid Vehicles, and more.
"I'm excited about this partnership with GenH2, which will allow us to leverage our combined expertise to provide a comprehensive solution that has not been available and will help enable rapid expansion of this industry" said Monfort. "My background in designing the first patented Cryogenic Thermal Cycling machine aligns with GenH2's work in this important and growing field and I look forward to our partnership to further the adoption of clean energy alternatives."
The alliance will focus on the delivery of mobility and infrastructure solutions in support of the following use cases:
Buses and supporting hydrogen infrastructure for municipalities and school districts
Long-haul trucks and supporting hydrogen infrastructure for regional transport
Liquid hydrogen transport
GenH2 and Monfort will also collaborate on the development of capsules for on-board storage of liquid hydrogen. The companies plan to accelerate development by utilising Monfort's patents for cryogenic thermal cycling systems and GenH2 Intellectual Property for controlled storage and transfer.
Zeroing in on zero-emission trucks
An inventory of Class 2b-8 zero-emission trucks (ZETs) in the US has been published, entitled "Zeroing in on Zero-Emission Trucks."
The report is by Calstart, a US-based nonprofit consortium with offices in New York, Michigan, Colorado and California and partners world-wide, working with 280+ member company and agency innovators to build a "prosperous, efficient, and clean high-tech transportation industry".
The report provides insight on ZET market trends as the industry prepares for an injection of federal funding for charging infrastructure, multiple states implement clean truck regulations, as California prepares to release an additional $873 million in purchase incentives for commercial vehicles and infrastructure.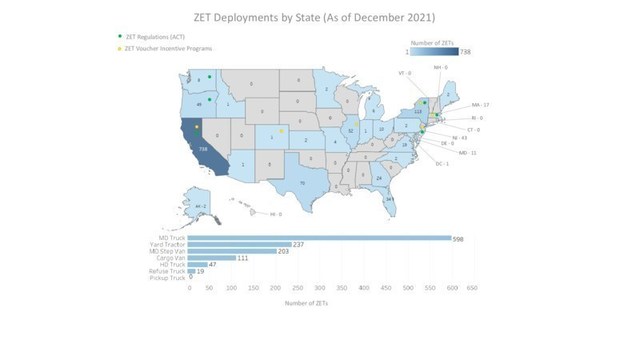 "The actual number of deployed vehicles is still quite low, and we do expect to see shifts in delivery dates and actual delivery of those on order as the market players continue to evolve," said Kevin Walkowicz, senior director of truck programs at Calstart. "However, the numbers demonstrate that there is demand that will support significant growth in the industry. Calstart will continue to track and monitor these developments so the industry and decision-makers have access to the trending numbers."
Current ZET deployments are concentrated in states that have supportive policies and regulations (California, New York, New Jersey, and Illinois) or have received federal funds for ZET purchases (Texas, Oregon, Florida, Georgia, Virginia, and Massachusetts). The report notes that medium-duty trucks, cargo vans, and medium-duty step vans are the most frequent type of ZET deployed, accounting for 75% of vehicles deployed as of 2021.
…
Read also: SONY UNVEILS VISION-S 02 ELECTRIC CONCEPT CAR AND SONY MOBILITY INC
…
Photo top of page: GenH2