COLOP e-mark go – the mobile lifestyle printer
With the multiple award-winning e-mark, COLOP, one of the world's leading manufacturers of modern marking solutions, has achieved a breakthrough in the field of mobile printing.
The latest development of the Austrian company is one of the most compact and easy-to-use mobile printers on the market. Developed and produced in Austria, the e-mark go has already won the prestigious German Innovation Award 2022 in gold.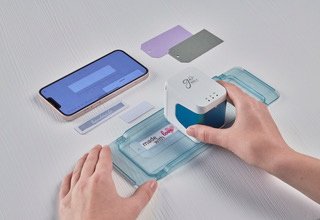 Based on inkjet technology, the e-mark go enables users to make multi-coloured prints on almost any absorbent surface, such as paper, cardboard, cork, wood, stone, leather and much more. The creative companion, which fits in every handbag, is controlled via a newly developed intuitive app in which individual motifs can be designed.
Both the printer and the e-mark go app were developed with the clear aim of offering the price-conscious consumer an extremely intuitive handling that at the same time allows for maximum creativity and individuality.
The special feature of the amazingly small and pleasantly handy device is that you do not have to insert a sheet of paper first, as is traditionally the case, but simply place it on the base. This makes it extremely convenient to use and also creates completely new possibilities for application. The LED light guide for ideal positioning of the impression and the personalisation option by changing the handle label round off this innovative product. A practical tool for everyone that is easy to use and fits perfectly into the DIY, handmade, crafting and bullet journaling trend.