Yale launches its first app-controlled smart safe
Premium smart locks and deadbolts maker, Yale, takes home security beyond the front door with two new smart safes.
Yale, a security brand known for its locks, safes and smart locks, has just expanded its smart home storage line with two new safes— the Yale Smart Safe and Yale Smart Safe with Wi-Fi.
The company's new smart safes allow users to control access through the Yale Access app. Moreover, users can connect their Smart Safe to Apple home and popular voice assistants such as Amazon Alexa, Google Assistant and Siri.
"We're delighted to launch the Smart Safe and bring Yale's trusted smart home security and convenience to your most treasured belongings," said Jason Williams, President of U.S. Smart Residential at ASSA ABLOY [a division of the company]. "By building on our Smart Storage line of products, we are continuing to deliver on our commitment to protect what matters most in and around your home."
Remote control
Users can monitor activity and control both of the Smart Safe models from their phones with the Yale Access app. The Smart Safe with Wi-Fi offers additional flexibility as it comes with a Wi-Fi bridge, meaning it can be unlocked and controlled from anywhere in the world.
The Wi-Fi version of the new Yale safe can also be activated with popular voice assistants like Amazon Alexa, Google Assistant and Siri. This enables users to ask their voice assistant to check the status of their safe and/or unlock it.
In addition, both of the Smart Safes come equipped with Apple HomeKit technology, which lets Apple Home customers use it with HomePod, HomePod Mini or Apple TV.
Robust security features
The Smart Safe and its Wi-Fi-enabled version are built to provide maximum security. Made of steel, both models provide robust security features including an anti-pry laser-cut door and two anti-saw bolts. An alarm is also included and will sound if the safe is tampered with or if there are multiple incorrect attempts to enter the code.
Beyond the tamper-proof design, both safes include two-layer encryption, two-factor authentication, and the option to disable the safe if the user has lost his or her phone. Moreover, users can reinforce security by setting up biometric verification they can use when unlocking the safe with the Yale Access app.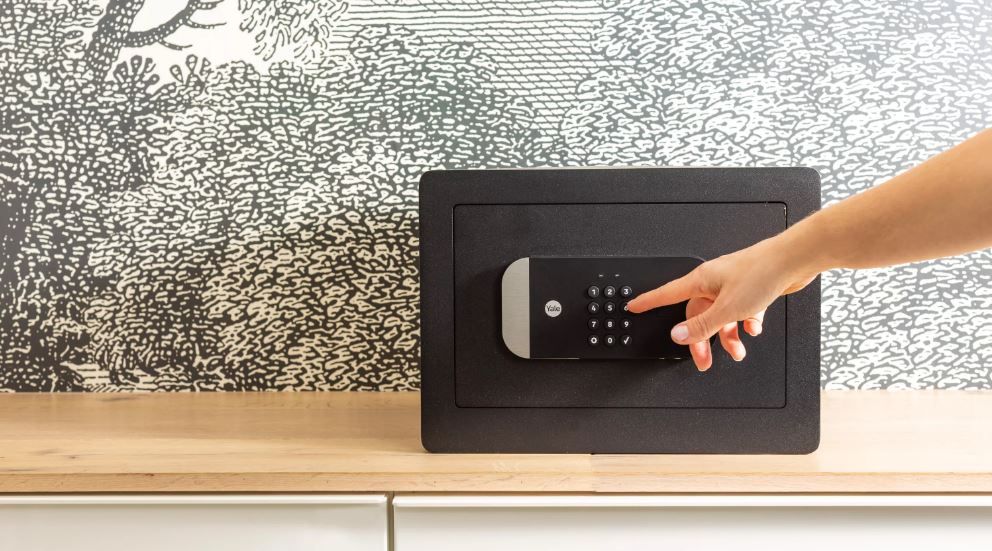 Other smart security products
This is not the security firm's first foray into smart home storage. The company recently launched two other smart products that allow for their remote management. Smart Delivery Box permits users to monitor their package deliveries from their phone while Smart Cabinet Lock lets them remotely manage and monitor the contents of cabinets and drawers. Both of these products are available with a Yale Connect Wi-Fi Bridge and are supported by the Yale Access App.
"Over the past 180 years, Yale has become synonymous with secure door locks," said Jason Williams at the time. "It was a natural decision for us to integrate everything we've learned from protecting homes from the outside, to other elements around your home."
The Yale Smart Delivery Box, designed in partnership with Kingsley Park, provides a secure, non-invasive solution to package theft, keeping packages hidden and protected.
The Smart Cabinet Lock is designed to guard valuable or dangerous items inside drawers or cabinets, and is particularly useful for people who rent their homes.
"As people are increasingly renting out their homes to vacationers, our new Smart Cabinet Lock makes it so they no longer have to pack up and move specific items each time a booking is placed – they can now simply lock them up and know they'll still be there upon their return," Williams commented.
For more industry news click here.