Vivo strengthens its global presence adding 6 new markets to its portfolio
Global smartphone maker vivo reports 2021 was an "exceptional" year. The company celebrated six new market entries, a significant step in growing its global presence, and remained a top-three company by market share in several key regions.
In 2021, a total of six new markets joined the vivo global family, as the company officially expanded into Peru, the Czech Republic, Romania, Austria, Serbia, and Mexico. vivo has thus expanded its global footprint to more than 60 countries and regions. 
vivo maintained its growth momentum throughout 2021, ranking fourth in the global smartphone market with a 10% market share in the third quarter, according to technology market analyst firm Canalys. Owing to its "More Local, More Global" strategy and tailored offerings, vivo remained a top-three smartphone brand by market share in several key overseas markets, including the Philippines, Malaysia, and India.
Under vivo's product and market localisation strategy, the company has established seven production bases (including brand-authorised manufacturing centres) across China, South- and Southeast Asia, and other regions, with an annual production capacity of nearly 200 million smartphones, with product insight teams in nine major regional markets. vivo's offline retail network has also been expanding with more than 380,000 sales and after-sales service centres globally.
The manufacturer has implemented a strategic development plan to manage long-term and mutually beneficial collaboration with international partners. In 2021, vivo signed a strategic partnership with German optics company Zeiss, bringing high-end mobile imaging technology to vivo's flagship smartphones.
Through its partnership with Zeiss, vivo provided users with professional-grade camera technology via the X Series. The first imaging system co-engineered by vivo and Zeiss debuted on the vivo X60 Series in early 2021.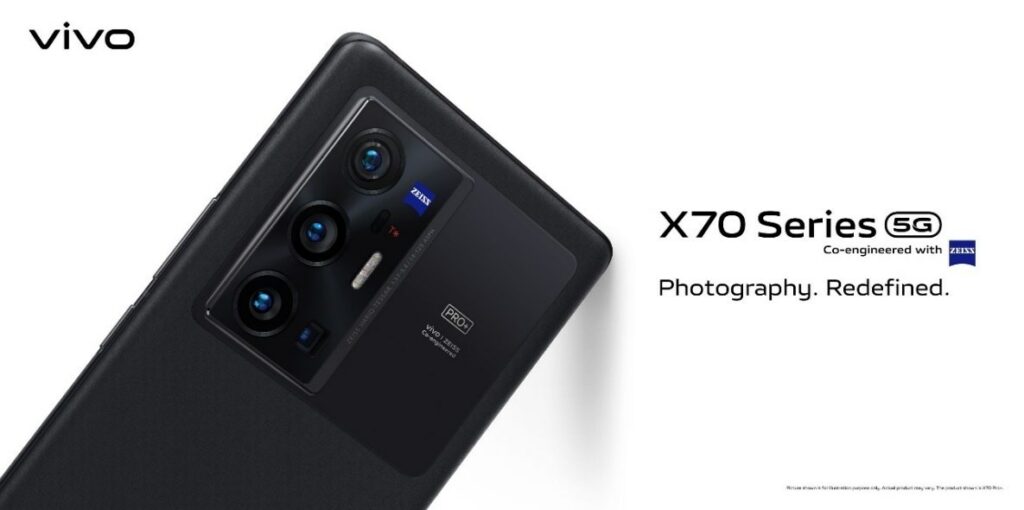 Its successor, the X70 series, launched globally in September, featuring vivo's V1 imaging chip, which serves to optimise processing power. The X70 series also marked the next chapter in vivo's global imaging partnership with Zeiss. The entire vivo X70 lineup has achieved certified compliance for Zeiss's T* Coating, which reduces stray light and ghosting effects to capture truer colours in all lighting conditions, significantly enhancing low-light photography capabilities. In addition, vivo's Night Mode captures detailed night scenes with a high dynamic range, while the new hardware, complemented by vivo's AI algorithms and software, ensures optimal performance at night.
vivo's independent sub-brand iQOO continued to expand its global user segments with a new performance flagship. The iQOO 7 series infused "cutting-edge hardware with astounding software capabilities", creating the "ultimate mobile gaming and multi-media entertainment experiences". In 2021, the iQOO 7 Legend was awarded the Red Dot Product Design Award.
5G powers ahead
This year, vivo conducted its first 5G SA commercial network testing outside of China in partnership with AIS, a leading regional mobile communications provider. The collaboration will accelerate commercial 5G SA network deployment in Thailand and bring enhanced high-speed 5G experiences to local mobile users. vivo has been dedicated to investing in 5G connectivity to reach the stage of product realisation and bringing this technology into the hands of consumers.
UEFA sponsorship pushes brand
Throughout 2021, vivo partnered with global organisations to support sporting events and projects.
As part of its long-term commitment to Europe, vivo joined UEFA as a partner of the UEFA EURO 2020 opening and closing ceremonies, in which vivo showcased its user-oriented innovations in front of millions of global spectators. Before the tournament, vivo debuted its "To Beautiful Moments" campaign, encouraging fans to capture their cheers and joy during the games.
The company continued to support sporting events, becoming the exclusive smartphone sponsor of FIFA Arab Cup Qatar 2021, connecting with football fans worldwide. The Middle East is a market of critical importance for vivo, constituting an incredible opportunity to engage with local customers in the region.
Speaking at the vivo 2021 Developer Conference, Senior Vice President of vivo, Shi Yujian pointed out that: "2021 is the year for vivo to bring out essential changes, as we are transforming ourselves from a creator of quality products to a creator of revolutionary products underpinned by technological advancement and our design philosophy." Based on the understanding and insight of users and society, vivo will continue to devote itself to technological innovation, creating great products driven by design, while pushing the boundaries of mobile imaging. vivo will continue to grow alongside its consumers, designing technologically advanced and creatively superior products that satisfy the needs of its diverse user base.
…
Read also: WHAT NEW RELEASES TELL US ABOUT 2022 MOBILE TRENDS