Security specialist Vivint upgrades cameras and software
Three upgraded cameras as well as a smart spotlight have been added to the product line of smart home and security company Vivint.
Notably, all of the new cameras on Vivint's products feature on-camera encrypted SD cards. These cards are able to store recordings for up to 100 days, making the products less dependent on strong Wi-Fi. Naturally, maintaining a strong Wi-Fi connection can be difficult when outside the perimeter of your network.
Initially, Vivint went about solving this issue by creating a separate Wi-Fi network solely for the cameras in the user's home. With updated cameras, the company may do away with the repeater networks.
Vivint upgrades camera and software for Doorbell Camera Pro
Vivint's popular Doorbell Camera Pro product has received a range of improvements. The doorbell camera has been fitted with a louder speaker, as well as an enlarged light ring. The product will now also offer 180° detection, horizontally or vertically. This means the doorbell camera can track deliveries to one's door with ease.
The doorbell camera has built-in artificial intelligence that will reportedly improve over time, meaning there will be improved accuracy when detecting a nearby package that is being delivered. The user is then notified and is given the option to track the activity. As well as this, Vivint is reportedly developing another upgrade that notifies the user when a package is taken from the door.
Vivint Outdoor Camera Pro receives new technology for enhanced performance
The Outdoor Camera Pro from Vivint has also been upgraded. The camera now boasts 4K resolution, along with the useful 10-day storage feature demonstrated by the Doorbell Camera Pro. Vivint has also added a 3X zoom with 1080p HD resolution.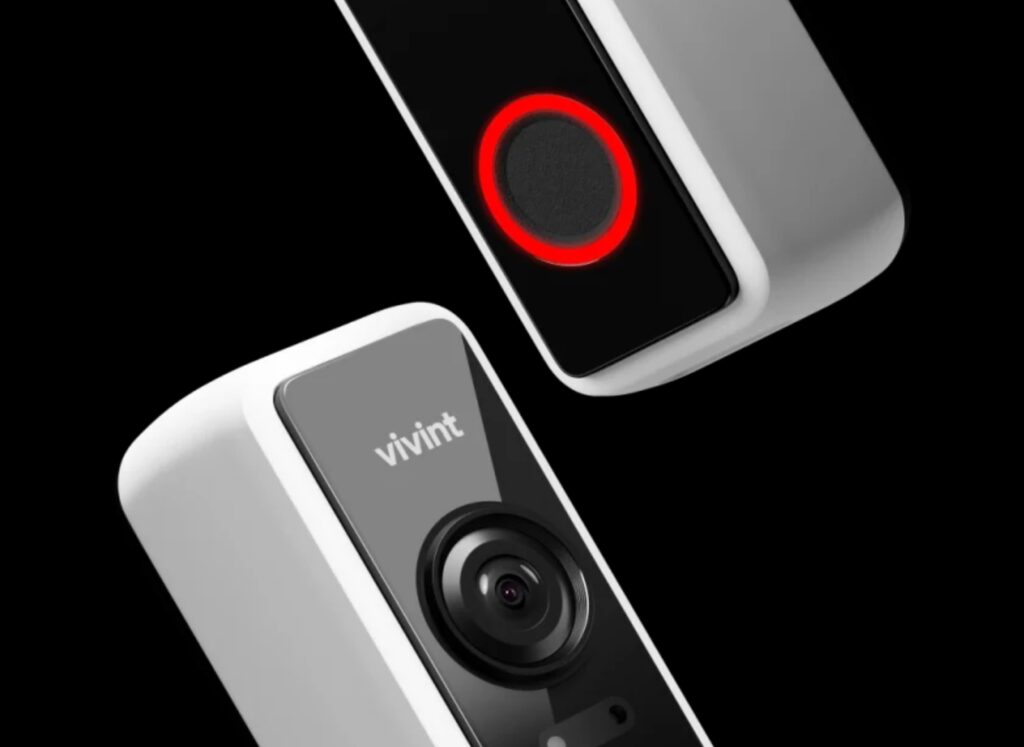 "This camera sends thieves running", says the company. This is because of a computer vision chip that offers a "Smart Deter" feature. If a person is detected and is loitering for an extended period of time, the Outdoor Camera Pro lights up its LED ring and plays a loud sound to deter the intruder. "Your home is always protected with an outdoor camera that takes action automatically", the company says.
Indoor Camera Pro improved with new design features
Vivint's Indoor Camera Pro has received a range of design features to improve usability and performance. The camera is smaller than before, as well as having a more stylish design that fits comfortably around the home.
The camera has been fitted with improved smart technology, being able to detect everything from fire or glass breaking or even people.
As well as this, the product has a new, small square camera, placed on a hinge, enabling the user to mount the device in more locations. A small button on top of the camera also allows the user to enable two-way communication.
Vivint impress with Spotlight Pro
The Vivint Spotlight Pro is a product that pairs with the new Outdoor Camera Pro. This device adds a whole new dimension to deterring intruders, by using an innovative detection algorithm (found on the Outdoor Camera Pro) to light up the property and intruders.
Not just that, the spotlight can follow intruders as they move around. If a person loiters for an extended period of time, the spotlight can activate a variety of light tricks to deter them.
Nine LED lights can reach a brightness rate of 2,000 lumens, but the spotlight is not just for intruders. The device has a softer setting to simply light up a property when then user arrives home at night.