TCL goes XXL: huge screens for a superior immersive experience
TCL Electronics has launched a range of extra-large screens to offer the "best of immersive entertainment with affordable technology".
Thanks to TCL's massive production capabilities, all their C and P Series now include a 75-inch model. The brand is also launching two new large 85-inch TVs (C73 and P73 series) and an incredible extra-large 98-inch TV (C73 Series) to offer an even more optimal viewing experience for all consumers.
Indeed, as the TV market evolves, screen sizes are getting bigger every year. In 2022, TVs over 60-inches are estimated to reach a 20% sales share. Moreover, as international football arrives centre-stage this summer, according to GfK, there's a clear trend towards larger TV screens (65-inch, 75-inch and over), especially in the weeks before the tournament. Ultra-large screens allow users to expand their viewing experience to a whole new level, enjoying an optimal gaming, stadium, or cinema experience at home.
In 2022, TCL is thus expanding its large TV offering across the entire range to meet the growing consumer demand for bigger screens at affordable prices. With their 2022 XXL Google TV range, TCL not only offers the largest TVs on the market available at affordable prices, but now also includes the most advanced smart features and technology upgrades. The manufacturer has designed this frameless XXL collection to optimise movies, series and sports watching, thanks to 4K HDR resolution.
The immersive experience
The series features Dolby Atmos to offer an even more immersive sound experience, and support Dolby Vision and HDR10+ to enjoy the best movie and series experience, whatever the streaming platform or Blu-ray movie. Moreover, when one's hands are taken-up with popcorn or beer, hands-free voice control is included to ensure easy selection of channels and preferences.
New soundbars for added "oomph"
Because immersion is also about sound, TCL is taking a major step in the field of audio with a brand-new range of innovative soundbars (to be launched in 2022). These products concentrate the latest technological innovations and are the perfect companions to XXL TCL TVs, creating total immersion and escape.
Spotlight on New TCL P635
Available in 75'', 65'', 58'', 55'', 50'', 43'' sizes, this new TCL TV allows endless entertainment thanks to Google TV and an immersive picture quality and design.
An immersive 4K HDR picture quality
New TCL P63 Series combines 4K HDR and dynamic colour enhancement to enhance contrast, colours and details. Thanks to 4K HDR, this TV accurately reproduces light and dark shades with colour precision and detail images that will dazzle even the most demanding viewer.
Moreover, Dynamic Colour Enhancement (developed exclusively by TCL) automatically optimises colour vibrancy thanks to its proprietary algorithm that expands traditional palette limitations. The 4K display is also enhanced with the addition of HDR 10, the latest in high dynamic ranging, to optimise picture quality, frame-by-frame, delivering more "nuanced" content.
An optimised gaming experience with Game Master
Equipped with HDMI 2.1 and ALLM, users will experience the lowest latency and the best picture settings for gaming, automatically.
Indeed, HDMI 2.1 ensures compatibility with the latest game console generations and enables functions like ALLM (Auto Low Latency mode) which allows the video game console or PC graphics card to automatically switch the TV into game mode for a superfast TV game input lag below 15ms.
A real cinema sound at home with Dolby Audio
The TCL P63 Series provides a full and rich sound that creates an immersive, cinematic audio surround sound experience. Dolby Audio technology offers sharper and more nuanced sound with detail and richness for more realistic entertainment while watching movies.
An easy and unlimited entertainment with Google TV
TCL P63 Series benefits from the most advanced Smart TV system, Google TV, with Google Assistant built in. It brings together movies, shows, TV and more, providing access to more than 700,000 movies and TV episodes, all in one place. The search tool is extremely easy and helps user to discover new movies and shows with suggestions based on what they have watched. The user experience is also enhanced to Google Assistant which allows users to ask it questions, tell it to do things and control home devices.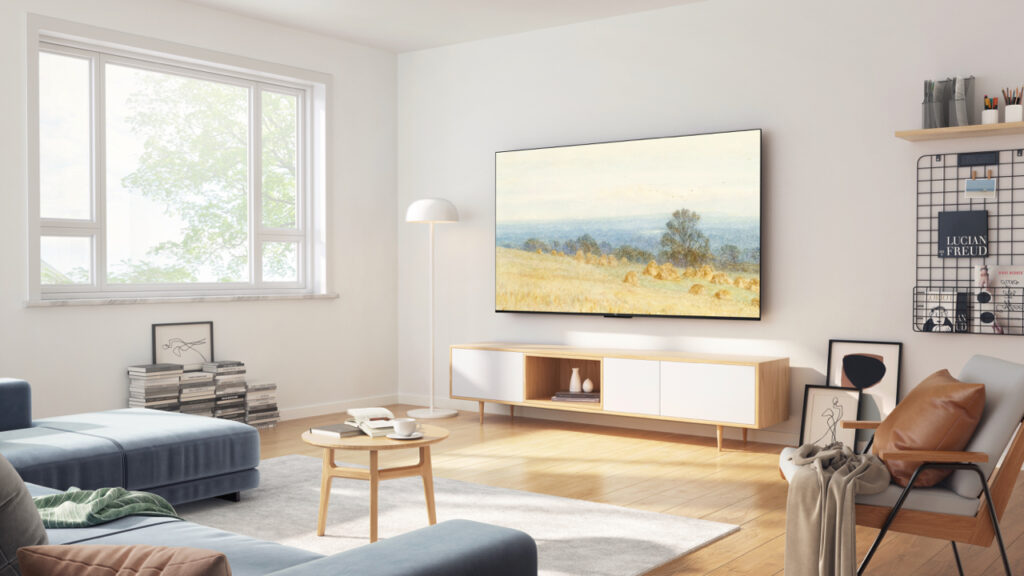 A premium and elegant frameless design to enjoy more of the picture
Last but not least, new P63 Series features a unique premium and bezel-less design, with no frame on the front for a bigger screen and more picture. Its ultra slim design concept is using real metal, making it not only an elegant piece of craftsmanship but also a durable one that easily blend into living space.
Going even further: TCL's new P638
Going even further, with immersive picture and sound quality, the new TCL P638 TV is a streaming machine to enjoy any content in high quality. Available in 65'', 55'', 50'', 43'' sizes, it combines 4K HDR, Dolby Vision, HDR10 and 60Hz Motion Clarity for detailed and smooth 4K HDR picture quality.
Indeed, TCL P638 Series 4K HDR TV comes with HDR10 and HDR Dolby Vision to experience brighter brights, darker darks with all subtle details preserved. This unique TV also features Motion Clarity for smooth picture and improved motion. Viewers will never miss a single detail on fast moving actions and will always benefit from a crystal-clear viewing, whatever the source is 50Hz or 60Hz. This new model also supports HDR Multi-format, to offer viewers stunning HDR experience to viewers whatever the source.
Finally, users will enjoy an immersive and moving audio flows all around them thanks to Dolby Atmos, that realistically captures the movement of every object and performs 360º surround sound. Then it will create a truly cinematic experience together with Dolby Vision picture quality.
TCL P63 Series is part of a larger 2022 TCL range (with new TCL C and P Series), discover more at https://tcl-eu.com/EUlaunch2022/
Key selling points:
4K HDR
Dynamic colour enhancement
Bezel-less slim metal (black stand for P635 / silver stand for P638)