TCL unveils 2022 "flagship" monitor, mini LED TV and foldable smartphone
TCL has unveiled a range of new products for the year ahead. Among the standout announcements are home entertainment products including a new flagship model monitor.
The Chinese manufacturer has unveiled a selection of products, including glasses, monitors and augmented reality tools, all set for release in 2022. 
The X925pro monitor features TCL's newest iteration of mini-LED, known as OD Zero. Previewed in 2020, OD Zero guarantees top picture quality, with a bright image and illumination. However, the model has made an impression due to its thin build, just 10mm thick. 
The model supports 8K resolution, local dimming, QLED colour, 120Hz refresh rate and even variable refresh rate. Other features include Google TV, voice commands and a built-in webcam with Google Duo functionality.
In terms of sound capabilities, the X925pro features a subwoofer and a Dolby Atmos processing system. The TV is built with speakers aimed towards the sides, which reportedly improves sound immersion. Customisability allows users to place the integrated soundbar horizontally or vertically. You can also mount the soundbar and subwoofer on the wall or along the screen itself. The model features 25 drivers in an Onkyo-tuned audio system.
Introducing the thinnest Mini LED TV
Another standout announcement from TCL is the 8K MiniLED TV prototype. According to reports it is the thinnest 85-inch 8K Mini-LED TV around, measuring just 3.9mm thick. The model offers high contrast from more than 2,000 local dimming zones, and also features a super wide colour gamut.
TCL claims that Mini LED is "the future of LCD display technology", with "high contrast, high brightness, ultra-thin profile and many more local dimming zones". The company went on to note that it will "continue to develop new TV line-ups powered by pioneering Mini LED technology for the best display quality and viewing experience".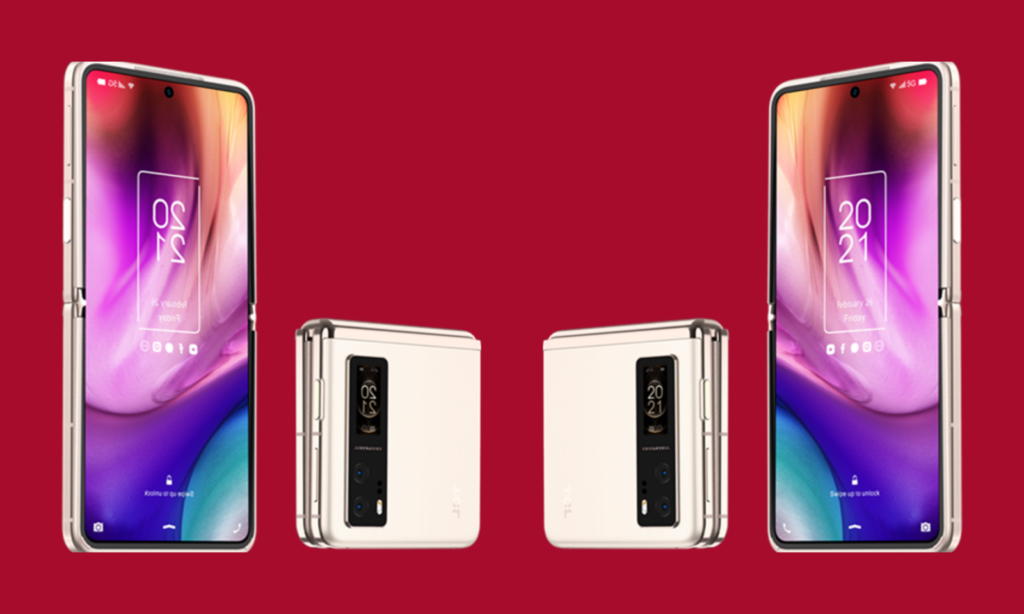 Taking advantage of the foldable smartphone market
The foldable smartphone market is gaining momentum, and TCL are taking advantage of this with their recently announced Project Chicago. A prototype, the TCL Flex V aims to be an affordable foldable smartphone. It is reported that the market price will be between €525 and €613.
The foldable phone will feature an external display for notifications, which can also be used as a sight-view for taking selfies. Speaking of photos, the phone is to feature a 44 MP front camera along with a dual-rear camera, itself featuring a 48 MP primary sensor and a 16 MP secondary shooter. Also noteworthy is the model's 3545 mAh battery.   
Improved technologies
TCL has also introduced improved technologies to selected TV models. One of the standout new features is a 144Hz refresh rate, tailor made for gaming. For comparison, gaming consoles such as the Xbox Series X and PlayStation 5 feature a refresh rate of 120Hz.
The manufacturer has also partnered with Pixelworks, a display processing company, on a TrueCut Motion ecosystem. It has been described as a peer-to-peer solution to motion issues that may occur on TV models. The system will also include a new format and certification programme. It aims to make watching films, streaming shows and playing games even more cinematic. 
In a recent statement, Juan Du, chairman of TCL Electronics remarked "At TCL, with our products and services, we want to make people's lives safer and healthier. Ultimately, we wish to inspire and empower people to pursue greatness in their lives".
The company intends to rollout a series of innovations across industries such as display technology, semiconductor photovoltaics and of course, consumer electronics. 
…
Read also: TCL CELEBRATES 40TH ANNIVERSARY