Tata Technologies joins MIH consortium to promote engineering of sustainable mobility solutions
Tata Technologies, a leading global engineering, and product development digital services company, has announced that it has joined the Foxconn – initiated MIH Consortium to promote the development of sustainable mobility solutions and encourage collaboration within the mobility industry. 
MIH Consortium is creating an open EV ecosystem that promotes collaboration in the mobility industry. Their claimed mission is to realise key technologies, develop reference designs and standards, while they "bridge the gap for alliance members resulting in a lower barrier to entry, accelerated innovation, and shorter development cycles".
The company is working is to bring together strategic partners to create "innovative solutions for the next generation of EV, autonomous driving, and mobility service applications".  
Indeed, as the Automotive industry transforms rapidly to serve emerging customer requirements, it is turning into a mobility ecosystem where the key players collaborate to develop innovations that create value for all stakeholders. The MIH Consortium is creating an open EV ecosystem that promotes collaboration across the key OEMs, Tier 1s, and ESPs in the mobility industry to realise and standardise EV technologies that underpin the Electric Vehicle revolution. The goal is to bring the strategic partners together to build the next generation of Electric Vehicle, Autonomous driving, and Mobility service applications.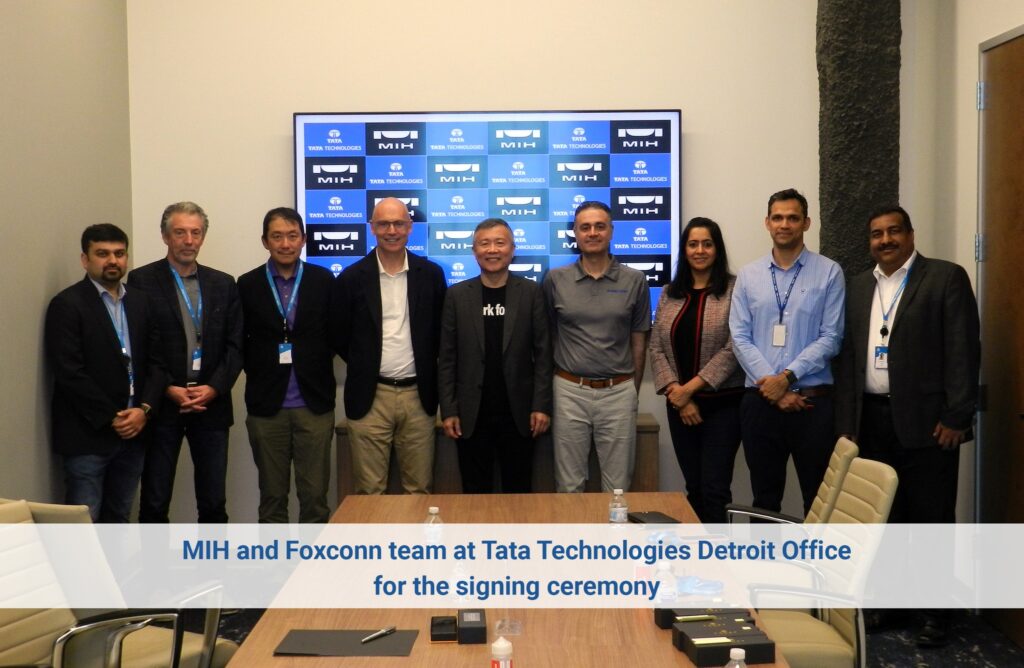 Tata Technologies' mission is to "help its global clients engineer better products through compelling product engineering and digital solutions across the product development value chain – from concept design to product engineering to digital manufacturing and after-sales service solutions". Through their end-to-end turnkey full vehicle development solutions supported by platform IPs, and a global engineering talent pool, Tata Technologies has been assisting leading global #OEMs & Tier-1 suppliers in developing class-leading electric vehicles supporting the entire new product development process and acting as an extended arm.
Tata Technologies has now joined the coveted working group of more than 2,300 members from the field of software, hardware, and services. The collaboration with the MIH Consortium will enable Tata Technologies to collaborate with other members on solutions and capabilities that deliver value for its stakeholders and enable it to innovate new solutions.   
At the official signing ceremony, Jack Cheng, CEO of MIH Consortium said, "We are very pleased to have Tata Technologies onboard with MIH Consortium as they bring a near 3-decade automotive domain expertise to the Alliance. Collaborating with Tata's team of experienced engineers with excellent technical qualifications, MIH Consortium and its members will benefit immensely and move closer towards its goal of creating an open EV ecosystem that promotes collaboration in the mobility industry."
At the signing ceremony, Warren Harris, Managing Director, and CEO of Tata Technologies said, "Tata Technologies is at the forefront of the eMobility revolution and our association with MIH Consortium reinforces our position as a key partner in automotive value chain. TATA & Foxconn are amongst highly reputable & trusted brands across continents. The association celebrates the larger commitment of both the groups to promote sustainable and smart mobility across the markets".
Also present at the signing ceremony, Sonal Ramrakhiani, President Sales and COO Automotive of Tata Technologies, said, "We are helping global OEMs & Tier-1 suppliers through our IPs around electric vehicle modular platform, NPI processes and our global talent pool to deliver world-class e-mobility solutions. Our end-to-end turnkey product development capabilities have helped leading OEMs benchmark, engineer, test, validate and homologate their electric vehicles across segments. We are confident of working together with MIH Consortium members on many extraordinary products going forward." 
Tata Technologies is a global product engineering and digital services company focused on fulfilling its mission of helping the world drive, fly, build and farm.
The company is "enabling global OEMs and their ecosystem of partners across the automotive, industrial machinery and aerospace verticals engineer, manufacture, and realise better products, as well as drive efficiencies in their businesses, leading to the development of products which are innovative, sustainable, and better for the end customer, environment, and society at large".
…
Read also: FOXCONN TO INVEST €92M IN XRSPACE TO CREATE GLOBAL METAVERSE ECOSYSTEM
…
Photo – top of page: Jack Cheng, CEO – MIH Consortium, and Warren Harris, MD & CEO – Tata Technologies – signing contract in their Detroit office