Speede Fitness partners with Asensei to create a groundbreaking movement tracking experience
The Chicago-area strength training startup Speede Fitness has announced a partnership with technology company Asensei to incorporate advanced movement tracking and understanding on its Speede Challenger machine, scheduled to ship in Q3 2022.
Asensei is renowned in the fitness industry for its pioneering work in form-tracking and form-tracking powered experiences using computer vision and connected apparel.
Speede Fitness is described as being a strength training startup that "helps people get stronger faster". Backed by artificial intelligence and the latest muscle science, their new machine, the Speede Challenger, will offer isokinetic, eccentric and isotonic training to commercial and at-home users.
"With four training modes including powerful isokinetic and eccentric training, the Speede Challenger was already going to be a game changer for professional athletes and at-home users," said Dan Mooney, co-founder of Speede. "Now, with 3D computer vision, exercise recognition and understanding and form-tracking powered experiences offered by Asensei's technology, we're unlocking new capabilities for physical therapy, recovery and health diagnostics."
"We're proud to be partnering with Speede to help create a first-of-its-kind strength training experience," says Steven Webster, CEO of Asensei. "Never before has a machine offered the kind of training you'll find on Speede—and now combining that with advanced 3D range of motion measurement, assessment and recommendations will truly separate Speede from the rest. Utilising Asensei's technology, Speede can deliver breakthrough experiences for athletes, trainers, therapists, and anyone who's serious about getting stronger."
Speede's announcement comes on the heels of other higher-profile moments for the company, including oversubscribing its recent seed round and signing UFC fighter Michael Chandler as Chief Athletic Officer.
As what the company describes as the first connected fitness machine to combine isotonic, isokinetic, and max eccentric training for faster strength gains, Speede has drawn the attention of fitness investors and a host of professional athletes.
Equity holders in the company include Justin Fields, Cole Kmet, Jaylon Johnson and DeAndre Houston-Carson of the Chicago Bears, Justin Simmons of the Denver Broncos, Marquez Valdes-Scantling of the Kansas City Chiefs, Elijah Wilkinson of the Atlanta Falcons, pro soccer player Lauren Sesselman, Mason Plumlee of the Charlotte Hornets, and 2x NBA All-Star Carlos Boozer.
Asensei and movr personalise connected fitness with AI movement analysis
Asensei has also partnered with movement assessment platform movr to combine 3D computer vision form analysis with movement assessments to personalise exercise selection in Connected Fitness products.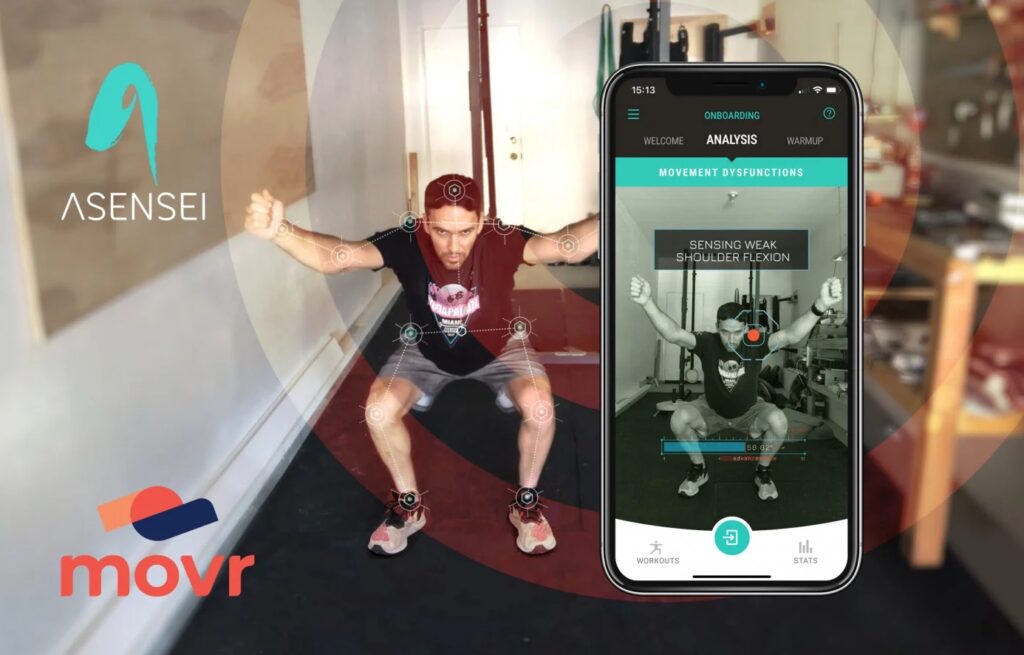 Before this integration, Connected Fitness products had no understanding of how well a person can do what is asked of them, or help them improve. Now, Connected Fitness product teams can add form-tracking, movement assessment and workout personalisation using their own content library in a matter of hours.
Using the camera on a smartphone app or Connected Fitness product, correctness and quality of movement is continually measured by Asensei and analysed by movr to personalise workouts for everyone.
…