Soocas presents new lightweight high-speed hair dryer
The new Airfly P1 high-speed hair dryer by Soocas sports a compact and lightweight design from Porsche subsidiary FA Porsche
Soocas has announced the latest addition to its small appliances line-up, Airfly P1, a high-speed hair dryer designed by premium design agency FA Porsche, a subsidiary of automaker Porsche AG. With a streamlined modern design, the new dryer takes up one third of the volume of a traditional low-speed hair dryer, and it can dry hair in 5 minutes and under.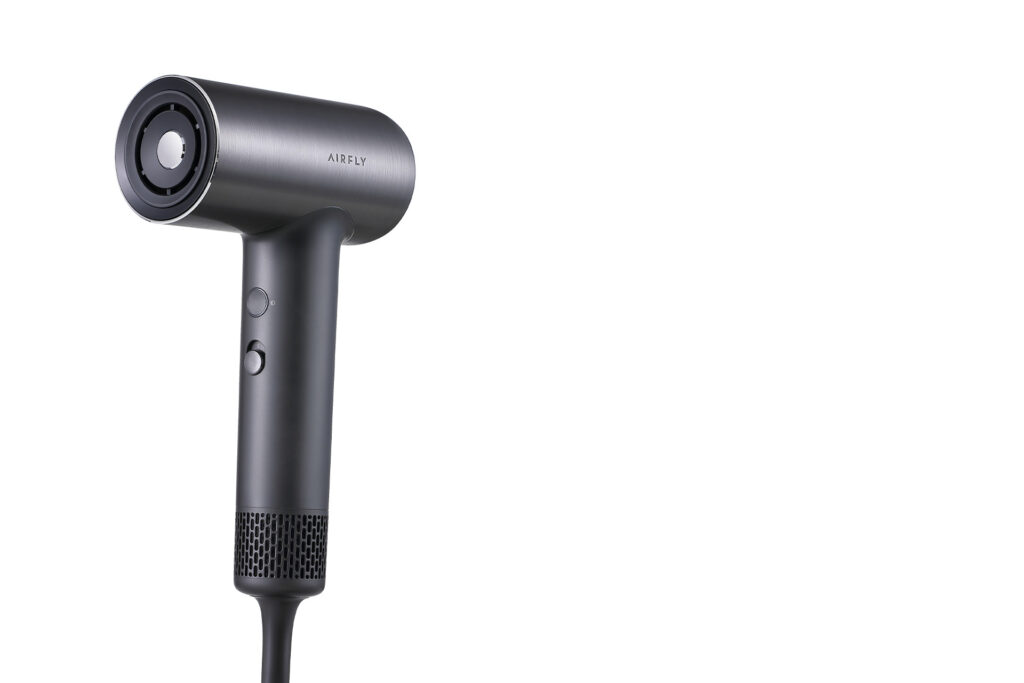 Sleek and compact
According to the Chinese personal care specialist, the inspiration behind the design of its new hair dryer is high-speed premium cars. FA Porsche, as a design branch of Porsche AG and an agency that prides itself on combining form and function, having created designs for appliance manufacturers such as Siemens and Panasonic, was just the company to create it.
In line with its aerodynamic vehicle inspiration, the new dryer's body is made of automotive-grade aluminium alloy and boasts a futuristic streamlined design. The Soocas Airfly P1 is also compact and lightweight. Taking up about one third of the space of a traditional hair dryer, it measures no more than 2.24 x 4.56×9.34 inches and weighs in at just 0.87 pounds.

"The Soocas development department was able to make the hair dryer lighter, quieter and more powerful by restructuring the components. Our task was to develop a design for the technical components that would meet the target group and the requirements of a new, high-priced hair dryer in a class of its own," FA Porsche said.
Quick drying
Thanks to what the company is calling Airfly P1's "ultra-high wind flow," the new dryer is able to provide a wind speed of 70m/s compared to a traditional low-speed hair dryer's 18m/s.
Moreover, a built-in microprocessor chip allows for intelligent temperature control, monitoring the temperature in real-time 100+ times per second. The strictly monitored temperature of the dryer is around 70°C and as compared to traditional low-speed hair dryers, it can reach up to 100°C.
These new features reduce drying time considerably: one minute for short hair, three minutes for shoulder-length hair and five minutes for long hair.
Healthy hair
The Airfry P1 will also contribute to making its users' hair silkier and shinier, the company said. This is achieved by increasing moisture by 4.6 times, smoothness by 19.7%, and shininess by 17.8%. In addition, the dryer's high-speed airflow transports plasma from hair roots to hair tips, tightens cuticles, and makes the hair twice as smooth as ordinary negative ion hair dryers.
Focused on personal care
Since its creation in 2015, Soocas has been producing electronic personal care products such as electric toothbrushes, water flossers, shavers, and hairdryers for its own brand and for other Chinese appliance makers like Xiaomi. Apart from its main range of products, Soocas offers complementary products such as toothpaste, mouthwash, and hair essential oil.
The firm promotes a "just one more step in personal care" vision that combines innovative technology with sleek designs in order to allow its users what the firm calls "simpler and more enjoyable personal care routines".
The AirFly P1 is the first product in a new hair dryer line, designed with a high-price market segment in mind. One of the company's previous hair dryer models won an IF design award in 2018 and was described by iF Design Foundation as a breakthrough in styling and function that was "more fashionable and beautiful than traditional hairdryers". The award praised the dryer's wind speed and air volume, claiming they were superior to traditional dryers and applauded the high-end user experience provided by the dryer at a lower price than comparable dryers on the market.
For more home appliances news, click here.