Sony launches "unmatched" 4K home cinema projectors
Sony has announced the launch of three new native 4K HDR Home Cinema laser projectors, promising an "unmatched 4K HDR experience".
Featuring what is said to be the world's smallest Native 4K SXRD 0.61″ panel (3840 x 2160) enabling a compact chassis design, the projectors are powered by Sony's "X1 Ultimate for projector" processor along with new wide dynamic range optics in combination with a Triluminous Pro display to deliver what the company claims is an "unmatched 4K HDR experience on the large screen".
The picture processor is based on technology used for the Bravia TV series and optimised for projectors, enabling features like Dynamic HDR Enhancer and Object-based Super Resolution to create expanded dynamic range and "extreme clarity".
The models in the range include the VPL-XW7000ES, the VPL-XW6000ES and the VPL-XW5000ES.
Each model offers 3,840 x 2,160 4K resolution images with 8.3 million pixels, offering "rich, inky blacks and clear cinematic motion and image smoothness", while high contrast and high resolution promise "the finest immersive viewing experiences with the new wide dynamic range optics".
Due to the processing power of the X1 Ultimate for projector, the contrast in combination with the new laser output control on both models is further enhanced, the Japanese firm states, making the bright scenes brighter and the dark scenes darker.
Finally, the newly-launched object based HDR remaster allows for more powerful real-time picture processing that analyses objects of each frame and makes for unmatched HDR imagery for any content.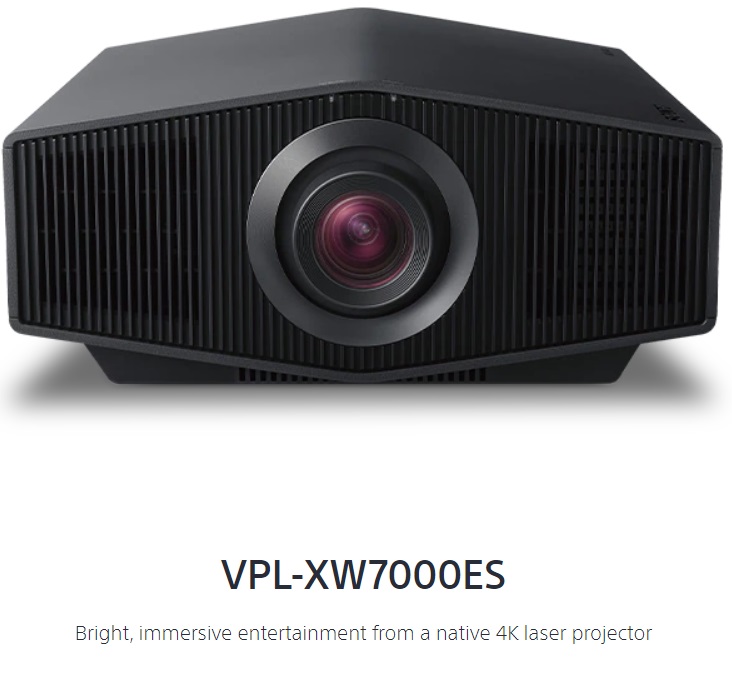 Like the models' predecessors, Sony says that these new projectors feature input lag reduction mode which promises to dramatically improves the performance of the display reaction speed to ensure gamers can enjoy the best possible experience.
Tyler Ishida, President of Consumer Business Group, Sony Electronics Inc. commented: "We've delivered the highest quality projectors and immersive entertainment experiences for 50 years, and our Native 4K SXRD projectors have led the market in providing these experiences for over a decade. We're excited to debut these compact, high-brightness laser projectors, with a new design that creates flexibility and options for consumers with today's variety of home media viewing rooms and differing lighting needs. These new models showcase our continued commitment to products that provide extraordinary experiences while increasing value to the consumer with every generation."
Sony added in a press release that the new XW series reinforces its commitment to delivering powerful immersive experiences for customers and sits alongside the company's ever-expanding range of displays including the recently launched Bravia 100″ 4K Ultra HD HDR display.
Key Selling Points
X1 "Ultimate for projector" processor
Triluminous Pro Display
3,840 x 2,160 4K resolution images with 8.3 million pixels
For more home entertainment news, click here