CSA new smart home protocol Matter officially launched
In January 2022, the IFA Newsroom reported the Matter connectivity standard had gained approval from over 200 companies. The communication protocol for smart homes, which serves as a universal connectivity standard, has now been made official.
Matter was launched by the Connectivity Standards Alliance (CSA) at a large launch event in Amsterdam, the Netherlands, with a variety of members participating.
It has been a month since Matter 1.0 was released. Since then, reportedly 190 products have either been certified, or queued for testing and certification.
"The transition from standards development to standards adoption is clearly accelerating," says Matter. There have been over 4,400 recorded downloads of the Matter specification, along with 2,500 downloads of the software development kit. A Matter certification programme has also been launched for both hardware and software products. With eight test lads in 16 locations across nine countries, the Matter movement is definitely gaining momentum.
"This is a major inflection point for the IoT. As we become more connected and break down the walls between the digital and physical world, we need to work together to make those connections meaningful. Matter and our membership are tackling this challenge head-on," said Tobin Richardson, President and CEO of the Connectivity Standards Alliance.
"With collaboration, inclusiveness, and a deep sense of responsibility to the market and consumers, Matter has the power to create a more connected, safe, and useful Smart Home."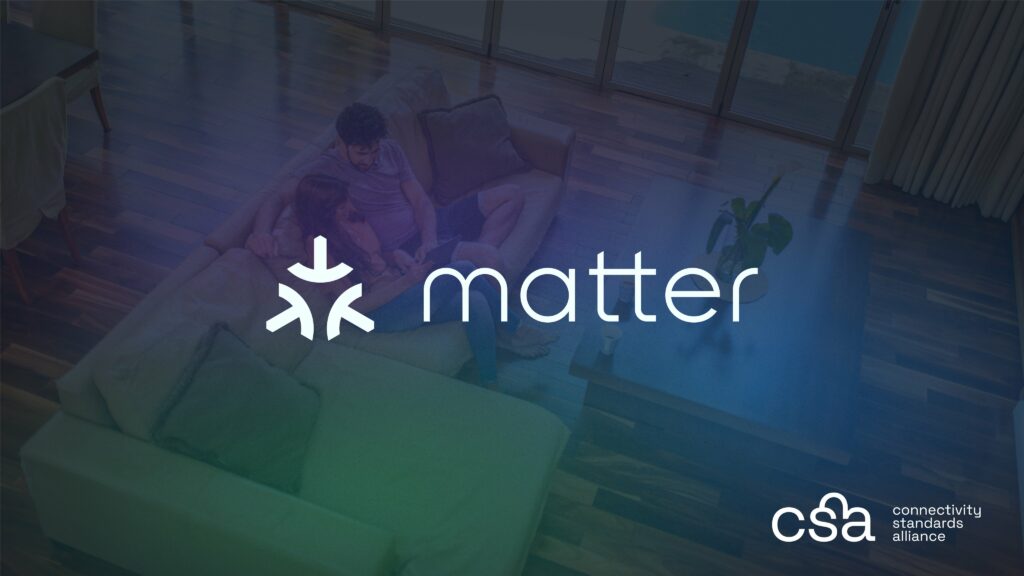 Demand for smart devices on the rise?
Purchase intent for smart devices is apparently on the rise, according to CCS Insight. The analyst firm found that 35% of households in the key European markets said they intend to purchase smart home products in the next year. Research provided by Parks Associates found that 73% of US households claimed that interoperability is important when choosing a smart home device to purchase.
Matter counts Amazon, Silicon Labs and Schneider Electric as some of its supporters.
"The promise of Matter is the accelerated proliferation of connected things by bringing simplicity and interoperability to consumers who can now mix and match products from different ecosystems with greater ease and reliability. And the foundation of Matter's interoperability begins at the silicon level," said Matt Johnson, CEO of Silicon Labs.
"Silicon Labs is proud to have contributed our breadth of protocol support, depth of wireless expertise, and focus on the IoT to Matter's development."
"As services like Alexa continue driving rapid smart home adoption, Matter presents a new opportunity to further simplify development for device makers and add to the customer experience of smart home devices from a range of different companies and brands," said Marja Koopmans, Director of Smart Home & Health at Amazon.
"As an Alliance board member, founding company and long-time contributor to Matter, we look forward to introducing this open standard to over 100 million Echo and eero devices to make it easier for customers to set up and control their Matter-certified smart home devices."
What Matter's launch means for smart homes
The Matter connectivity standard applies to a range of smart home product categories. These include lighting and electrical along with HVAC controls, window coverings, shades, security sensors, door locks, controller and protocol bridges.
Following the launch, Matter says it is developing new device categories. There are reportedly teams working on smart cameras, home appliances and management use cases, as well as closures (like doors and gates), environmental quality sensors and controls, smoke and carbon monoxide detectors and ambient motion sensing.
How Matter could improve smart homes
Matter has been described as unified connectivity technology for the smart home, created and approved by over 200 companies. The communication protocol uses technologies such as Wi-Fi and Bluetooth to allow devices to locally communicate with each other. That means most if not all of a user's devices can be compatible with the rest of their smart home.
Matter is significant as it is backed by a large portion of the industry. The protocol was organised by the Connectivity Standards Alliance.