Sonova and Sennheiser Consumer Division team up for new audiophile earphones and hearing solutions
Premium audio brand Sennheiser's Consumer Division has been acquired by audiology specialist Sonova. Completed on 1 March 2022, the acquisition will allow to "combine the future of audio and the delight of hearing", and see the company enter into the enhanced hearing market, as well as launch new immersive, audiophile earbuds, and soundbars.
At Sennheiser's Innovation Press Event on 1 March, the brand stressed that under Sonova it will continue to be at the forefront of audio, and that the two brands have plenty of synergy, including a passion for audio and complementary specialisms which make them perfect partners.
Martin Grieder, who will be responsible for the newly formed business at Sonova as GVP Consumer Hearing, commented: "We are respective leaders in our respective fields. We have great expertise in audiology and technology and Sennheiser, obviously, is the undisputed leader in sound performance and sound quality. We cater to tens of thousands of healthcare professionals across the world, and Sennheiser has a strong presence in all the key audio retailers, both online and offline. We both have a customer and consumer-centred innovation culture."
"We will continue to invest heavily in the Sennheiser brand and we will ensure that Sennheiser will continue to be seen as the undisputed leader in sound quality," Grieder added.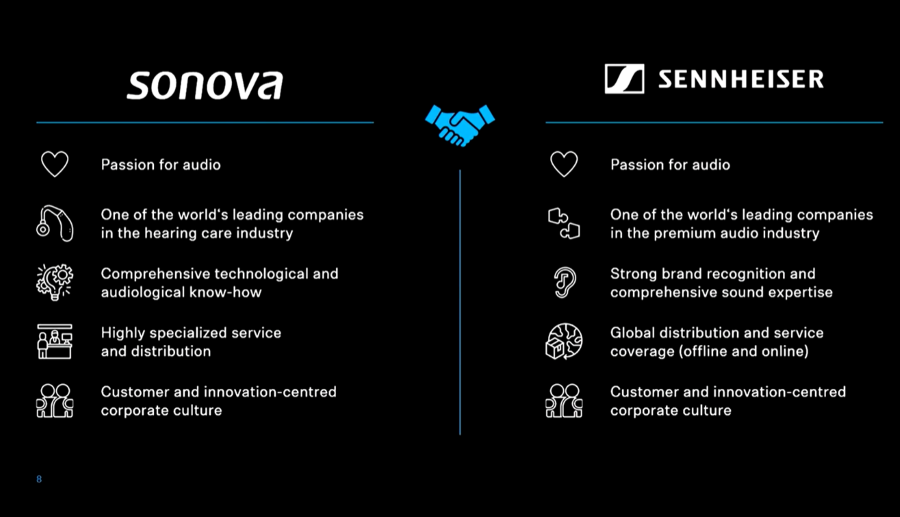 Sennheiser Consumer Division and Sonova will operate under the Sennheiser brand umbrella and provide Sennheiser customers with best-in-class audio solutions. A long-term licensing agreement has been agreed with Sonova for the use of the Sennheiser brand.
The new setup promises to perfectly cater to the top consumer needs when choosing a new pair of headphones. Hi-Fi sound quality, wearing comfort, long battery life, noise reduction, and enhanced hearing are key attributes for Sennheiser Consumer products and Sonova.
At Sennheiser's Innovation press event it was also confirmed that premium, in-ear headphones, audiophile, enhanced hearing, and soundbars would be the focus for Sennheiser moving forward.
New products announced from Sonova included new earphones in its flagship MOMENTUM range, as well as new audiophile earbuds from its award-winning IE series, the IE600, a space-age upgrade on last year's IE900.
In addition, it was announced that new soundbars can be expected, as well as Sonova hearables or hearing aids – one to help with situational hearing, for example in a noisy restaurant, and another for enhancing TV sound at home.
Stefan Krämer, director of product portfolio at Sonova Consumer Hearing, added: " With the MOMENTUM True Wireless 3, which will be coming in April, customers can expect remarkable sound that's clear, with next-level ANC (active noise cancelling), and a new innovative design with extraordinary comfort."
On the upcoming soundbar Krämer added: "You might be expecting a successor to the AMBEO sound bar but that's not what we're doing, we will be expanding the whole portfolio – using the technology and bringing it to some lower price points, as well as a product in a similar price category, with similar functionality to the previous AMBEO range. But that's all I can say for now, though these will come on the market this year."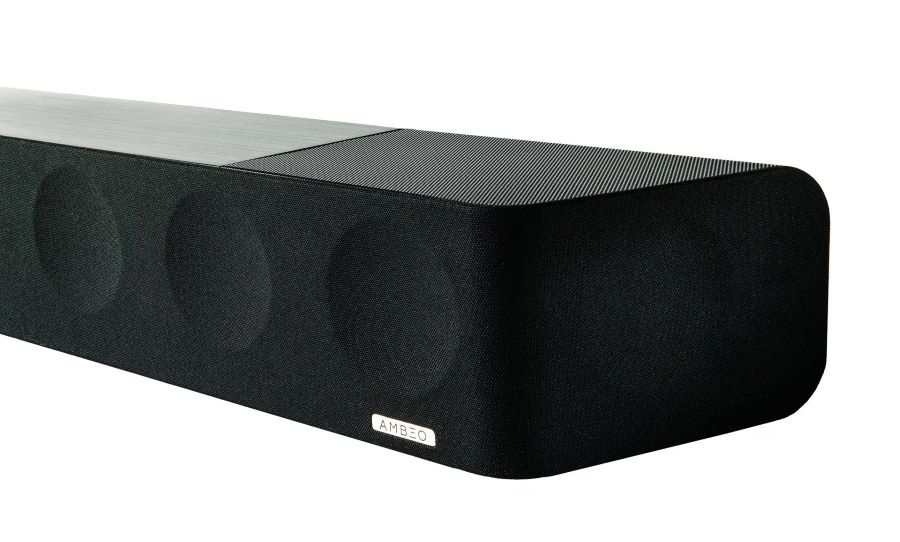 During the Q&A, it was also asked whether Sennheiser would be launching any new over-ear headphones but Krämer said that although the brand was very much focused on the audiophile market, and that this area of the market is where growth is centred, research shows that audiophiles are very much on-the-go and therefore the demand is for products that fit with an active lifestyle – hence the focus on wireless in-ear models.
The premium headphone market is currently valued at around $20 billion (€18bn) and is expected to grow threefold to $60bn (€54.1bn) in the next seven years. This growth will be driven by smartphone attachment as currently only about 20% of smartphone users have true wireless headphones, this will grow to 70% in the next seven years. (Figures based on a UBS Report, 30 June 2021: Smart wireless earphones, the next device to reach annual sales of 1bn units.)
The Sennheiser brand will be at the forefront of this transition with its premium true wireless sound. According to the brands, the technology behind true wireless headphones and hearing aids is also converging to create a rapidly growing enhanced hearing segment. Sonova's acquisition of the Sennheiser Consumer business puts it in a very strong position to lead the market.
Sennheiser consumer products will continue to convince with a renewed focus and exciting technology innovations to come, while staying true to the Sennheiser sound and brand which users have come to love.
Read more about Sennheiser Consumer's new IE 600 earbuds