Interview: Samsung to focus on built-in to grow appliance business in 2022 and beyond
Jonathan Hartley (pictured above), Samsung's channel manager for kitchen retail, says the Korean manufacturer is making great strides in both the kitchen showroom and electrical retail sectors.
After two years of the pandemic, Mr Hartley said that in the appliance sector, Samsung is already far ahead of where it set goals for the kitchen channel back in 2018. Samsung recently unveiled a number of new products and Mr Hartley said that Samsung took a significant decision when it came to this range of products.
Please tell us about the development of the new Samsung built-in range
The easiest way to describe it is that we curtailed everything that we were doing. It worked very well for us, but we realised that we had no synergy from running it as a family. The whole product team at Samsung took a step back to look at what the market required; we listened and had feedback, and we've now come out with a platform of series models. There aren't many companies that could do that, but Samsung, the fifth largest brand in the world, is able to do that, because we have the economy of scale, we know how to hit the market hard, we know what products the market wants and subsequently, and we've got the manufacturing capability to do it because we own our factories."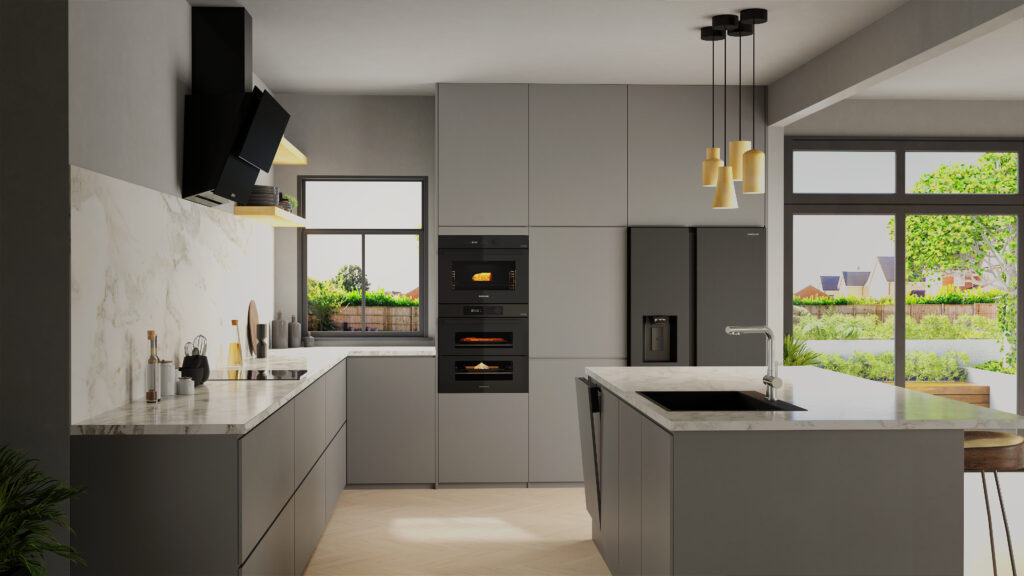 Samsung recently launched two new series, what can you tell us about these?
Initially, we're going to launch series four and five, which will hit the market in June; then, in October, phase two – series six and seven – will launch. The biggest statement that we've got is that Wi-Fi connectivity is not just on the top premium appliances, it's now being wound right back to series four; so you buy any Samsung appliance now from series four to series seven, and you will have Wi-Fi connectivity. While we highlight new functions like air fry and sous-vide, the bits that we don't talk about are all things that come as standard – Dual Cook Flex, where you have that ability to cook with two fans at two different temperatures and the LED touchscreen.
A slight criticism of Samsung, historically, has been the fact that it had numerous models in a range. What work has the company done to change that?
We've actually consolidated the SKU count. A lot of the products we built in the past had various handles, knobs and clocks; now everything you'll see is seamless in the way that we actually move from series four to series seven. It makes it easy from a manufacturing point of view, but it also makes it easier from an actual stock, SKU and distribution point of view.
How did the retail business change during the pandemic?
Samsung experienced a big shift from in-store to online. Since restrictions have eased, we've seen increased footfall and customers wanting to see, touch and feel products and have product demonstrations; we believe that bricks and mortar retailers will benefit from this change, as staff will be able to explain premium features and benefits that can be more challenging to explain online. In the coming years, we see retail becoming more experiential as we know the customer also wants something additional to what an online experience can provide.
What are the challenges facing retail?
One of the biggest issues for kitchen studios and electrical retailers is footfall. We've seen over the past two years that a lot of people have researched online, so they understand product features and technology. We were very quick to notice that trend and moved quickly to inform a lot of our retailers the ability to get assets, rich media content, so that they could actually stream and make sure that their customers were engaged.
You have started using the phrase One Samsung. What does this mean?
Strategically, Samsung is positioning itself as One Samsung. One Samsung shows how we operate together with all the different channels in the business, which consists of built-in home appliances, and then we move across into our B2B division, which is our contract development sector, and then to our heating, ventilation and air conditioning team. What we're doing is working collaboratively so that if somebody is engaging with a client, we can all then start to be engaging with that client and have this One Samsung approach. We've recognised that there is a strength there. Strategically, it's a very good thing for us and Samsung is probably one of the few businesses that can actually do that because we have many different assets that we manufacture as well – and that's what differentiates us.