Samsung uses recycled materials in select monitors to reduce waste
Samsung Electronics has announced a new "vision", Together for Tomorrow, which aims to make eco-conscious efforts with monitor and signage solutions. The environmentally-sustainable initiatives are diverse, from improving manufacturing practices to acquiring resources.
A part of the Together for Tomorrow programme, selected Samsung monitors and digital signage products will feature recycled materials. Components such as the rear cover of monitors will be made from recycled materials, in an effort to minimise resource waste, increase resource circularity and decrease the levels of greenhouse gasses.
Samsung has made efforts to be environmentally-conscious with its digital signage solutions, which include the rollout of 2022 Smart Signage that has received certified energy efficiency grades. Since 2021, the company has been using eco-conscious packaging with recycled materials for all signage products.
Samsung has also incorporated a System on Chip solution that displays content without the use of additional technology, which saves on energy and waste. The company claims to have extended the product lifespan of its range, citing "enhanced durability to further minimise waste". And the company has reportedly developed a new material made from repurposed ocean-bound plastics and used in the 2022 high resolution monitor S8 to reduce marine waste.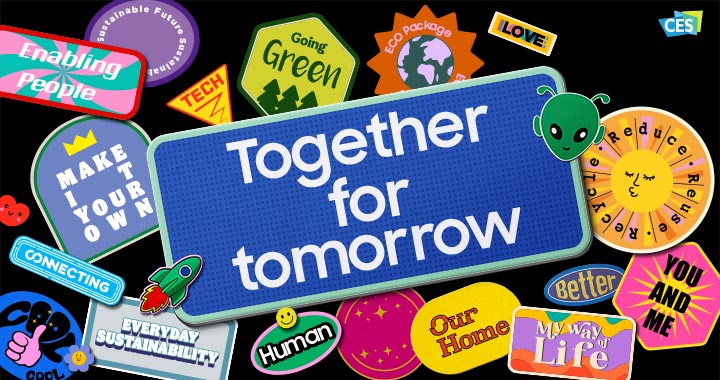 Samsung recognised for environmentally-conscious efforts
Samsung's efforts have not gone unnoticed, with the company receiving certifications for the product efficiency of the 2022 Smart Signage lineup. The company has earned the ENERGY STAR EPEAT (Electronic Product Environmental Assessment Tool) certifications.
The company was reportedly the first in its industry to receive Carbon Trust's reducing CO2 label, which was given to Samsung's LCD Signage lineup, LED signage and Business Monitor. Furthermore, the company received the "Sustainability Innovation of the Year" prize at the AV News Awards, in recognition of the company's global 2022 sustainability initiative.
"We are committed to ensuring everyday sustainability throughout our signage portfolio and playing a major role in reimagining a better planet", said Hyesung Ha, Executive Vice President of Visual Display Business at Samsung Electronics.
"As we are grateful for the recognition of our efforts, we plan to make each step count as [we] collectively change production practices for a sustainable future".
Samsung: together for tomorrow
Samsung announced its Together for Tomorrow Vision in January 2022. The vision is to build a sustainable future within the company, built on what Samsung's calls "everyday sustainability", and Together for Tomorrow is intended to "[empower] everyone to create positive change and [drive] collaborations that address some of the planet's most pressing challenges".
"I'm excited for you to be a part of our vision to see how innovation can create positive change, [and] to join us and work together for tomorrow", said Jong-Hee (JH) Han, Vice Chairman, CEO and Head of DX (Device eXperience) Division at Samsung. "These developments will make sustainability part of your product experience, enabling you to live a more sustainable life".
In 2021, all of Samsung's TV packaging featured recycled materials. The company announced that it would expand the use of recycled materials to interior packaging for boxes. Recycled materials are to be incorporated into styrofoam, box holders and plastic bags. It was also announced that the company would expand its Eco-Packaging programme, which turns cardboard boxes into other items like furniture.
By 2025, Samsung aims to have all of its TVs and phone chargers operate on near-zero standby power. This is so products do not consume energy when not in use.