Samsung launches customisable Bespoke Home appliances
Samsung has introduced what it calls the "first-ever bespoke refrigerator," which can be customised with a range of options and is part of a wider range of smart home appliances.
The home appliances from Samsung include refrigerators, dishwashers, microwaves and laundry products too. The MyBespoke refrigerator is apparently the first of its kind, and features panels that can be customised by users to display personalised patterns and designs.
"Our Bespoke appliances offers entirely new ways for people to express their personal style, and we're thrilled to see our customers embrace this emerging home design trend in personalization," said Shane Higby, Head of Home Appliance Business, Samsung Electronics America. "With the availability of MyBespoke, we're inspiring our customers to express their creativity in ways never before offered in the home appliance category."
Samsung said its Bespoke range adopts the popular home design trends which reflect style and personality, and that use different materials and colours. Bespoke refrigerators from Samsung feature fridge panels with either one or two French Doors.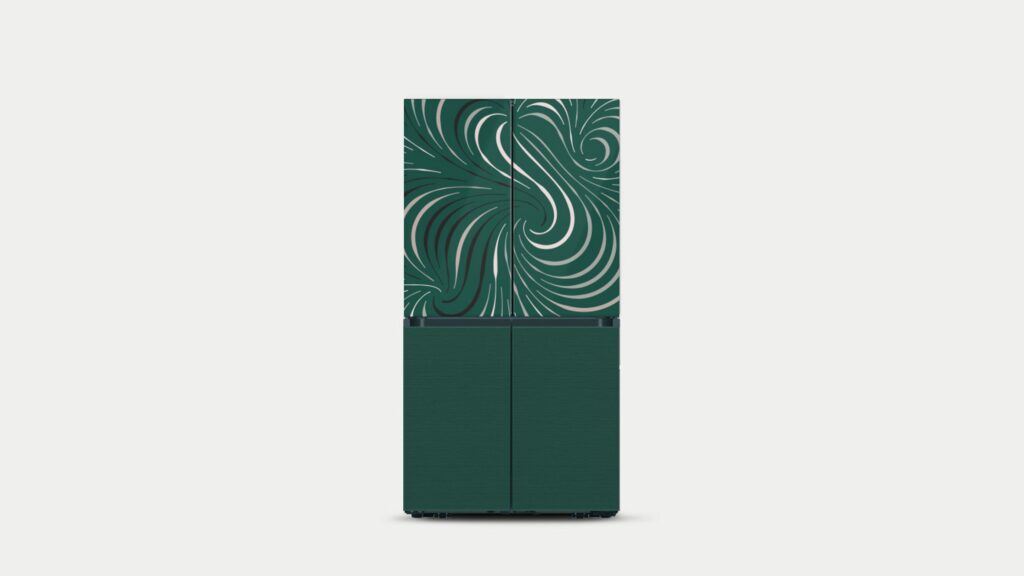 Samsung's Bespoke home appliances: design it yourself
So how does the process work? Customers that purchase a Bespoke appliance, such as a refrigerator, can create their own designs for the product on the Samsung.com website. French Door fridge panels can be customised, as well as whether there is a glass or metallic finish on lower doors or fridge drawers. Customers can upload, edit and then print their designs, with Samsung home-delivering the customised panels.
To celebrate its range of products, Samsung partnered with "generative artist" Matt Jacobsen, to help create 100 art prints that can feature on Samsung's Bespoke refrigerators. Mr. Jacobsen's MyBespoke Generative Art Collection apparently takes inspiration from four popular colours: White Glass, Navy Steel , Morning Blue and Emerald Green. Those colours inform the digital art collection, which mirrors patterns and prints you can see in the natural world.
"Generative art is an evolving digital medium that uses the randomness of computer algorithms to create stunning, one-of-a-kind images," Samsung noted in a press release.
"This blend of creativity and technology is the perfect fit for Samsung. Combined with the vivid detail of MyBespoke printing, this innovative medium unlocks new ways to experience digital art and personalise your home."
Bespoke refrigerators: beyond the design
Samsung's forward-thinking refrigerators offer far more than just customisable design. The fridges' Flexzone Drawer comes with five different temperature settings, ranging from standard refrigeration to soft freeze, which means users can "confidently store everything from fruits and veggies to proteins and seafood," as put by Samsung.
The Bespoke fridges also hope to "reinvent" the way to enjoy ice, by offering customers ice makers that can offer ice in cubes or even "specialised Ice Bits" that apparently can cool down drinks at a faster rate. Furthermore, the fridges' Beverage Centre allows customers to select between either an internal dispenser or water or an AutoFill pitcher that is built-in.
Samsung's fridges also feature Family Hub, which offers Wi-Fi capacity and Alexa voice service. With connectivity features, users can take a look at the inside of their fridge while they are on-the-go, an innovative feature that can help with buying groceries at the supermarket. Additionally, Family Hub offers options to stream music, manage calendars and events and more.
Samsung's AI Laundry products use the tech of tomorrow, today
Also a part of Samsung's Bespoke range is the line of AI Laundry products, including washers, dyers and air dressers. Customers can opt to have washers and dryers stacked up or side-by-side, with smart features to make doing laundry an easy task.
Users can operate their AI Laundry products from the palm of their hand using the SmartThings App, with options to receive notifications when a wash has finished its cycle and also to stop and schedule future washes.