Reincubate's Camo 2 upgrade takes video enhancement beyond the smartphone
With the new version of its Camo app, Reincubate brings video perfecting and personalisation to built-in cameras, connected mirrorless, DSLR and action cameras
UK-based app developer Reincubate, has announced the release of Camo 2, an upgraded version of its video-improving and customising app. With the new version, the app is not just for smartphones anymore and can now be used with webcams, built-in cameras, continuity cameras, mirrorless cameras, DSLRs and action cams, or virtually any PC or Mac-connectible camera.
"Today Camo makes the leap from being a tool to make the most of your phone's camera, to one that gives whatever camera you have a set of amazing new, next-gen features and capabilities," said Aidan Fitzpatrick, CEO of Reincubate. "If you're not happy with the video you're getting out of your device, Camo will improve it. If you can connect it to your PC or Mac, Camo will support it. Camo 2 is here to deliver on our commitment to empower more and more people to stand out with amazing video."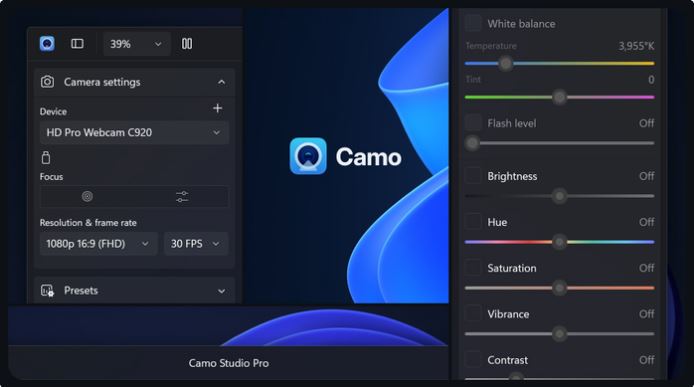 Better video quality on any device
Camo, which began as a video enhancing tool for iPhones, expanded its compatibility to cover Windows and Android devices. With this new release, the app's reach has been expanded to thousands of new devices, giving users an unprecedented level of control over any built-in or connected camera, the company says.

With the new version of the app, users can improve their videos by reframing their shots, adjusting lighting, introducing more depth and improving colours on any type of camera, from webcams to mirrorless cameras and DSLRs.

The firm hopes webcam users will especially appreciate the app's power. "Remarkably, webcam quality is largely still where it was years ago, with webcams and laptops still being built with years-old sensors, held back by primitive, limited software. Camo 2 is here to change that," says Fitzpatrick.

For more advanced types of cameras, the upgraded app has the capacity to augment a device's functionality with additional capabilities like auto framing, while also boosting colour, applying creative filters and overlays, and perfecting bokeh.

Moreover, Camo 2 enables direct 4K output for 4K webcams and dedicated cameras, and even supports a continuity camera, giving iPhone users greater control over the quality of their videos, with superior background effects and light correction.

The upgrade, like the previous version of the app, also offers ad-free full compatibility with Zoom, Teams, OBS, Chrome, Discord, Safari and FaceTime.
Robust feature set
Beyond existing features, with the improved version of the app users will benefit from several added picture-perfecting tools, background effects, powerful lighting correction, creative filters and new next-gen capabilities like Spotlight and Auto framing.

Camo 2's powerful background enhancement features include a sophisticated background bokeh effect in Portrait mode. The effect cleanly separates the subject from the background and then allows the users to control the depth of focus. Additionally, the Spotlight feature can be enabled and fine-tuned for any scenario in which the available lighting is less than ideal, eliminating backlit or underlit scenes.

Another advanced background feature lets users swap any image into the background using the virtual green screen in the Replace mode. In addition, with the privacy mode, users can cloak their backgrounds with a diffused image effect. According to Reincubate, these new background options "look far better than those available on video-conferencing platforms."
Building on Camo's success
The app's capacity to improve and enhance the capacities and functionalities of the cameras users' already have in their devices, has made it a popular tool for video meetings, streaming, and recording. Camo has been App of the Day in 168 countries in the App Store.
For more Imaging news, click here.