Polk Audio launches new ultra compact sound bar "to rival the best"
US audio brand Polk Audio has announced the launch of a new Dolby Atmos sound bar – the MagniFi Mini AX.
Described as "ultra-compact", the home entertainment speaker measures 37cm wide, packs in five speakers that Polk Audio boasts are capable of "deep bass, detailed highs and an expansive 3D soundstage" when paired with an optional wireless subwoofer.
MagniFi's powerful, next-gen, wireless down-firing subwoofer connects automatically and can be placed anywhere up to nine metres from the sound bar to deliver the deep, effortless bass that Polk is famous for. Plus, use BassAdjust to maximise bass impact, Polk says. Night Mode, meanwhile, will reduce those deeper tones (while increasing dialogue) to lessen the chances of disturbing someone in an nearby apartment.
As well as being capable of handling Dolby Atmos and DTS:X audio, the MagniFi Mini AX in 3D Audio Mode adds a virtual height dimension, for a more immersive sound experience, Polk says.
Other features include Polk's patented VoiceAdjust speech-clarifying technology, which works synergistically with MagniFi's integrated centre-channel speaker to bring up the level of voices without affecting the rest of the soundtrack, the company says.
Finally, in terms of connectivity, WiFi connectivity gives the user the option of connecting via AirPlay 2, Chromecast and Spotify Connect from a mobile device or computer.
The MagniFi Mini AX connects to the TV with HDMI eARC/ARC or optical for older models. There's also an "aux" jack if needed, plus and on-board buttons for pairing the sub or any rear speakers.
On the front, an OLED display illuminates to guide the user before disappearing so it's not a distraction. Polk also says this soundbar is Roku TV Ready.
The MagniFi Mini AX is available now for US$499 (€479). While the soundbar comes with a wireless subwoofer, Polk offers a set of wireless rear satellite speakers to expand the surround sound setup for 5.1-channel audio. The SR2s are available for US$170 (€199).
Key Selling Points
Dolby Atmos and DTS:X audio
Powerful, next-gen, wireless down-firing subwoofer
3D Audio Mode, Night Mode and Voice Adjust
In other recent Polk Audio news, the brand has recently updated it Signa range of sound bars with the Signa S4, and the earlier Signa S2, as well as the S4 are currently available on special offer.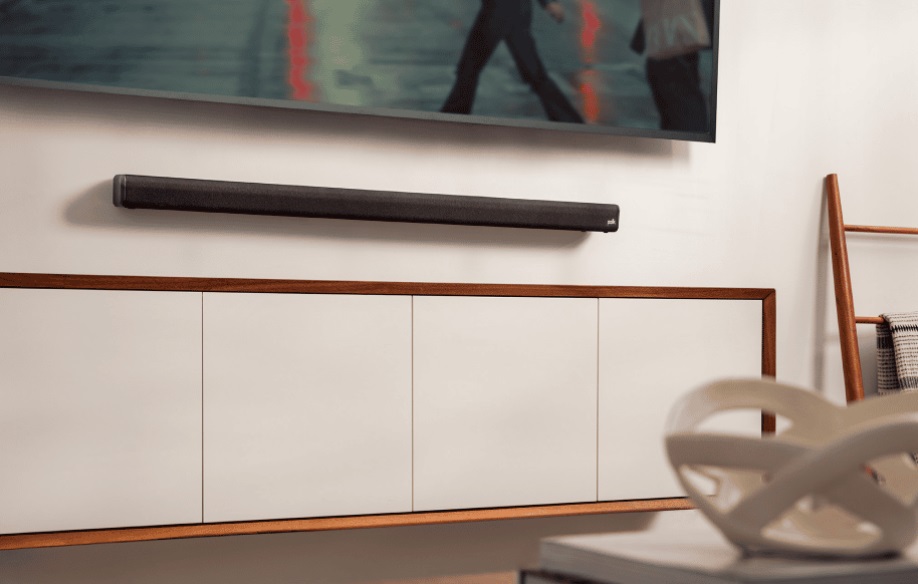 According to Polk Audio, Signa S4 is Dolby Atmos Certified* to immerse the user in 360 degrees of surround sound. From added ambience in music to special effects flying overhead, Signa S4 provides an incredibly realistic sound environment, the company says. Plus, standard audio played through the Signa S4 can be up-mixed to create a virtualised Atmos experience.
* Requires HDMI eARC connection between sound bar and TV
For more audio news, click here.