Novy adds new 120cm downdraft extractor induction hob
The Panorama PRO 120 is the latest addition to Novy's Panorama collection of vented downdraft extractor hobs.
The hob features five uninterrupted cooking zones in a side-by-side configuration that can also be bridged to become a fully zoneless cooking area. 
Designed for those seeking a flexible and technologically advanced surface cooking centre, the Novy hob also has a special grill function for use with a grill pan accessory together with a wide range of advanced cooking functions including automatic pan detection, automatic cooking, keep warm, chef function, Stop&Go pause function and timers for each zone.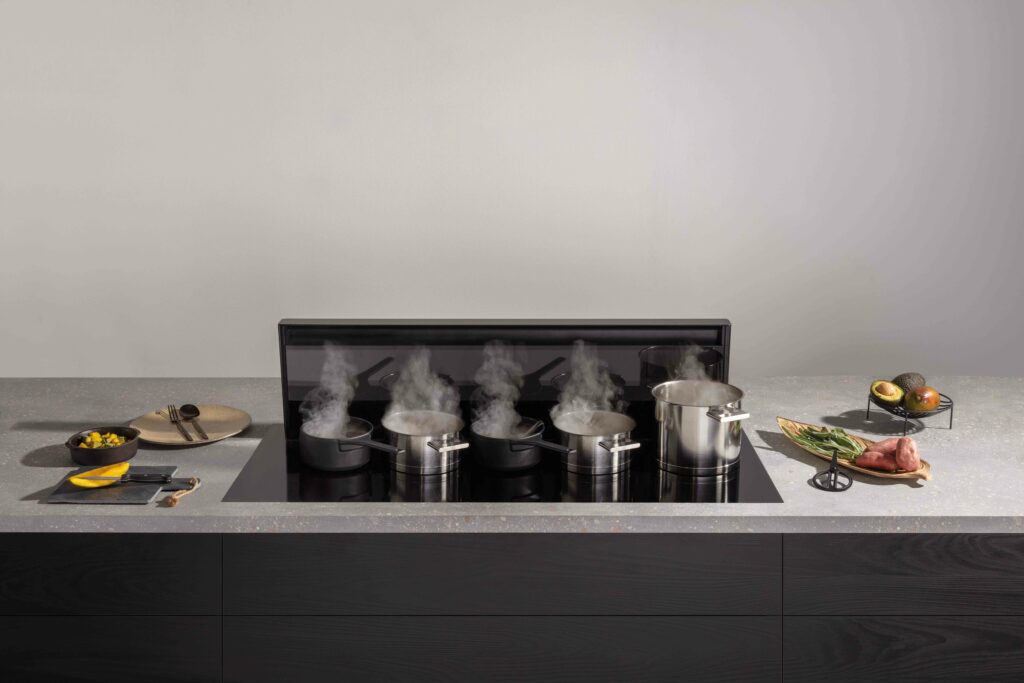 Integrated within the hob's surface is the 110cm semi-transparent ventilation tower that rises by up to 30cm to extract cooking vapours at source – directly behind the pans.
With a maximum free flow rate of 1,530m³/h, the powerful extractor has five speeds plus three intensive speeds together with a pre-set extraction function to automatically adjust the power level.
When cooking has ended, the tower retracts back into the hob's surface to be completely concealed from view. In addition to touch controls on the hob's surface, the extractor can also be controlled and adjusted using the Novy Connect app, which also monitors air quality in the room. 
Key selling points
The hob intuitively knows when a pan is on the hob
Stop & Go, a useful pause function, which can be reset to all previous temperature settings at the single touch of the control
Each zone is equipped with an independent timer up to 99 minutes