Nokia and Samsung sign new 5G patent licence agreement
Nokia and Samsung have decided to sign a new multi-year patent licence agreement after the previous one expired at the end of last year.
Nokia's new cross-licence patent agreement with Samsung was announced on January 23, 2023. The agreement will see Nokia's inventions in 5G and other forward-thinking technologies shared with Samsung, with the company making royalty payments to Nokia in return as of January 1, 2023. The terms of the agreement are confidential, but consistent with Nokia's forecasts in the company's financial report for Q3 and January to September 2023.
"Samsung is a leader in the smartphone industry, and we are delighted to have reached an amicable agreement with them. The agreement gives both companies the freedom to innovate, and reflects the strength of Nokia's patent portfolio, decades-long investments in R&D and contributions to cellular standards and other technologies," said Jenni Lukander, President of Nokia Technologies.
Nokia has an expansive patent portfolio, with reportedly over €130 billion invested in research and development since the turn of the millennium. Nokia has more than 4,500 patent families centred around 5G, and has approximately 20,000 patent families in total.
The company has said that its inventions are in line with open standards, and can be licensed on fair, reasonable and non-discriminatory terms without need for investments. Nokia says by doing this, it is "fueling innovation and the development of new products and services for consumers".
"We are delighted to have reached an amicable agreement," Ms. Lukander told Bloomberg.
"The agreement gives both companies the freedom to innovate, and reflects the strength of Nokia's patent portfolio, decades-long investments in R&D and contributions to cellular standards and other technologies."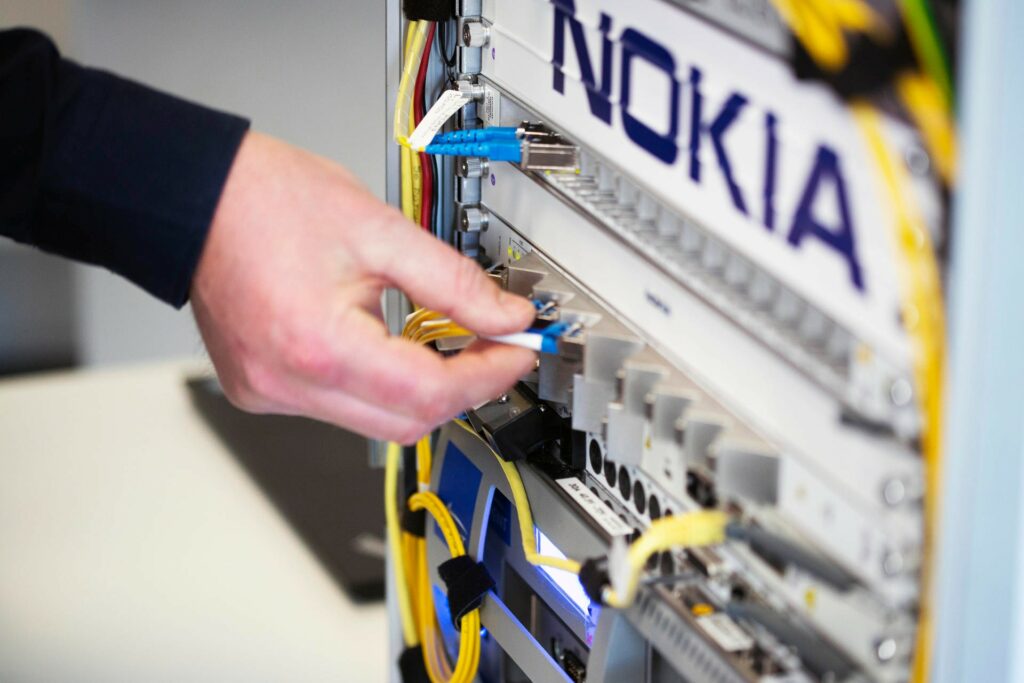 Nokia expands partnership with BT
News of Nokia's new patent licence agreement with Samsung follows the announcement of an expanded partnership with telecommunications outfit BT. Nokia and BT decided to agree to a new five-year deal last month, which will see the former company's AVA Analytics licensed to BT's fixed networks. This will apparently help BT bolster its network monitoring through technologies such as machine learning and artificial intelligence.
AVA Analytics provided by Nokia will allow BT to host automated workflows with in-depth analytics, helping to boost operational efficiency as well as the telecommunications company's operating scores, which are used by customers to recommend products and services to their peers.
The agreement will also see Nokia's Homeview dashboard solution improved for BT, giving call centre staff a more in-depth perspective of the operator's network. This will mean agents will be able to trace individual subscribers and even devices, speeding up the process for repairs and other issues.
"Our expanded partnership with Nokia is another demonstration of our commitment to providing the best customer experience by investing in AI, analytics, and other state-of the-art technology," said Nick Lane, Managing Director for Consumer Customer Services at BT
"Our partnership will help BT's customer service agents provide the best service across all phone and digital channels and continue to make BT the only network to answer 100% of customer calls in the UK."
"Nokia AVA Fixed Network Insights is a critical component to helping operators improve network diagnosis and troubleshooting processes, while reducing unnecessary manual fixes. We are very pleased to be taking our partnership with BT to the next level with this agreement," said Hamdy Farid, Senior Vice President, Business Applications at Nokia.
Samsung introduces Wallet feature to eight new markets
In news regarding Samsung, the company recently announced that its Samsung Wallet feature will be available in eight new markets, including India, Canada and Australia. Samsung Wallet was launched in 2022, and offers users a singular place to store important documents like digital keys, cards, and digital assets.
"Over the past several months, we've worked hard to rapidly expand the availability of Samsung Wallet, bringing the platform to more potential users. We look forward to sharing exciting new developments in the year ahead," said Jeanie Han, EVP and Head of Digital Wallet Team at Mobile eXperience Business, Samsung Electronics.
For more Communications news, click here.
by Bettina Badon