Mobvoi claims its new smart tracker is the world's first to monitor arterial health
The AI fitness wearable brand Mobvoi, in partnership with global health tech company CardieX, has announced the launch of its first heart health monitoring smartwatch, the TicWatch GTH Pro.
According to Mobvoi, which is backed by Google and Volkswagen, the TicWatch GTH Pro is the result of a two-year partnership between it and CardieX to develop a consumer smartwatch featuring CardieX subsidiary Atcor's proprietary technology that measures central arterial waveforms. These are pressure waves based on the strength of the pulse as blood flows through the body.
The TicWatch GTH Pro is the first smartwatch to feature Atcor's SphygmoCor technology, said to be a gold-standard noninvasive measurement method that has attained FDA clearance and strong recognition among hospitals as well as pharmaceutical companies, who are developing therapies for hypertension and heart failure.
The watch also utilises unique dual PPG sensors to provide insights into general and arterial health through high-fidelity sensing points that track both from the wrist and through the finger.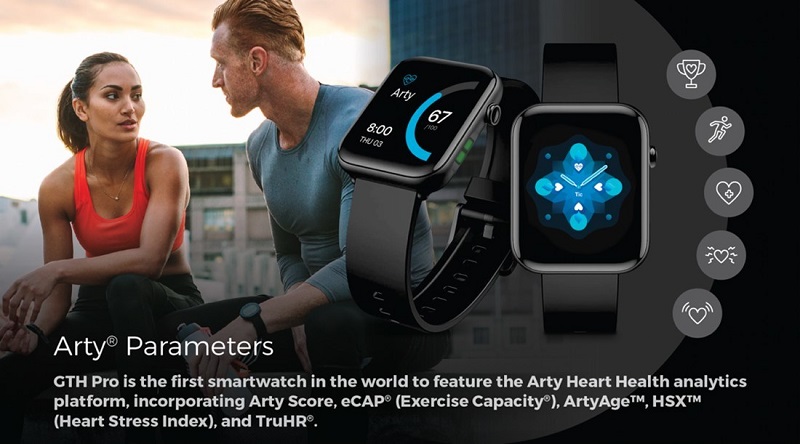 The data gathered from the watch appears on the Mobvoi app and compiles the metrics into five key points of analysis. Combined with Mobvoi's smartwatch technology, Atcor's heart health metrics give users easy-to-understand insights into their overall wellness and cardiovascular health, the company says. These include:
Arty Score – A general score of overall heart and arterial health based on proprietary heart health metrics;
eCAP – (Exercise Capacity) – a measure of blood flow to the heart;
ArtyAge – an estimated "age" of the arteries based on arterial stiffness;
HSX (Heart Stress Index) – a measure of stress on the heart; and
TruHR – a highly accurate heart rate measurement similar to that of an electrocardiogram.
Craig Cooper, CEO of CardieX and ATCOR commented: "This is the first integration of our market leading SphygmoCor heart health technology into a wearable device and has been the result of a significant two-year collaboration with Mobvoi.
"Our Arty Heart Health platform incorporates never-before-seen arterial biometrics and heart health insights based on the 20-year legacy of our ATCOR subsidiary in partnering with global research organisations, pharmaceutical companies, and leading clinical practices in the delivery of advanced arterial health diagnostics. It's this same trusted, clinical-grade technology that we are now incorporating into a series of new consumer wearables and home health devices.
"Cardiovascular disease remains the world's number one killer. It's our vision and mission to provide advanced heart health metrics into the hands of consumers, so that they may have better tools and insights to manage and prevent disease. Ultimately, the more accurate the data you have, the more informed you are to make decisions about your health"
Carol Wu, Vice President of Mobvoi, added: "With the decrease of health that we saw in the past two years from the pandemic, heart health remains a top issue for healthcare providers. Partnering with CardieX to introduce state-of-the-art heart health monitoring technology to our line of TicWatches is one way to achieve our mission of providing innovative and modern ways to track health and look good doing it."
The TicWatch GTH Pro comes in meteorite black with interchangeable 20mm watch straps. It is now available to purchase now. See Movoi's website for more details.
Key Selling Points
Dual-Sensor Technology – Personalized AI-based insights and guidance powered by Arty Heart Health to quickly assess your heart and arterial health.
Skin Temperature Monitoring – Track skin temperature 24-hours a day.
24-hr Heart Rate Monitoring – Get meaningful insights on heart health and receive alerts in real-time to know when you are above your thresholds.
For more fitness and digital health news, click here