Miele launches new and updated G7000 dishwasher models – rated "A" for efficiency
Miele has unveiled a selection of new and updated dishwasher models to its G7000 collection which are rated the highest for energy efficiency with an "A" rating.
According to the German manufacturer, its sustainable G7000 dishwashing range incorporates a wide range of eco-friendly features and user conveniences such as its AutoDos automatic detergent dispensing system with PowerDisk, along with AutoOpen Drying, 3D MultiFlex Tray and 10+ programmes. Easy to use via app or voice control, Miele says its new dishwashers save time, money, energy and water and are ultra-quiet, making them perfect for open-plan kitchens.
Combined with superior cleaning performance and user convenience, Miele says its G7000 collection is a seriously sustainable solution for any home as over the last 20 years, Miele has successfully reduced the energy consumption of its dishwashers by 44%.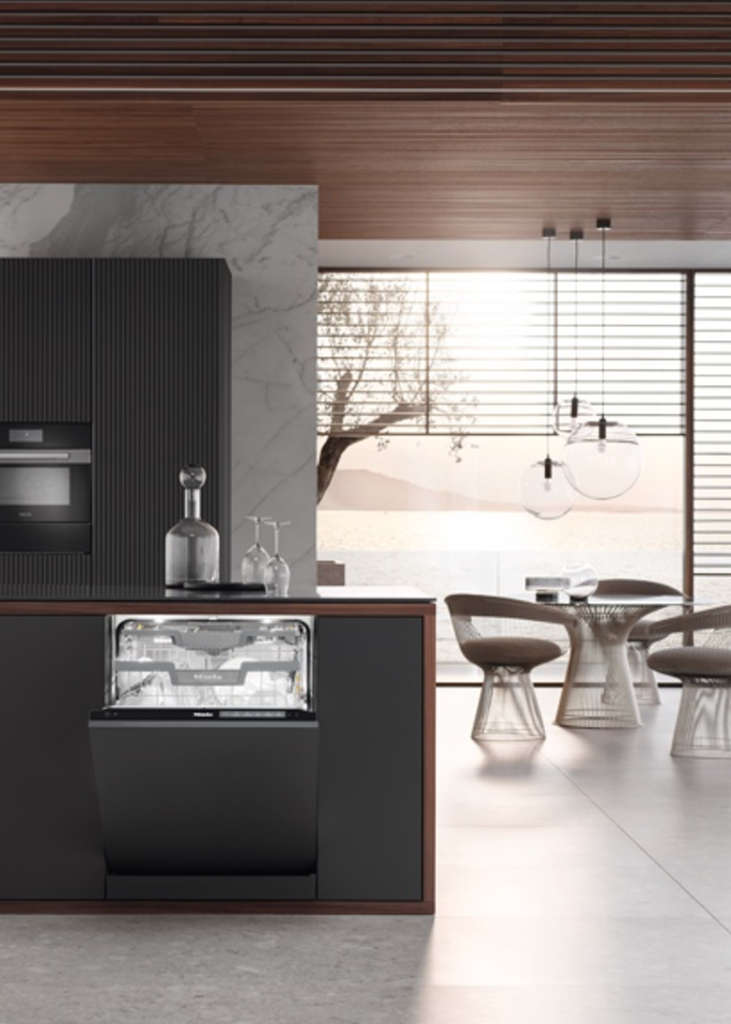 Thanks to the work of its technicians in the German R&D laboratories, almost all Generation 7000 dishwashers are now rated "A" for energy efficiency, meeting the strict criteria set by the new EU energy efficiency legislation.
EcoPower Technology
Miele's G7000 dishwashers feature EcoPower technology and precisely matching components, including greater precision of the spray arms and precise alignment of the spray jets. Combined with a highly efficient filtration system and intelligently designed water intake with additional insulation to retain heat, the appliances use less energy for optimum performance, Miele says.
AutoDos with PowerDisk
The AutoDos with integrated PowerDisk is another sustainable benchmark from Miele, the company says. Automatic dispensing adjusts the amount of detergent, ensuring that only the precise amount of water, energy and detergent needed is released according to how dirty the dishes are and the programme selected. In future, Miele claims that it will also be possible to adjust automatic dispensing via the menu, giving users the option to further reduce detergent consumption for lightly soiled crockery or to increase it for baked-on dirt and grease. The eco-friendly PowerDisk dispenser itself is made from recycled plastic waste.
In addition, Miele will soon be launching its PowerDisk All in 1 Eco, a bio-degradable detergent made from plant-based ingredients – free from fragrances, preservatives and colourants.
App and Voice Control
All Miele G 7000 dishwashers with AutoDos can be connected to the Internet via WiFi and controlled via the Miele Conn@ct app from any mobile or Amazon Alexa. It is possible to start and stop the dishwasher from anywhere, activate programmes and options, check levels, receive automated reminders and even order detergent online.
The AutoStart function allows the dishwashers to be set to start regularly at the same time and as the detergent is already added, users are in control of their dishwashing anytime, anywhere, Miele says. If the door is not opened between two scheduled cycles with no new dishes added, the start of the next cycle is automatically delayed.
The G 7000 Range
The new and updated models in Miele's G 7000 dishwashing collection includes freestanding, semi-integrated and fully integrated models so there is a design to suit different kitchen requirements. All are "A" rated for energy efficiency, use only 6L of water per cycle, as well as benefitting from low noise levels (41dB – 43dB).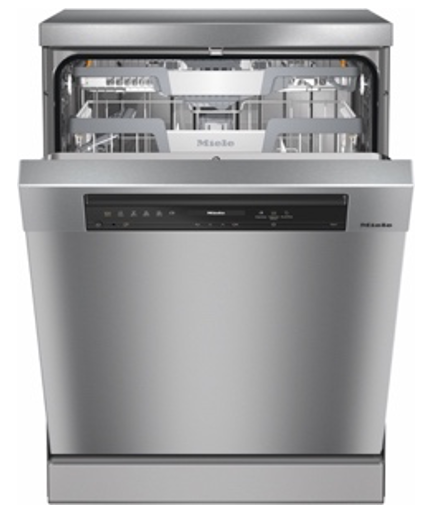 Freestanding
The freestanding G 7410 SC model is available in Brilliant White and CleanSteel. It features a TFT display and ten programmes including QuickPowerWash which provides a full A rated wash and dry programme in just 58 minutes. All cycles are also water and energy efficient for eco-friendly dishwashing every time. AutoOpen drying at the end of all cycles ensures perfectly dried crockery, Tupperware and cutlery while saving energy.
Semi-Integrated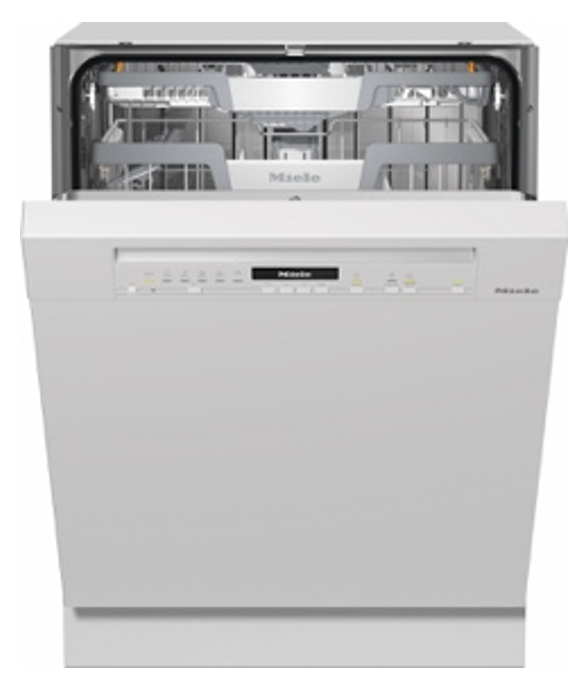 The semi-integrated G 7200 SCi model comes in Brilliant White or CleanSteel and features eight programmes including Express and Intense Zone options as well as a 3D MultiFlex tray which can be configured in nine different ways for flexible cutlery storage. The QuickPowerWash setting provides a full A rated wash and dry programme in just 58 minutes, while AutoOpen drying at the end of all cycles ensures perfectly dried crockery, Tupperware and cutlery while saving energy.
Fully Integrated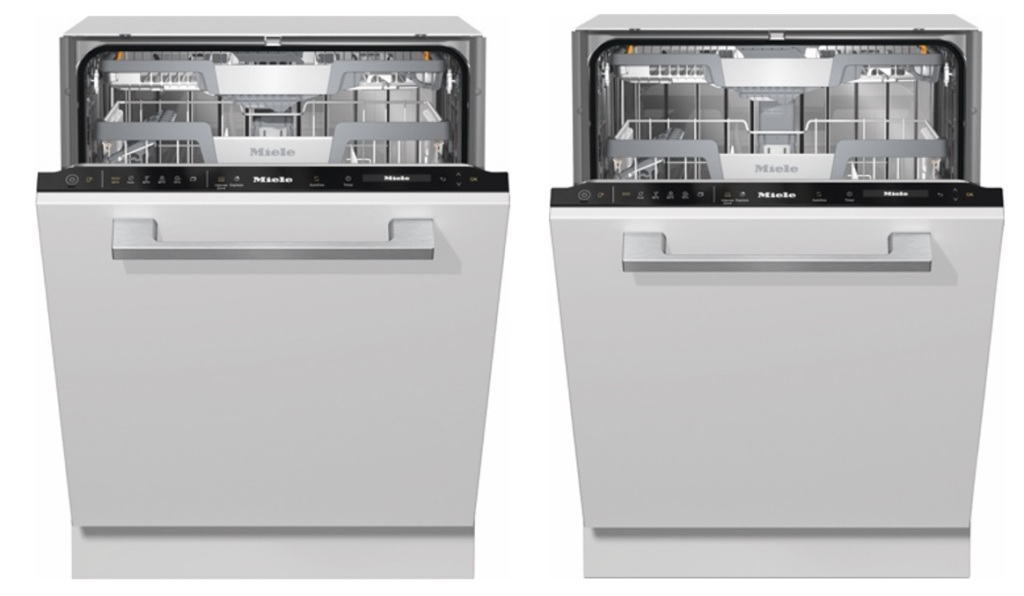 Miele's fully integrated G 7000 series includes the G 7460 SCVi and G7465 SCVi XXL models. Available in Stainless Steel/Black, they feature AutoOpen Drying, 3D MultiFlex tray, acoustic signal and boast a quiet 42dB noise level. Featuring 12 specialist programmes from Express to ExtraClean, they also benefit from Miele's AutoDos with PowerDisk for automatic detergent dispensing, helping to reduce waste and save time and money. AutoOpen drying at the end of all cycles ensures perfectly dried crockery, Tupperware and cutlery while saving energy.
Key selling points:
Rated "A" for energy usage
AutoDos detergent dispensing system with PowerDisk
AutoOpen Drying
…
For more home appliance news, click here.