Sonos announces acquisition of "disruptive tech" Mayht Holding BV for over €90 million
Sonos, Inc. has announced the acquisition of Mayht Holding BV, a Netherlands-based company that has invented a new, revolutionary approach to audio transducers.
Already in December, Swedish solar cell company Exeger, venture capital firm Forward.One and music producer and DJ Martin Garrix, took part in a funding round in the disruptive Dutch audio-tech start-up. The Series A follow-on round took investment in the firm to around US$10 million.
"Mayht's breakthrough in transducer technology will enable Sonos to take another leap forward in our product portfolio," said Patrick Spence, CEO. "This strategic acquisition gives us more incredible people, technology and intellectual property that will further distinguish the Sonos experience, enhance our competitive advantage, and accelerate our future roadmap."
"We are very excited and proud to become a part of Sonos," said Mattias Scheek, CEO of Mayht. "Our dream has always been to set a new standard in the audio industry. The integration of our technology into Sonos products will further revolutionize high quality sound."
The investment by Sonos will mean a huge boost for Mayht, as under the terms of the agreement Sonos acquired Mayht for approximately US$100 million (approx. €90m) in existing cash on hand.
Reinventing the way speakers work
Mayht's Heartmotion technology has totally reinvented how the insides of speakers work (for the first time in 100-years, they say), allowing consumer electronic companies and speaker manufacturers to shrink the size of their products, while still offering immersive, high-quality, loudspeaker level sound.
Founded in 2016, by brothers Mattias and Timothy Scheek, Mayht (pronounced "Might"), is targeting an addressable $375 billion consumer electronics and automotive speaker market through technology licensing.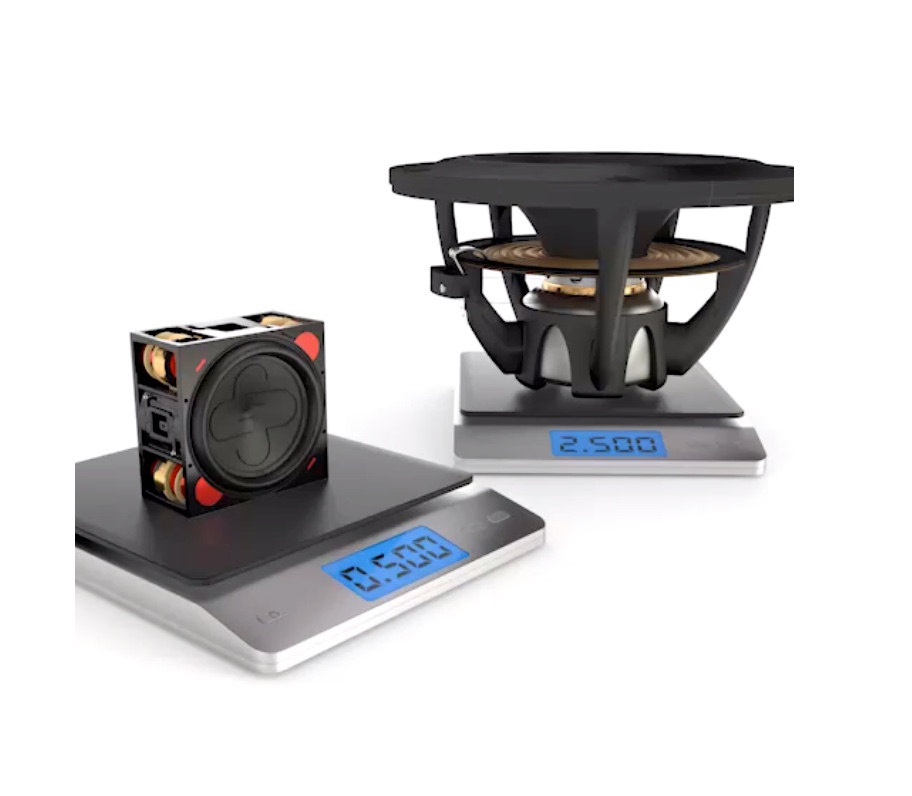 By redesigning the core workings of the speaker, Mayht's Heartmotion technology allows consumer electronics and speaker manufacturers to create new products that are up to ten times more compact, flatter and lightweight without any compromise to sound quality, range or output.
This means consumers will soon be able to experience home cinema theatre bass from a single soundbar without the need for a separate subwoofer, portable bluetooth speakers as powerful as large party speakers, and receive floor standing speaker sound quality from their WiFi speakers and home voice assistants.
The Mayht management team is engaged in conversations with global tech giants, consumer electronics brands, speaker and car manufacturers, to showcase how its technology will revolutionise the home entertainment, portable device, voice assistant, soundbar and automotive markets.
Mayht Chief Executive, Mattias Scheek said: "While consumer electronics have grown more powerful and compact in recent years, the core speaker technology within has hardly evolved. I truly believe our Heartmotion speaker technology is the revolution the industry has been dreaming of, but never thought possible. They will finally be able to create the sound experiences people want from everyday consumer electronics and automotive audio systems."
Our vision is to make Heartmotion the new industry standard for speaker driver technology, making the best sound quality accessible to the masses
"Until now, only those with big enough homes and the money to afford it could enjoy high-quality, immersive in-home sound experiences," says Scheek. "Our vision is to make Heartmotion the new industry standard for speaker driver technology, making the best sound quality accessible to the masses."
As Mayht's Heartmotion speaker driver technology is highly compact and self-balancing, consumer electronics and car manufacturers no longer need to design audio products constrained by conventional speakers. This means they can create much smaller products and achieve both environmental and cost savings, through significant reductions in materials, manufacturing, packaging, shipping and retailing.
Speakers that use the Heartmotion technology platform can also offer consumers important reductions in energy consumption, as they will require less power than comparable same size audio devices currently on the market.
…
Photo – top of page: Mayht Holding BV
…
Read. also: EVERYTHING YOU NEED TO KNOW ABOUT THE SONOS RAY SOUNDBAR