Leica's expansion into the laser TV market goes full steam ahead with Hisense partnership
The world famous camera and lens specialist has decided to partner with electronics company Hisense as it expands into the growing laser TV market. The company is presenting its first laser TV, the Leica Cine 1, exclusively at this year's IFA trade show (September 2 – 6, 2022) in Berlin.
Leica Camera AG has implemented a growth strategy, which will see the company expand into new business areas and segments. One particular market, laser TVs, is being targeted by Leica who has partnered with Hisense, regarded as one of the world's largest and most innovative players in the laser TV market.
The partnership will involve technological cooperation between the two businesses, creating a strong foundation for the development of laser TVs. The long-term goal of this alliance is to merge Leica's revered reputation in crafting high-quality projection lenses with Hisense's experience and prestige in the laser TV market. The result? Creating a platform which can produce powerful and forward-thinking short-distance laser TVs.
Leica involvement in the projector market makes it ideal partner for laser TVs
While the high-end camera producer has a long history of innovation and high-level camera production, it has also engaged with projectors over the years. It was over 50 years ago that the Leica Pradovit range of projectors was part of the company's product portfolio. The product was initially launched as an analogue projector, before the decision was made to launch a digital version.
With many years of experience and a proven track record of innovation with lenses, the company is perfectly positioned to move into the laser TV market segment – described by the company as "the next logical next step".
"Being a classic and time-honoured brand in imaging, Leica enjoys great technological strength and unique quality and style. With Leica's remarkable optical technology, laser TV is able to present clearer and delicate images. The combination of Leica's distinctive image tuning style and extensive colours of laser light will bring the world a stunning visual feast", said Dr Lan Lin, President of Hisense.
"Home cinema entertainment is a rapidly growing market and the expansion of our product offering in this segment represents a promising opportunity to delight new customers with our premium products", said Matthias Harsch, CEO of Leica Camera AG.
"As the technology and market leader in the field of laser TV systems, Hisense is the ideal partner to show the capability of high definition 4k movie productions in an unforgettable cinema experience at home. We are pleased to present the Leica Cine 1 at IFA, the first laser TV with the superior quality Leica is known for".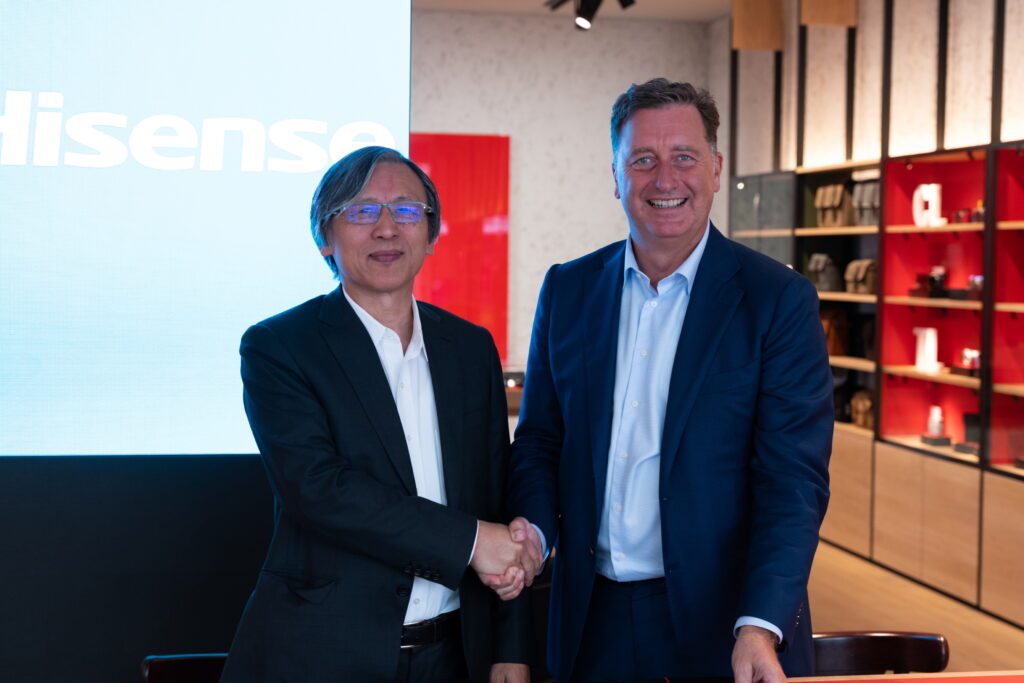 Hisense dominance in the laser TV industry continues
Hisense is considered to be a market leader in the laser TV industry, and it is easy to see why. The company currently owns 1,700 patents in the field, more than any other company in the world.
Additionally, the company has voiced its dedication to boosting the development of laser TVs, and has provided plenty of good reasons why. Laser TVs come with a wide range of benefits, including a large-screen, which offers viewers an immersive experience, a wide colour gamut, energy-saving features, a more environmentally-friendly mode of production and sensitive eye care for viewers.
Watch Leica present its first laser TV, the Leica Cine 1, exclusively at this year's IFA trade show (September 2 – 6, 2022) in Berlin at the Leica booth (number 205) in hall 2.2.
Laser TVs have enjoyed steady growth
The decision to partner on the production of laser TVs could prove rewarding for both companies, especially given the growing success of this market segment.
Data provided by All View Cloud indicates that the compound annual growth rate of laser TVs was as high as 213.8% between the years 2015 to 2020.
According to data provided by Global Info Research, global revenue for the laser TV segment was estimated to be around $1.3 billion (around €1.27 billion).