IFA 2022 launches Early Bird ticket offer
IFA Berlin is making a large-scale and real-life return this year, from 2-6 September 2022. And to make trade visitors the return to IFA Berlin as easy as possible, the IFA 2022 ticket shop is now open, with a special Super-Early-Bird-Ticket that costs just €35 – available only until 31 May.
Indeed, brands, manufacturers and retailers alike are queuing up to travel to Berlin, following a two-year hiatus caused by the Covid pandemic.
Two-thirds of IFA's top exhibitors have already confirmed their attendance, with a huge number of exhibitors planning to return at the same scale as in 2019, the last IFA year before the pandemic.
This is in line with strong bookings across the board for all exhibition spaces. 
The return of IFA continues to get a great deal of of positive feedback from retailers across Europe and beyond. All major retail groups have confirmed that they will be in Berlin, ready to see the action.
For them, IFA is a key platform and their first large-scale opportunity to reconnect with brands, discuss innovation and ensure a resilient supply chain ahead of the most important shopping season of the year.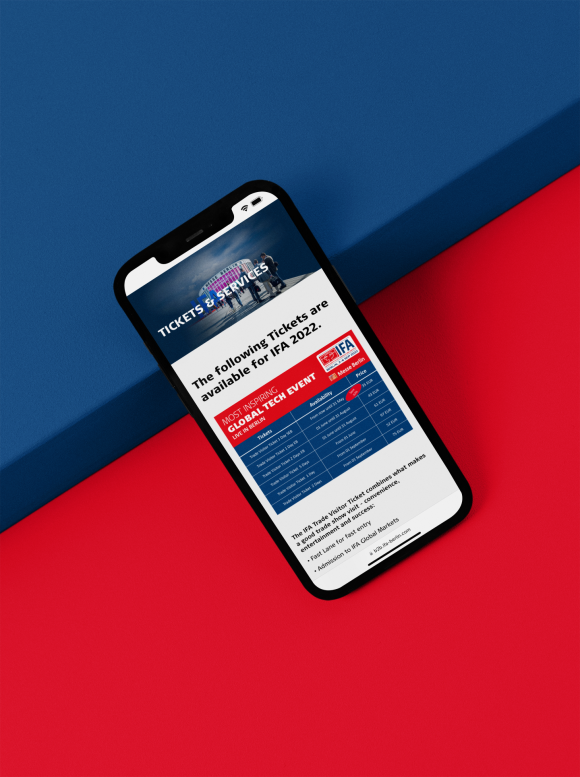 Global brands are also looking forward to meeting trade visitors and media from around the world again:
Michael Block, CEO Audioblock 
"We are ready and we are on fire for the first IFA since 2 years. It is necessary that global fairs like the IFA take place and show new technique and new products. Also, the personality and the spirit on the show is important for good business and motivate us and our customers."
Jean-Christophe Agobert, CEO Bleujour 
"For us as a manufacturer of mini-PCs, the IFA is one of the most important trade fairs. We can´t wait to be a part of it again with our premium products for business and gaming."
Michael Geisler , General Manager, Electrolux Hausgeräte GmbH
"September without IFA is simply not the same. We at Electrolux can't wait to see the fair returning – and with it, the perfect platform for showcasing our sustainable innovations."
Michael Maier, Head of Fitbit Central Europe
"A lot has changed in the two years without IFA in Berlin, also at Fitbit: we have become part of Google. What has not changed: we are still excited about discussing the future of health & wellbeing with our partners and guests."
Harald Friedrich, Managing Director Robert Bosch Hausgeräte GmbH 
"We look forward with great anticipation to presenting our innovations at IFA 2022, to meeting clients again in person and to reinforcing our relationships."
Michael Mehnert, Managing Director Siemens Home Appliances Germany 
"IFA is the summit for retailers, manufacturers and the media. We are excited to present our brand and our innovations in person again – more impressive than ever."
Pingji Li, VP TP-Link Corporation Limited
"TP-Link is dedicated to exploring the possibilities of connecting everything. We're excited to bring our latest networking and smart home solutions to IFA 2022. See you there!"
TEX YANG, VP of Global Business Unit XGIMI
"Welcome back, IFA! This year, XGIMI will introduce amazing features, easy-to-use devices, and fast setups for a premier viewing experience. Stay tuned for exciting news!"
More Brands will be announced shortly…
IFA media pre-registration is also open.
…
Read also: KEY MARKET TRENDS REVEALED AT IFA DIGITAL PRESS CONFERENCE