IFA 2022: Over 80% of Berlin Exhibition Grounds already booked
From 2 to 6 September at IFA 2022, a massive selection of world renowned consumer and home electronics brands will be presenting their innovations and products at the Berlin Exhibition Grounds. 
This September, IFA is clearly living up to its expectations again as the world's leading trade fair for consumer and home electronics. Brand names from around the world and all parts of the industry have now confirmed their participation in the event. Occupying more than 30 halls and several special displays, IFA 2022 will fill the historical exhibition grounds in the heart of Berlin.

"With such diversity on show and by mirroring the entire market, we are paving the way for a successful show for exhibitors and visitors alike", said Kai Mangelberger, Director IFA 2022. "The fact that exhibitor numbers are back to pre-pandemic levels, with Samsung in the CityCube Berlin, Panasonic in Hub 27 and LG in Hall 18 for example, and with the Household Appliances area almost fully booked, where companies including Bosch, Haier, Miele and Siemens are on the southern section of the grounds, shows that expectations for IFA 2022 are high." 
With IFA Virtual, Messe Berlin is already launching a new B2B platform in July for arranging trade fair visits, networking and finding information. It will also contain a comprehensive list of exhibitors and product highlights. "We are pleasantly surprised at the many registrations still being received at short notice. We will be working on the exhibitor lists and hall plans up to the last minute to ensure a place for every exhibitor and to perfect the hall interior for visitors", Mangelberger said.
Other sections including SHIFT Mobility and IFA Global Markets will occupy further halls on the grounds.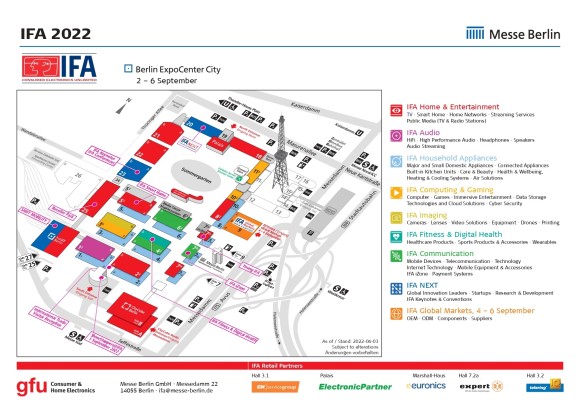 "Industry participation in IFA 2022 is high. Accordingly, we are delighted to again welcome the retailer cooperatives who were represented at previous events and who are participating with their own displays."
IFA Home & Entertainment
The Home & Entertainment section has defined IFA since it was launched in 1924. The products range from the latest TV innovations and home entertainment to a wealth of products and services that accompany consumers' everyday lives. Leading, globally well-known CE market brands including Epson, LG, Metz, Panasonic, Samsung, Sony Europe, TCL, Toshiba and Vestel are presenting their latest innovations along with other market players such as international distributors, specialist companies, accessory brands and retailers. This year, well-known companies such as Busch-Jaeger, Ring and Schneider Electric are represented in the Smart Home Special Area again. One thing is certain: with Home & Entertainment covering the entire IFA grounds, every customer need will be catered for.
IFA Audio
IFA Audio stands for high-quality sound, high-tech and designs. This section at IFA is the international meeting place of hi-fi experts, audio professionals and audio fans. As a unique platform offering innovation and inspiration, IFA Audio presents forward-looking concepts and solutions as well as the latest products and highlights, including noise cancelling, true wireless headphones, audio-streaming, immersive and spatial audio, smart speakers and sound systems. Exhibitors from all over the world, from well-known brands to innovative newcomers, are presenting inspiring products and trends. The brands here include Audio-Technica, Block, JVC KENWOOD, Jabra, TEAC and many others. 
IFA Household Appliances
With their innovative features and energy-saving functions, household appliances offer a lifestyle improvement and support sustainable growth. Since 2008, IFA Berlin has been the ultimate platform for the household appliances industry. It caters for every segment of the large and small household appliances market, including built-in kitchen units. Body care and wellness products are on display here, as are heating and air-conditioning solutions. In 2022, brands including AEG, BEKO, Beurer, Bosch, Candy, Electrolux, Grundig, Haier, Hoover, JURA, Kärcher, Liebherr, Miele, Russel Hobbs and Siemens are presenting their latest products.
IFA Computing and Gaming
IFA MyMedia has been renamed IFA Computing & Gaming to take the developments and trends in this relevant market into account. In addition to computers, games and immersive entertainment, topics here include data storage technology, cloud solutions and cybersecurity. This year, companies including Asus, AVM, Hama, MSI and TP-Link are displaying their products and innovations.
IFA Imaging
IFA Imaging is the international platform for the imaging industry. This section invites photography and video experts, exhibitors, trade visitors and imaging fans to experience creative and interactive presentations of brands along with new and inspiring products from the world of imaging. IFA is also partnering with the Berlin Photo Week in order to represent the wide-ranging imaging industry.
IFA Fitness & Digital Health
In recent years great progress has been made in fitness and health technology. Today, these products are more popular than ever, and they are still evolving. Wearable fitness trackers, muscle stimulation and massaging devices, digital thermometers and smart scales accompany many people's everyday lives. At IFA 2022 Fitbit, Garmin and Therabody are among the companies presenting their innovations.
IFA Communication
In the IFA Communication section the focus is on connectivity. Today, mobile devices can control and communicate with products such as refrigerators, sound systems, TV sets and even washing machines. This technology means IFA Communication is the place that links every other IFA section as well as all kinds of different products. This year, global brands including Brodos, Honor, Huawei, Nokia and Telefonica are represented in this section.
IFA NEXT
IFA NEXT, the innovation hub of IFA, gathers the world's leading innovators, research institutes, promising startups and forward-looking companies in order to examine and highlight how new technology trends and the resultant digital products will change consumers' everyday lives. At IFA NEXT, the focus is on the technology of tomorrow, lifestyle and the desire to test new products and concepts. A wide-ranging programme featuring lectures, expert panel discussions and startups will augment the exhibition.
IFA Global Markets
IFA's international sourcing platform for ODMs and OEMs was launched in 2016. The format quickly evolved into Europe's largest B2B sourcing marketplace. Trade visitors from every market can make new contacts here and meet with established partners. The exclusively B2B environment guarantees a focused and results-oriented atmosphere.
IFA Global Markets will take place from 4 to 6 September 2022 on the Berlin Exhibition Grounds. Admission to Global Markets is free of charge for registered participants.
Tickets & Services
Tickets for IFA 2022 can only be purchased online. There will be no ticket sales on-site and no registration counters at the entrances.
…
Read also: IFA 2022 LAUNCHES EARLY BIRD TICKET OFFER