Hyundai on-track to support Apple car key feature on new vehicles
Apple is reportedly introducing a digital car key feature to Hyundai vehicles as soon as this summer.
Apple first announced a new car key feature in June 2020. Drivers can use the feature to add a car key to the Wallet app, using their iPhone or Apple Watch to lock, unlock or even start their car. This is done thanks to a U1 chip on selected Apple products. A new report indicates that this feature could be compatible with Hyundai models as soon as this summer.
According to the report by Bloomberg, the Apple car key feature could be implemented by Hyundai in its Genesis line of vehicles. It has not been announced which models could support this feature, but reports indicate that Hyundai's Ioniq 5 may be among vehicles with near-field communication for a digital key.
In September 2021, iOS code referenced Genesis as a "partner" for supported car access terminals, indicating that Hyundai's support for this car key feature could be a possibility in the future.
Apple car key functions with BMW
Apple's car key application is currently compatible with certain BMW vehicles. The feature connecting the two companies was announced in June 2020. It was the most recent announcement in a long line of collaborations between Apple and BMW. The car manufacturer was notably the first to integrate iPod into its models, as well as wireless Carplay.
Apple and BMW developed the feature together, with the key being made available in models that support Comfort Access, which supports proximity sensors that interact with Apple's car key feature.
Users can unlock their car doors with their Apple product, be it iPhone or Apple Watch. Once inside, drivers can start their engines using the app. The technology is based on near field communication, with devices required to be no more than 4 cm away from the lock. BMW claims this technology works for approximately five hours after an iPhone has run out of battery. This is because there is still reserve power in the phone for specific tasks like paying for public transport.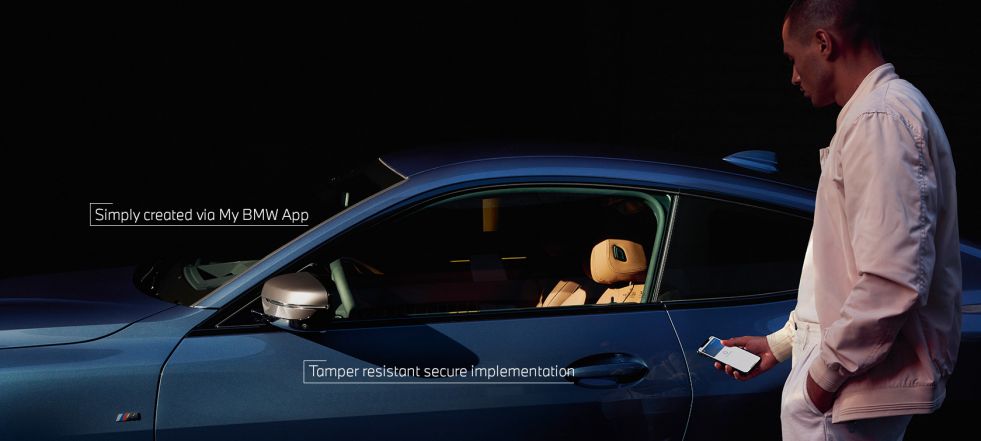 Using Apple's car key feature
Users can access Apple's digital key by adding it to the Wallet app. BMW says it provides product experts to help new users set up the feature.
After setting up, drivers hold the top of the phone next to the door handle. A check mark appears on the Apple product display confirming the success. The car key feature also supports an "express mode", which allows drivers to use their phone or watch as a key without requiring a password, fingerprint or Face ID. For users choosing to use a password, you will need to touch the door twice in between providing a security code or other verification.
The car key can notably be shared with a maximum of five iPhones and Watches. Drivers can send invitations to other users, with the option to rescind accessibility.
There are a range of security features. For example, if an Apple device is lost or stolen, users can mark it as lost, ensuring that no one else can use their device.
With ambitions to open up its car key compatibility to other automakers, Apple is one of a few major tech companies utilising this market. Last year, digital car keys arrived on Google Pixel 6 and Samsung Galaxy S21. The application is also available with BMW models.