Haier brings AI to the kitchen – with Series 6
The Chinese manufacturer Haier has showcased its latest innovations in refrigeration, connected wine cellars and washing machines with the exclusive debut of Haier cooking – Series 6: a complete range of premium kitchen appliances guided by Artificial Intelligence.
The launch saw the first ever collection of Haier built-in appliances, and further enhances Haier's reputation for premium design, quality and reliability alongside connectivity and cutting-edge innovation.
Haier explains that Series 6 incapsulates premium technology that comes together in a range of ovens, hobs, hoods, refrigerators, and dishwashers that use connectivity, the hOn App and AI to offer tailor-made solutions for the modern home, thanks also to their elegant and minimalist design.
The Chef@Home oven, which, thanks to a presence sensor, turns on automatically, giving the user access to the 19-inch full touch control screen. The innovative "Cook with me" technology is designed to bring Artificial Intelligence into everyday life. Furthermore, the PreciTaste technology recognises the types of food placed inside the oven, so it automatically sets the cooking parameters, sending the user a notification when the food is ready.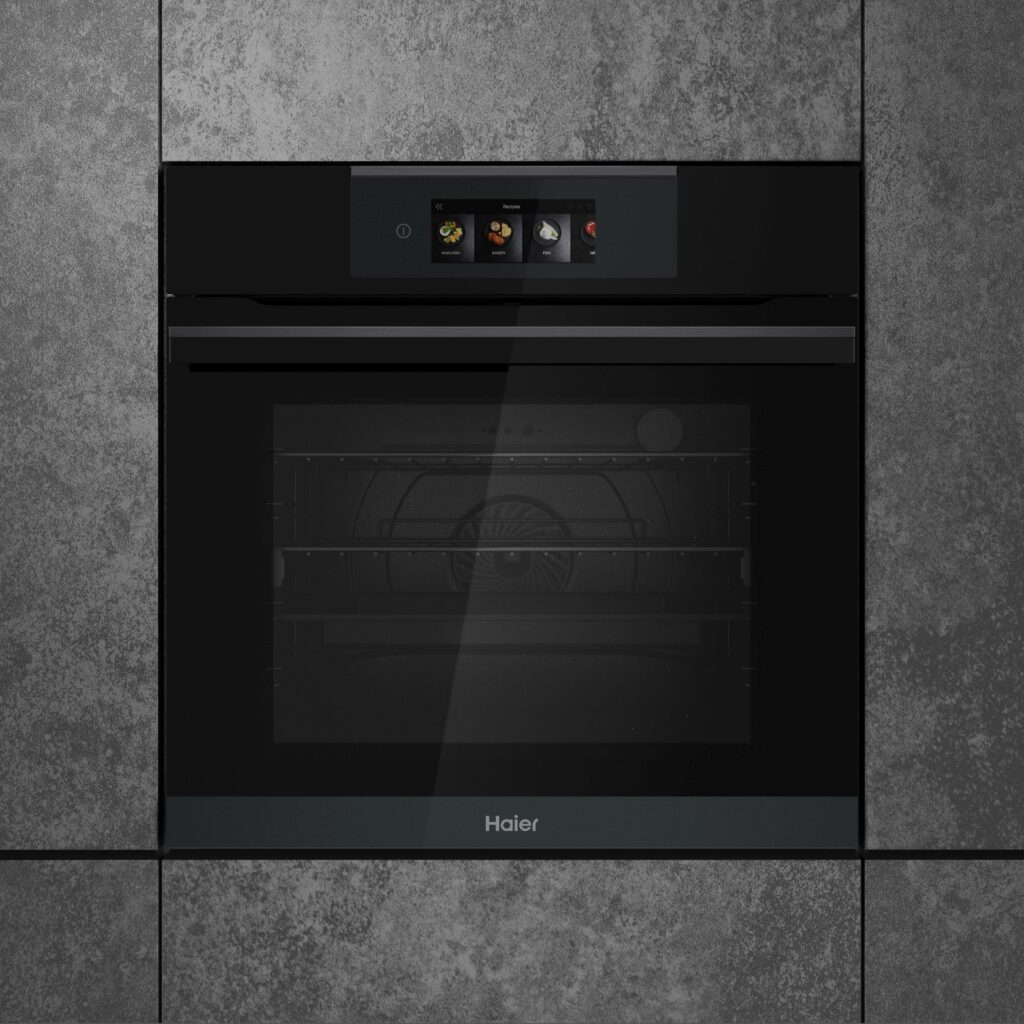 Haier's cooking range embodies the brand's continuous efforts to offer premium products and high-tech solutions, clearly also visible in the induction hob range: thanks to the innovative PreciProbe Bluetooth temperature probe, which is also included in the Chef@Home oven. The induction hob maintains the temperature of the food, automatically choosing the correct power at every stage of cooking notifying the user when it is ready.
Exclusive features of the Series 6 hob range also include Multi-zone technology, which – thanks to an advanced temperature detection system and optimised power management – can detect and manage the presence of different sized pots in the same area, ensuring maximum flexibility. 
Meanwhile, VaryCook technology allows users to increase and decrease the temperature of their hob with ease without touching the controls, simply by sliding pots and pans up and down, thanks to three power levels (high, medium and low), giving the possibility to cook food at varying temperatures during the cooking phases.
The range is completed by gas hobs, in which Haier offers models with the most powerful set of burners on the market, (5 Kw of power), and with the use of the innovative and exclusive PreciFlame technology, which makes it possible to adjust the intensity of the flame to perfection by offering nine different power levels.
Jim McEwan, Haier's Chief Commercial Officer, said "Haier's kitchen built-in range, characterised by perfect integration between technology, connectivity and tailor-made products.
"Thanks to Artificial Intelligence and the hOn App, we offer our customers exclusive experiences connected to household appliances, which ranges from exclusive refrigeration solutions, innovative cooking options and reactive wine cellars. Haier is truly the number one brand in major Appliances, worldwide."
Key selling points
Technology recognises the types of food placed inside the oven
Bluetooth temperature probe
Most powerful set of burners on the market
Read also: HAIER EUROPE STARTS PRODUCTION AT NEW REFRIGERATOR PLANT IN ROMANIA