Groove X, CyberLink and Macnica partner to improve smart robot
The companies will enhance Groove X's smart family robot Lovot with AI facial recognition
Japanese personal robotics company Groove X is set to partner with Taiwanese AI and facial recognition tech maker CyberLink and semiconductor, electronics and AI/IoT manufacturer, Macnica on its smart family robot Lovot. The collaboration aims to improve the robot's facial recognition capabilities and enhance its ability to interact with users.

CyberLink says by combining Macnica-made tech with CyberLink's AI-enhanced facial recognition engine, FaceMe, Lovot's capabilities will be further expanded to include recognition of individual family members. "We are confident that the enhanced ability to recognise different household members will boost Lovot's sense of companionship," the company said on Twitter.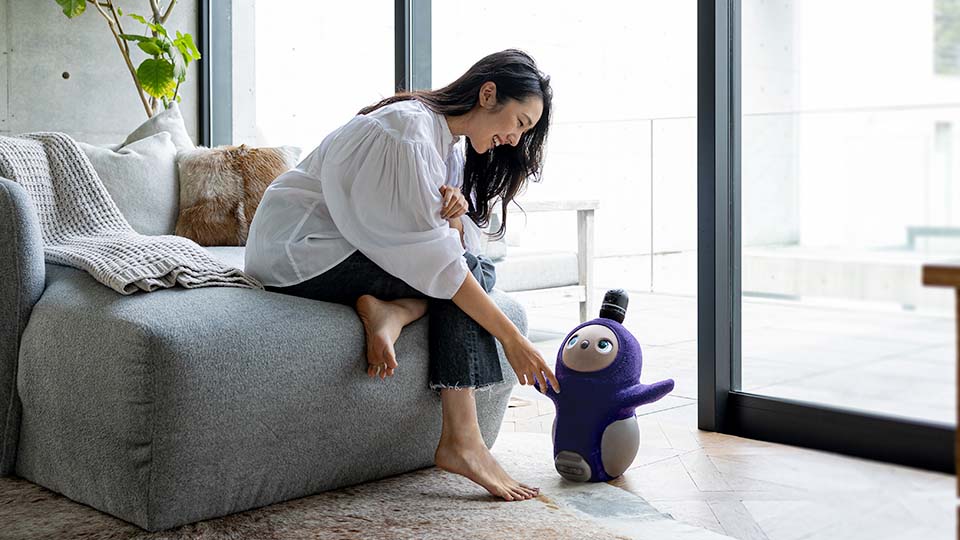 LOVOT: Cute and advanced
Tech start-up Groove X launched its flagship product, the smart family robot Lovot, in 2019 as an example of what the company calls "Emotional Robotics".  Promoted as a "cute" robot users can develop an emotional bond like a pet with Lovot which has been fitted with expressive eyes and even generates physical warmth like a dog or a cat. Some of the qualities that make the robot so likeable are its ability to react when caressed and laugh when tickled.

But beyond being adorable, or as the company claims, lovable, the robot also boasts loads of cutting edge technology.  Its deep learning capabilities enable the robot to make real-time decisions, and because of its over 50 sensors, it has the ability to behave very much like a living being.

Moreover, the Groove X robot's horn-shaped antenna allows it to recognise its surroundings with a luminosity sensor, a 360-degree half-sphere camera, a half-sphere microphone that can detect the direction of sounds and voices, and a thermal camera that can distinguish human beings from objects.
In addition, its obstacle sensor detects objects in its path while distance sensors measure the distance to them. The robot's depth camera permits it to grasp differences in height, and choose optimal actions like rotating, going backwards, or moving in a curve.

All of this in stocked inside a small body that weighs just 4.3 kg.
Improved facial recognition
The new collaboration between CyberLink, Macnica, and Grove X aims to improve Lovot's ability to recognise its users, increasing its capacity to take in broader angles, process information and recognise multiple members of the same household.
Because Lovot is a small robot that often needs to view people's faces from below, the capability to quickly identify and match individuals from an angle was a necessary addition.  With CyberLink's FaceMe, the robot will be able to process a wide field of view, such as angled facial images, in real-time and accurately confirm an individual's identity in less than 0.2 seconds with an accuracy rate of 99.7%.

Macnica, the other new technology partner, will provide a facial recognition engine to improve accuracy and allow Lovot to effectively recognise and interact with multiple users. Although powerful, the new engine will require modest hardware demands, even while running on the embedded systems used by Lovot.

"With the personalized interactions that AI facial recognition can trigger for different household members, individuals will now gain a much more customized experience with Lovot," said Dr Jau Huang, Chairman and CEO of CyberLink.
This increased recognition capacity will also further strengthen bonds between users and the robot, the company says. "We are confident that the enhanced ability to recognise different household members will boost Lovot's sense of companionship, similar to how a person grows emotionally closer to a pet as they spend time together," Huang continued.

For more Smart Home news, click here.