Earphone / headphone market set to exceed €153bn by 2028
The earphones and headphones market is anticipated to reach a record $175 billion (€153bn) by 2028, according to a new study by Global Market Insights Inc. The market growth can be attributed largely to the growing technology utilisation among fitness and sports enthusiasts, the report finds.
The growing focus on channel expansion is expected to drive demand for earphones and headphones, Global Market Insights said, and leading brands are looking to improve their industry reach across different regions to cater to a large set of customers. This factor has encouraged them in forming and maintaining strategic partnerships in the sector.
The integration of advanced technologies such as AI and touchless sensors will also impel industry revenue for earphones and headphones, GMI states. Through this integration, companies are developing features including active noise cancellation, sound quality, battery life, voice isolation, and on-device control usability.
Other factors driving demand will include rising demand from the corporate sector, because, to improve after-sales services, automobile, IT, military & e-commerce platforms are establishing new support or call centres. The introduction of new facilities will stimulate product demand, facilitating proper communication between the operator and the end-user.
The introduction of a new product range in the wireless earphones and headphones segment will, says GMI, accelerate earphone and headphone market progression. The industry players are expanding their portfolios to offer consumers improved battery life, connectivity range, and sound quality capabilities.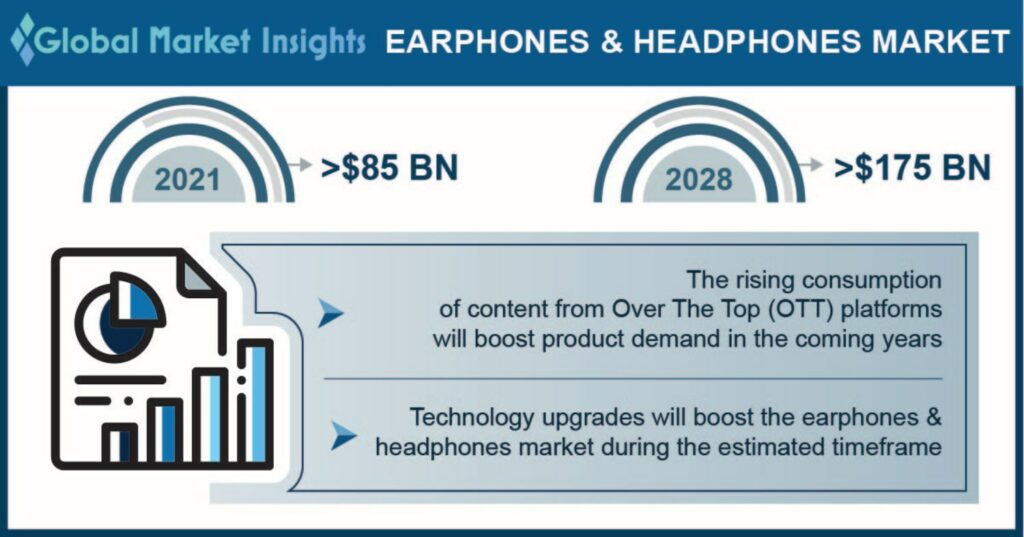 The growing adoption of e-commerce platforms will augment the industry value. Consumers are shifting toward online shopping websites for the purchase of electronic goods and to avail ongoing price discounts and home delivery services.
The rising consumption of content from Over The Top (OTT) platforms will foster product demand in the coming years. Individuals are currently utilizing online streaming sites for watching TV shows, movies, and stand-up comedies. This factor will increase technology requirements for an enhanced sound experience.
The rising demand for high-end earphones and headphones in North America will also support the growing market value, GMI states, adding that to receive a high-quality and comfortable sound experience, consumers are purchasing top models from industry participants. They add that this factor has encouraged companies to introduce a new range in the region.
For the full report, click here.
For more audio news, click here.
…
Photo – top of page – Bruce Mars / Unsplash