GIGABYTE reinforces product line with user-friendly solutions
The leading computer brand, GIGABYTE, has enhanced its catalogue of high-performing computer accessories and devices with more accessible features.
There are a range of new GIGABYTE devices to report on. The Intel-based Z790 series of motherboards is one standout, with the Z790 Aorus Xtreme, the Elite AX and the Master variants, all promising to "ascend the throne of gaming." For one, the Elite AX has a range of exciting features. The model has advanced thermal design, which offers users stability with the CPU, chipset and SSD, thanks to low temperatures even with full load application and a demanding gaming performance.
"With the fast-moving technology changes, GIGABYTE always follows the latest trends and provides customers with advanced features and latest technologies," the company claims.
"GIGABYTE motherboards are equipped with upgraded power solution, latest storage standards and outstanding connectivity to enable optimised performance for gaming."
The X670 range of motherboards also offer a multitude of benefits for avid gamers. The Elite AX model features software that helps users customise and control different parts of the motherboard, offering customers the chance to alter lighting effects and more. Furthermore, the device is marketed as "ultra durable," with a design that apparently utilises the best components to guarantee a solid build.
These motherboards from GIGABYTE are fitted with a PCIe EZ-Latch design. This means users can detach the graphics card from the PCIe slot with ease.
"These latest-gen motherboards also support Intel XMP and AMD EXPO overclocking memory modules for maximum compatibility, and GIGABYTE BIOS comes packaged with pre-installed profiles to help users get greater performance with ease," the company claims.
Also worth pointing out is the latest AORUS RTX™ 40 series MASTER models, which feature the unique LCD Edge View. This is an LCD screen that gives users the opportunity to analyse and track the device's performances in real-time. Furthermore, users can customise their gaming experiences with graphics or animation of their choice.
The company's range of gaming monitors includes the M32U and M28U. These monitors have the unique GIGABYTE Arm feature, which is "ergonomically designed to offer [an] extensive range of height, tilt, swivel and pivot adjustments," as put by the company.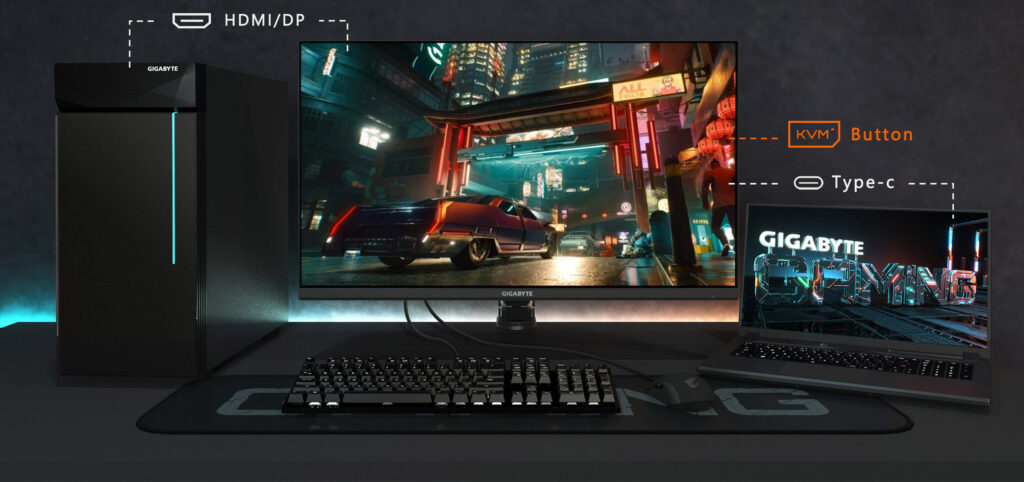 Highlights from the M32U model include OSD Sidekick, which allows users to easily configure display options at the click of a button. The Black Equalizer setting allows gamers to darken their scene without affecting the overall display. This feature has many unique applications, and can be used by gamers to find enemies in low light.
Customers use the Dashboard to view important information regarding hardware. This info updates in real time, and can also be customised to show what the user wants to see and analyse. The Auto-Update function ensures that GIGABYTE's gaming monitors are kept up to speed, even while the user is gaming, and the 6 Axis Colour Control feature lets users adjust the colours of red, green, blue, cyan, magenta and yellow individually.
On the other hand, the M28U features an impressive one millisecond GTG response time, along with IPS-grade colour. Users can enjoy high resolution and a swift refresh rate, with the monitor offering Ultra HD with 144Hz. Furthermore, the gaming monitor supports HDMI 2.1, which can bolster the gaming experience by supplying a higher bandwidth that supports next-generation consoles.
"From the exclusive tactical features to Arm edition models, the friendly designs further extend to GIGABYTE's gaming monitor lineup which is built with gamers in mind and focuses on the features they need. Tactical features, including Black Equalizer 2.0, Aim Stabilizer, and more, are in-game enhancements that help gamers sharpen their gaming skills." a press release notes.
"GIGABYTE always puts user-friendliness high on the list when designing its products and keeps striving to eliminate pain points for a better user experience."
For more Computing & Gaming news, click here.