Garmin inReach Messenger stays connected even outside cellular coverage
The company recently-announced Garmin inReach Messenger, its latest innovation in messaging and security outside of cellular coverage.
The inReach Messenger has been described as a communication-focused device that offers two-way texting, location sharing, as well as SOS features.
The device is "built for those who want a quick and easy way to reach loved ones when they're without cellular coverage," as put by Garmin, and can provide satellite communication as a standalone device or when paired with the recently-launched Garmin Messenger app.
The companion app features Wi-Fi, cellular and satellite connective to offer two-way texting and group messaging. Furthermore, the app can customise whether it uses Wi-Fi, cellular or satellite connectivity, in order to ensure that messages are sent and received. The inReach Messenger and Messenger app offer users the option to send an SOS message to the Garmin International Emergency Response Coordination Centre.
"Garmin inReach devices are trusted by hundreds of thousands of users globally for communication and peace of mind. The new inReach Messenger is no exception, but with its multiple communication networks, ease-of-use, and smartphone compatibility, it is a perfect device for those who want to easily keep in touch when outside of cell coverage," said Dan Bartel, Garmin vice president of global consumer sales.
"Like all inReach devices, inReach Messenger has the ability to send an SOS message to the Garmin IERCC, which has responded to more than 9,000 inReach SOS incidents."
inReach Messenger offers streamlined experience
When possible, the inReach Messenger uses a cellular or Wi-Fi connection to send messages or post to social media. When there is no Wi-Fi or cellular network in range, the device automatically switches to the Iridium satellite network.
The Messenger functions as a standalone device, with no cell phone required. The device has a variety of uses when out in rural surroundings, such as sending messages about the trip, location updates, tracking and sending an SOS message.
SOS button "there when you need it most"
In case of an emergency, users of the inReach Messenger can press the SOS button. A distress message is then sent to the Garmin International Emergency Response Coordination Centre, a professional emergency response centre which operates 24 hours a day, seven days a week.
The Centre can communicate with the user of the inReach Messenger, as well as communicating with local search and rescue organisations, or other resources. Users are given confirmation that search and rescue has been alerted, and updates are also provided. The incident is monitored by the Centre until it is resolved.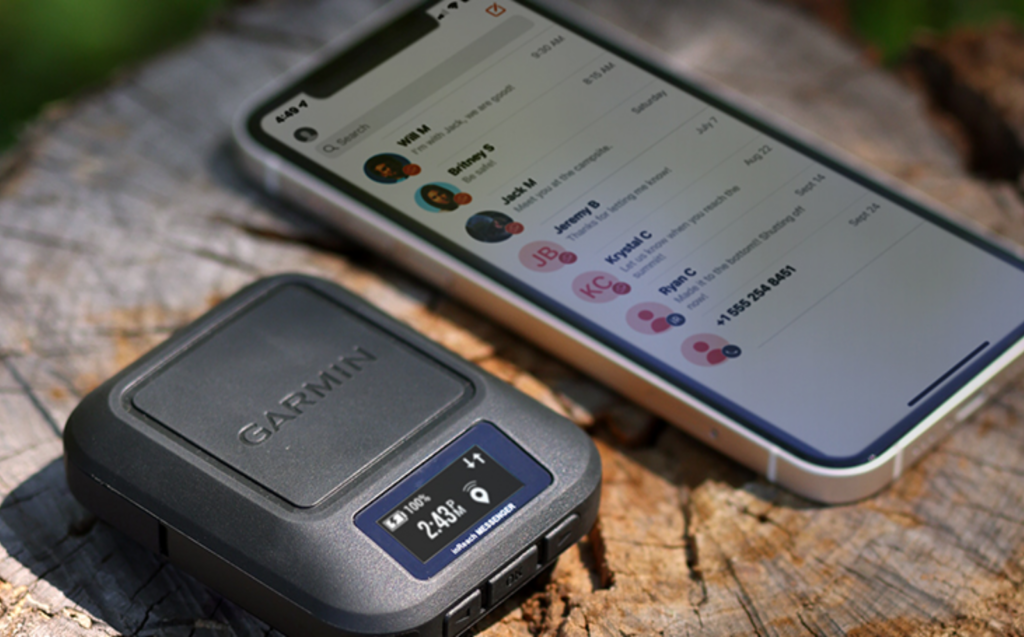 Built-in features to enjoy rural experiences
The inReach Messenger comes with a plethora of features to enjoy camping and other rural activities. For one, the device has up to three weeks of battery life. Secondly, a small build means the Messenger can fit in the palm of the hand, weighing approximately 113 grams. Additionally, the device can withstand exposure of water to one metre for up to 30 minutes.
Garmin has over 80 devices that can be paired with the device, such as smartwatches and navigators. The Messenger can send and receive messages, share a location, receive smart notifications and even send an SOS message from the device that has been paired.
Other standout features for camping and hiking experiences include TracBack routing. This unique feature allows users to navigate back to their starting point via the device, to avoid getting lost. inReach weather forecast service offers detailed weather updates that can appear on a user's inReach Messenger or on a paired compatible device. Users even have the option to request forecasts in their current location, or at other destination points on their journey.
Check-in messages allows users to check in with contacts directly by using simple, preset messages which notably do not count towards the allocated text messages given by an active satellite subscription.