eufy Security launches new solar-powered security camera, its most compact ever
eufy Security packs solar power and infrared night vision into its latest and most compact SoloCam home security camera, the S220
The smart home security brand, a division of the Chinese electronics manufacturer, Anker, has built a solid line up of home security cameras, video doorbells, floodlight cameras, SoloCams, alarm systems and security trackers. The latest addition to eufy Security's product portfolio, the standalone S220 SoloCam, is a powerful security camera that offers eco-friendly solar charging, LED night vision and local data storage all in a compact format.
"We're excited about the full set of human detection, data storage and energy-conserving features we were able to build into the compact design of our newest SoloCam," says Frank Zhu, eufy Security General Manager.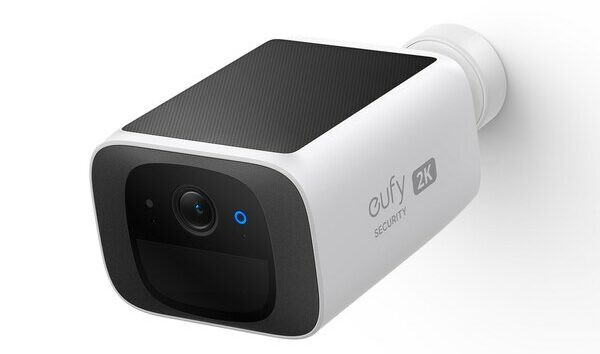 Eco-friendly home security
The new compact camera, which measures just 97 x 80.5 x 57.5 mm and weighs only 320g, comes equipped with a built-in 0.9-watt solar panel. This solar power collector enables the S220 SoloCam to harvest up to 400 mAh of solar energy per day. An amount of energy that, according to the company, adds up to more than three times the average daily wattage the camera needs to operate and allows users to feel confident that their homes are under constant surveillance, both day and night.
To promote its new, more eco-friendly security camera solution, the firm is urging consumers to trade in their old, less energy-efficient security cameras and receive a badge symbolizing their choice of a more sustainable home security device. "Pairing the S220 with the camera trade-in program brings even more value to this innovative device. It's a win-win-win for our customers, the environment and the eufy Security team," adds Zhu.
Nevertheless, should weather conditions not allow it to charge, the new home security camera does come with a 3-month backup battery.
Clarity, even at night
Thanks to the home surveillance camera's f/1.6 aperture lens with its 135° field-of-view, users will be able to see even small exterior details with clarity. And because of the S220's infrared LED night vision technology, the camera offers the same image clarity in the dark.
Moreover, apart from its powerful imaging capabilities, the S220 also picks up sound and with its two-way audio system detects external audio within a total range of 8 meters.
Data storage
As with the home security brand's other devices, the new camera safeguards users' privacy by storing data locally under encryption accessible only by the user. 8 GB of internal local storage are included with the SoloCam, but users have the option to link the S220 camera to eufy's Security Homebase 3 data hub for up to 16 TB of local storage and without having to pay any monthly fees for storing or accessing their data.
In addition, the S220 boasts the same advanced tech as the firm's other devices. With an integrated AI technology system that lets users receive fast and accurate human detection alerts, the solar-powered camera also supports both Google Assistant and Amazon Alexa commands and offers 2.4 GHz of WiFi connectivity.
Easy installation and durability
eufy Security products are known for their ease of installation and the new camera is no exception. As a completely wireless device with compact dimensions, installing the S220 is as simple as choosing a spot that receives daily sunlight and drilling a single hole to mount it.
Furthermore, the S220, like the firm's previous outdoor security cameras and devices, has been built to last and to withstand outdoor weather conditions like rain, hail and heat, thanks to its IP67 waterproof rating.
Eufy Security's S220 SoloCam is now available in the United States and can soon be purchased in the UK and Germany.
For more Imaging news, click here.