Premium air purification robot that combines performance, convenience and design
With the Airbot Z1, Ecovacs Robotics has launched its first "ground-breaking" air purifying robot.
Ecovacs says its latest air purifier can help keep homes fresh and comfortable even after returning from vacation or working long hours indoors.
It not only filters and disinfects the air, but – thanks to Ecovacs' latest technology – also monitors the air quality at all times. It also comes with AI-supported mobility, and can easily be controlled in all rooms via the YIKO voice assistant or the Ecovacs Home app. The robot has been carefully designed to compliment any interior. In addition, it can play the user's favourite playlist while working its way around the house.
Extensive & powerful air management with HEPA filter and UV disinfection
The Airbot Z1's powerful air management system provides clean air by removing bacteria and formaldehyde via an advanced air purification system with 659 m³/h CADR and HEPA H13 filtration performance. The built-in UV disinfection module also cleanses up to 99.9% of three types of bacteria and viruses for added protection.
The result: no mist, no water stains, no white powder residue, no damp floor.
A mist-free humidifier and an air freshener for a more comfortable indoor climate with stable humidity-levels. Its 2-liter tank is easily filled with water to provide an optimal indoor climate throughout the day. In addition, the humidifying filter are easily removed, and the tank easily cleaned, to prevent bacteria from settling inside.
Easy and mobile air purification with AI support and navigation
The mobile and wireless air purification robot measures and optimises temperature, humidity and air quality in real time from PM2.5 thanks to its highly accurate VOC sensor. It can also be linked to the provided Air Quality Monitor, so more precise air quality levels can be displayed.
The Airbot Z1's smart voice and sound recognition technology, YIKO, makes interactions and controls easy and intuitive.
Its improved SLAM mapping algorithm, TrueMapping 2.0, is four times more accurate with small objects than LDS, allowing the robot to safely navigate through the home, says the company. It also allows the Airbot Z1 to detect obstacles from up to 10 meters away.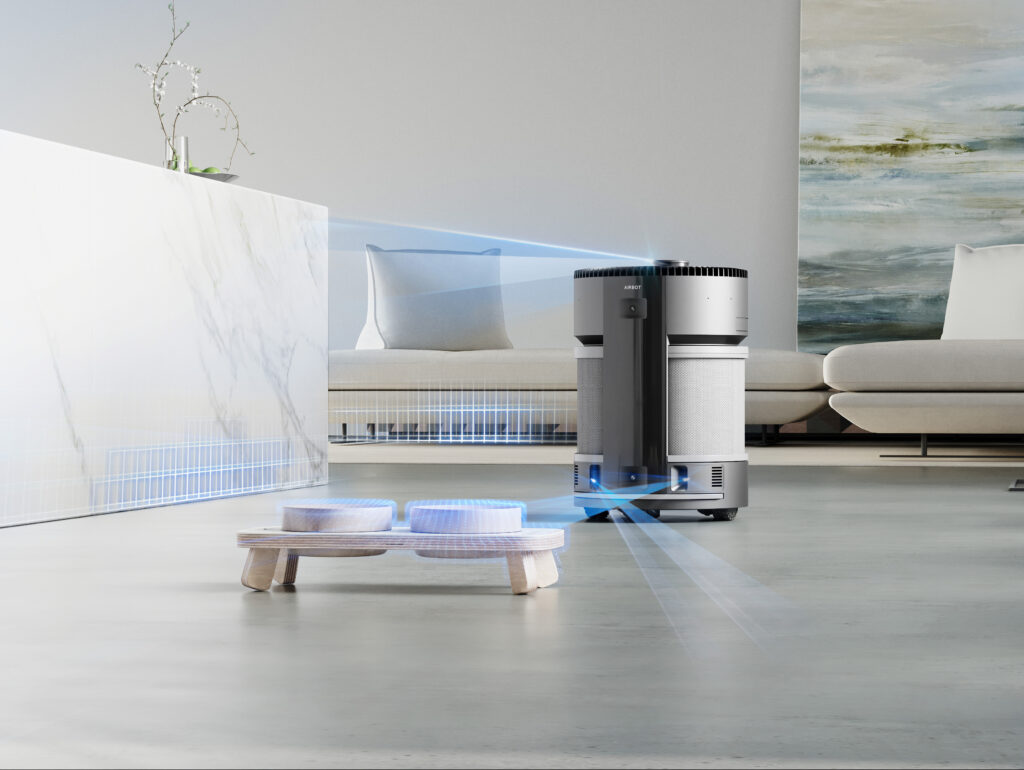 The Ecovacs Airbot Z1 can detect objects up to 10 metres away
Equipped with a 960P HD starlight camera, the robot also delivers crisp images at any time, day and night, allowing you to monitor your own home remotely, and when paired with the Ecovacs Home app, the can also display your home in 3D.
Timeless design: Airbot Z1 combines performance with style and sound
The Airbot Z1 by Ecovacs, with its Jacob Jensen Design, has been built to blend into any home. While doing it's work, the device can be programmed to play your favourite tunes or podcasts through its two 7V speakers via Bluetooth. Weighing 14kg and measuring 350 x 369 x 523mm, the Airbot Z1 is highly manoeuvrable. It comes with a Li-Ion battery with 5200 mAh, which has a charging time of about 3 hours and a maximum operating time of about 180 min (in standard mode).
A history of making better robots
The Ecovacs Group was founded in 1998 by Qian Dongqi. In 2006, the electronics manufacturer expanded its business through Ecovacs Robotics, a company specialising in the research and development, design, manufacture and sales of household robots.
Under the motto "Robotics for All", the future vision of the robotics manufacturer is to promote innovative solutions in order to create a symbiosis between humans and robots in everyday life as well as in production.