Dometic DrawBar: novel wine cooling solution for homes with limited storage space
Swedish premium lifestyle brand Dometic expands its interior appliance portfolio with its groundbreaking compact wine cooling drawer, aptly named Dometic DrawBar. With a five-bottle capacity and integrated design, this new product will be previewed at IFA 2022.
Dometic DrawBar offers the functionality of a full-size wine cooler in an elegant compact design that fits five bottles. The product has been designed and engineered to be seamlessly integrated in 60cm wide standard kitchen cabinetry, either under a compact appliance or under the counter. With the option to be faced with glass, or custom panelling, installation is easily customisable making it the perfect addition to any kitchen.
Where dimensional constraints won't allow for a full-size wine cooler, Dometic DrawBar brings an expert solution that offers precision cooling technology. Featuring a user-friendly control panel, the appliance offers five preset temperatures for cooling and storing white, red and sparkling wines. This innovative cooling drawer is also equipped with a humidity tray that works to maintain optimal humidity level inside the cabinet. Its five-bottle capacity can accommodate everything from a long Reisling to a large Champagne bottle.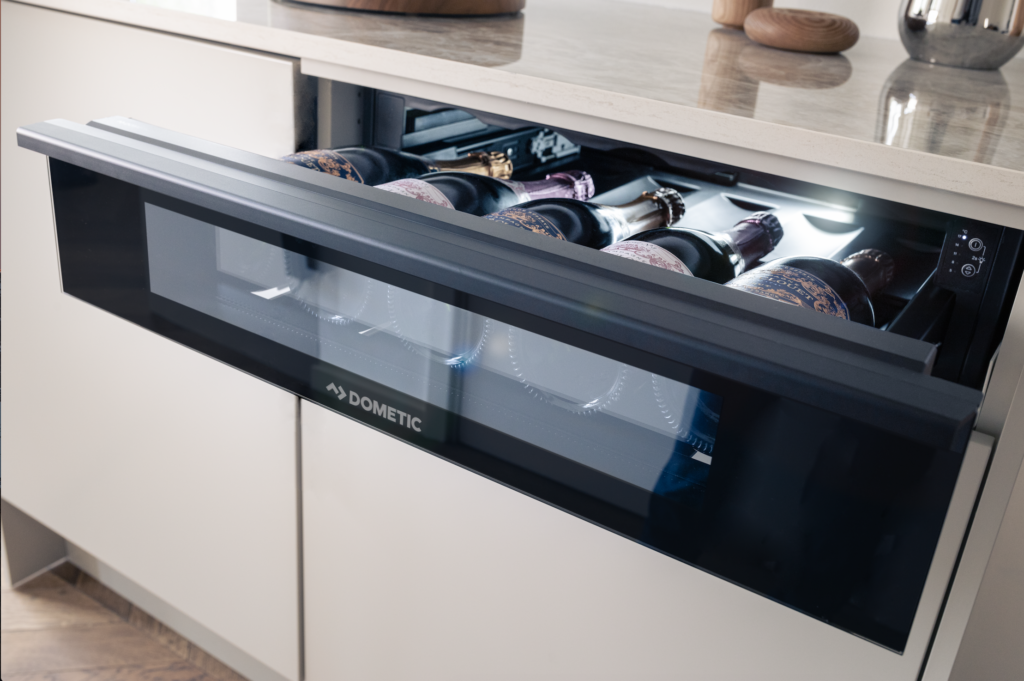 Featuring a removable rack with silicone edges, the user experience is easy and elegant. Soft illumination fades on and off as users open and close the drawer and incorporates Dometic DrawBar's quiet and energy efficient cooling technology. In other words, it brings a new kind of innovation that is smart, ergonomic and simply designed, drawing on our Scandinavian heritage, for a variety of appliances across the home.
DrawBar leverages Dometic's expertise in cooling technology, a legacy of which dates back to 1922, when two young Swedish engineers invented the absorption cooling technology, as well as its rich history in developing appliances for compact spaces.
Meet Dometic Home and find out more at IFA Berlin Hall 6.1 / 113.