Digi-Key Electronics Introduces myLists Quotes
Electronics components specialist Digi-Key Electronics has announced that it has enhanced its myLists tool to now include price quotes to improve ordering efficiency.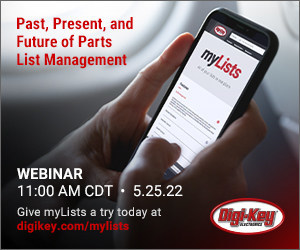 Digi-Key Electronics, headquartered in Thief River Falls, Minn., USA, is a leader in the high service distribution of electronic components and automation products worldwide. As a pioneer in this space, Digi-Key provides more than 10.8 million components from over 2,300 quality name-brand manufacturers with a broad depth of product in stock available for immediate shipment. The company also supports design engineers and procurement professionals with digital solutions and tools to make their jobs more efficient. 
myLists is a modern parts list management tool that consolidates bills of materials (BOMs), price and availability lists, and quotes. This new quote integration allows users to efficiently upload lists of up to 1,000 parts to check stock, instantly secure pricing for 30 days, collaborate with colleagues and place orders all in one place.
The new features include:
Increased functionality with a modern, easy-to-use interface to convert lists to quotes
Ability to set preferences for preferred package types
Option to duplicate an expired quote to update pricing
Capability to quote 6 quantities per part number
"We are excited to introduce a unified list experience for Digi-Key's myLists users," said Linda Johnson, the company's executive vice president of operations. "Digi-Key customers can now work smarter, not harder, by using myLists' quoting functionality to keep everything in one convenient location, create multiple quotes from one list of parts and easily convert quotes to online orders. This enhancement is just one of the many ways Digi-Key is continually improving the customer experience."
Improved VAT experience for European customers
The components specialist has also announced that it now offers new, more flexible delivery and value-added tax (VAT) options for customers in Europe that take advantage of the Import One-Stop Shop (IOSS) as well as UPS World Ease.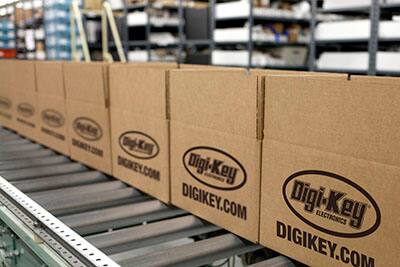 With these options, VAT can be collected at the time of order for business to consumer (B2C) orders to eliminate unexpected charges after online transactions are completed. Customers can still use a validated VAT number to defer payment later in the purchase process.
"Digi-Key continuously looks for ways to improve our customers' purchasing experience, so we are thrilled to roll out more streamlined delivery and VAT options for customers based in Europe," said Ian Wallace, vice president, Americas and EMEA business development at Digi-Key. "These more flexible options eliminate unexpected charges and create a more seamless, simplified ordering process for engineers and makers around the world."
New video series
In March this year, Digi-Key launched "Revolutionizing Automation," a new video series that explores cutting-edge automation and control technologies.
Sponsored by Omron and Siemens, the four-part video series highlights how the company processes over 5.3 million orders annually with an efficient and effective supply chain enabled by the world's leading suppliers that are revolutionising automation and control solutions including sensors, motors and controllers, robotics, connectors, power, RFID and more.
"Automation and control components are not only something that Digi-Key offers in its extensive product portfolio, but also something that we use every day to ensure that orders are fulfilled quickly, safely and effectively," said Eric Wendt, the company's director of automation. "Automation and control is a quickly-growing market that is essential to ensuring global supply chains continue to run smoothly throughout ups and downs, so we are excited to share more about Digi-Key's use of this technology in this video series."

The first video in the series, "Totally Integrated Automation," went live in March on Digi-Key's website. The episode showcases conversations with leaders at Siemens about the building blocks of Totally Integrated Automation Portal (TIA Portal) that are now available to Digi-Key customers.
The second episode, "Robotics and Machinery," offers a look at how Digi-Key is utilising new robotics technologies from Omron, and others, to automate tasks throughout the Digi-Key warehouse. The video was released in early April.
In late April, the third episode entitled "Inventory Management and Sorting," focused on the Siemens products that are empowering the management of Digi-Key's new facility, a hub of automation solutions that manage one of the largest electronics catalogs in the industry.
The fourth and final video in the series is called "Efficiency and Worker Safety" – launched this month, highlighting the many ways Omron's automation solutions streamline routine tasks to keep workers safe.
…
Read also: €189 MILLION INVESTED TO INCREASE US OUTPUT OF BATTERY COMPONENTS FOR ELECTRIC VEHICLES
…
Photo – top of page – Blaz Erzetic / Unsplash