New products, new home for Panasonic at IFA 2022
Panasonic has moved into IFA's spacious hub27 to reduce CO2 emissions and showcase innovations

The space occupied by Panasonic at IFA Berlin – the 5,000 sq m hall in hub27 – was divided into sections by hanging gossamer white drapes, punctuated by cascading plants. The effect of this is to soften the ambience, as well as cleverly partitioning the three key areas Panasonic are promoting here: "Spatial Wellbeing" (TV, home entertainment and indoor climate), "Outer Wellbeing" (personal care) and "Inner Wellbeing" (small kitchen appliances). Under the umbrella of a new brand action tagline premiering at IFA 2022 'Create Today. Enrich Tomorrow' there is also a fourth pillar: "Social Wellbeing."

Aligned with this, the philosophy behind the new stand design was not just aesthetic. The exhibit has saved a total of 140 tons of CO2 emissions compared to the Panasonic IFA stand in 2019, as shown by calculations based on the Green House Gas (GHG) Protocol. This corresponds to a reduction of 71%. These savings were primarily achieved through logistics (transport of materials and products), careful choice of materials, the way the products are presented and the decoration of the walls. The amount of CO2 saved corresponds to the emissions of a mid-range combustion engine car travelling one million kilometres.

As well as branded areas for the latest LUMIX and Technics products to be presented, stand-out products here included items from the Panasonic premium TV range including advanced OLED and Core LED series with screen sizes from 77 to 42 inches, the highlight being the LZW2004 flagship series, whose master OLED Pro panel sets standards in the market in terms of brightness and colour fidelity.

Serving the need for sustainable and affordable heating and cooling solutions for homes, offices and other commercial spaces is clearly an important factor here. The new Aquarea EcoFleX system – one of the highlights of Panasonic's energy solutions – combines a ventilation unit with its patented nanoe™ X technology and an air-to-water heat pump, combining air conditioning with air purification in one. The innovative hybrid system offers energy-efficient space heating, space cooling, clean air and hot water heat recovery. It also inhibits five types of pollutants, including certain bacteria and viruses as well as odours, ensuring a perfectly conditioned ambience and clean air, contributing to improved indoor well-being. The Aquarea EcoFleX control is equipped with Wi-Fi as standard. This enables intelligent control and continuous monitoring of energy consumption, via the Panasonic Comfort Cloud App. The EcoFleX systems can also be connected to the Aquarea Service Cloud. In this way, installers or service partners are able to take care of their customers' EcoFleX systems remotely and even identify and fix errors in good time. When operated with green electricity, Aquarea air/water heat pumps cause practically no CO2 emissions, since up to 80% of the heat energy required is taken from the ambient air. The Aquarea EcoFleX system is thus one of the highlights of Pan's energy solutions.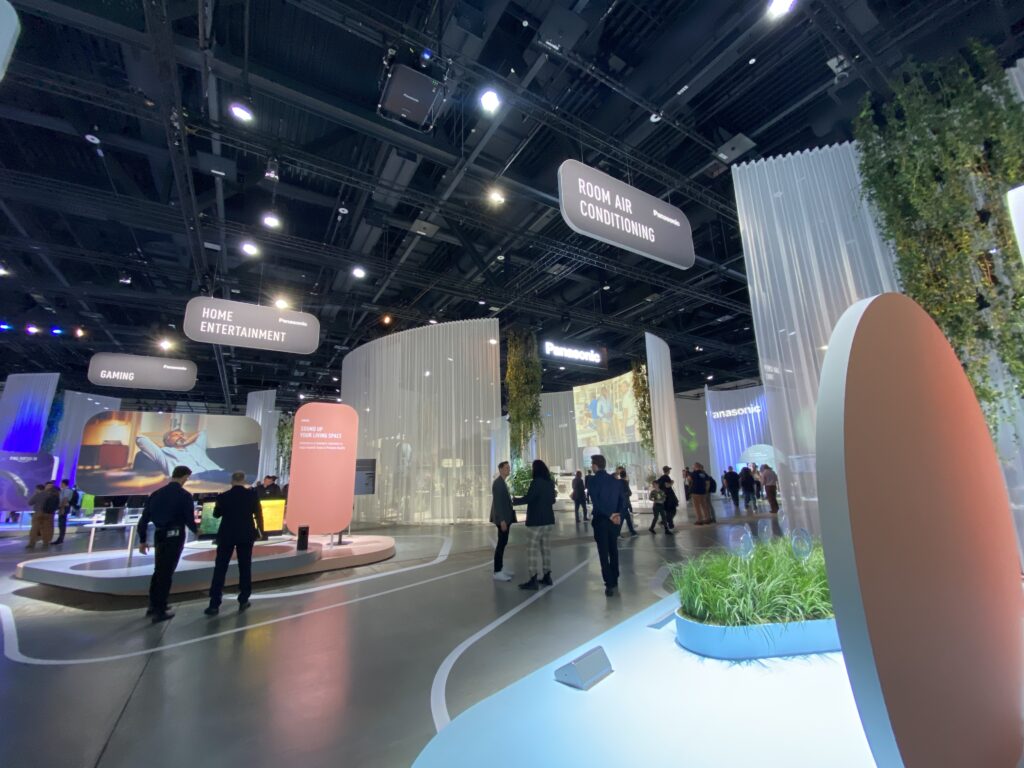 ---
Sustainable future tech: central to Panasonic's space
In addition to the modular stands around the hall, there was also a central area where Panasonic showcased future products and technologies in the field of well-being, demonstrating its sustainability activities in relation to carbon neutrality and the circular economy. Information was available showing sustainability pilot projects and energy technologies that support the decarbonisation of society and help solve other environmental problems of our planet. Panasonic is aiming for carbon neutrality by 2030.