IFA 2022 Keynotes to present the hottest topics shaping the digital world
Speakers from some of the world's most innovative companies will be discussing the future, and what challenges and opportunities it holds, in this year's IFA Keynotes
Cristiano Amon, CEO of Qualcomm, will kick-off the IFA keynote event at 10:00am in Hall 23 by looking at the future of connectivity and how key trends and technologies are enabling extraordinary experiences everywhere.

"Sustainability as a corporate philosophy" is the focus of Hakan Bulgurlu, CEO of the Turkish household appliances manufacturer Arçelik, who will examine how companies can maintain growth without impacting the environment, between 2:00 and 2:45pm.

The smart device brand Honor Device Co. will present its new strategy during their keynote "A new era of connectivity" at IFA Berlin 2022, starting at 5:00pm. It will be presented by George Zhao, CEO, and Tony Ran, President of Honor Europe, who will also be taking a closer look at how EU consumers benefit from the new Honor Smart Life products.

They will be followed by leading global provider of information and communications technology (ICT) infrastructure and smart devices, Huawei, who will be giving their keynote speech on 3 September at 10:00am.

Join Mike Roberts, Vice President & Global Head, Product, Partner and Technology Marketing, Qualcomm Technologies, and a panel of industry experts at 2:00pm, as they discuss disruption across diversified ecosystems, changing user experiences, and the new rules of engagement.

The energy management and automation company Schneider Electric will discuss how smart home technologies and energy savings can help reduce CO2 emissions in their keynote speech, titled "Smart Home is the Smart Option for a Sustainable Future", presented by Gwenaelle Avice-Huet, Chief Strategy & Sustainability Officer.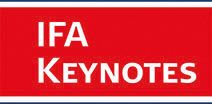 PROGRAMME
Friday, 2 September 2022, Hall 23
10:00 – 10:45 a.m.: Opening Keynote Qualcomm
2:00 – 2:45 p.m.: Keynote Arçelik
5:00 – 5:45 p.m.: Keynote HONOR

Saturday, 3 September 2022, Hall 23
10:30 a.m. – 11:15 a.m.: Keynote Huawei
2:00 – 2:45 p.m.: Qualcomm Marketing Panel
5:00 – 5:45 p.m.: Keynote Schneider Electric