Canon launches its first compact camera for vlogging, the PowerShot V10
Canon's first lightweight and easy-to-use camera is specifically designed for vloggers and social media content creators, the PowerShot V10
The Japanese imaging giant is looking to lure vloggers and content creators away from their smartphones by offering a pocket-sized digital camera alternative. Packed with all of the features content makers need to create high-quality handheld videos, the PowerShot V10 offers a lightweight all-in-one solution.
Compact and portable
With a sturdy vertical body -an entirely new design for the company- the new PowerShot V10 is compact, portable and unobtrusive, making it an ideal solution for vloggers looking to create videos anytime and anywhere, says Canon. Weighing in at just over 211g, the new device fits easily into a pocket and can be operated almost completely single-handedly.
While extremely compact, the new PowerShot V10 also packs a lot of video-making power into its reduced dimensions, offering 4K UHD movie recording, a high-quality microphone with noise reduction, and 14 unique colour filters. Moreover, the new camera comes equipped with a 2.0-inch LCD touchscreen that video makers can flip to the front and, for shooting free-standing content like tutorials, a built-in stand with an easy tilt adjustment of up to 30 degrees.
High quality video and sound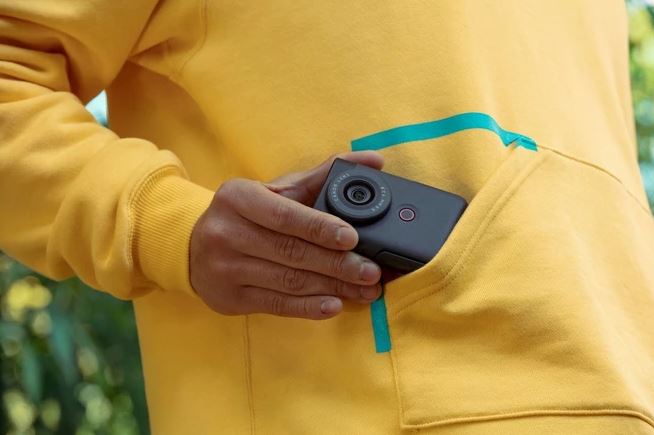 Canon's new digital camera, built around a one-inch CMOS sensor, is capable of delivering 4K video quality while also offering stills shooting capabilities, the company says. In addition, the camera's Movie Digital IS mode helps vloggers create sharp, detailed handheld videos without risking camera shake while its auto level feature will assist in keeping videos straight by avoiding slanted clips.
The camera can record up to one hour of continuous video, and for added cinematic atmosphere, it offers video content creators the ability to easily switch between 14 colour filter effects as well as a Smooth Skin shooting mode. And, another handy feature for vloggers is the camera's capacity to shoot in both vertical and horizontal orientations, thus matching users' favourite social media platforms.
Thanks to its two large stereo microphones designed for narration and a third audio noise reduction microphone, Canon's PowerShot V10 can be used indoors and outdoors, and even in the noisiest of environments. The camera's built-in wind filter further improves sound quality in outdoor conditions and as a part of the advanced accessories kit, users looking for additional outdoor noise reduction can purchase an add-on windshield.

Connected
The PowerShot V10 is fully compatible with Canon's Camera Connect app, allowing vloggers to transfer their videos to their smartphones or tablets via Wi-Fi. Additionally, the new digital camera boasts built-in image.canon integration for temporary cloud storage, from which content creators can directly transfer their videos to the online platforms of their choice.
Vloggers can also hook up the new camera to their laptops or PCs via its HDMI and USB ports and even use the new digital camera as their PC's webcam. And for video makers on the go, the device can easily be recharged with USB-C.

More support for vloggers comes from the simplified live streaming capabilities included in the PowerShot V10 that let them take content straight from the camera to their followers using the camera's dedicated menu options for live streaming on YouTube and Facebook.
Standard and Advanced Options
The Canon PowerShot V10 is available as a part of two different bundles: a standard kit and an advanced kit. The standard kit includes a power cable, soft case, lens cap, windshield and wrist strap while the advanced option, designed in collaboration with SmallRig, includes a cage which can be used to attach a ring light or hold an external microphone.
For more home imaging news, click here.