How artificial intelligence software can become a trillion dollar market by 2032
New research has indicated that the global market size for artificial intelligence software is predicted to reach over a trillion dollars by 2032. But what are the key drivers for this fast-rising industry?
In 2022, the global market size of artificial intelligence software was worth approximately €129.8 billion ($138.4 billion), according to Precedence Research. AI assistants, machine learning and voice recognition are just some of the examples of how artificial intelligence software is prevalent in the lives of consumers around the world. 
"Artificial intelligence software is admired globally due to its supervision to manage the business and operating systems with reduced risk management techniques," Precedence Research notes in a new report, which predicts that the global artificial intelligence software market size could be worth over one trillion dollars by the year 2032, with a compound annual growth rate of 22.97% between 2023 and 2032.
The software is prevalent across key industries such as telecommunications, education, healthcare and automation. With a growing reliance on artificial intelligence services across these industries, it is fair to assume that the market size for AI software will expand over the course of the next ten years. 
There have been important developments across industries like healthcare and automation in recent years that have led to heightened demand for AI software. The effects of the Covid-19 pandemic accelerated the adoption of AI services in the healthcare industry, while global demand for self-driving cars is at an all-time high.
Meanwhile, retail sectors are reportedly invested in obtaining improved data insights from consumers with the help of artificial intelligence. This software is also significant for retail sectors as it can be used for customer services.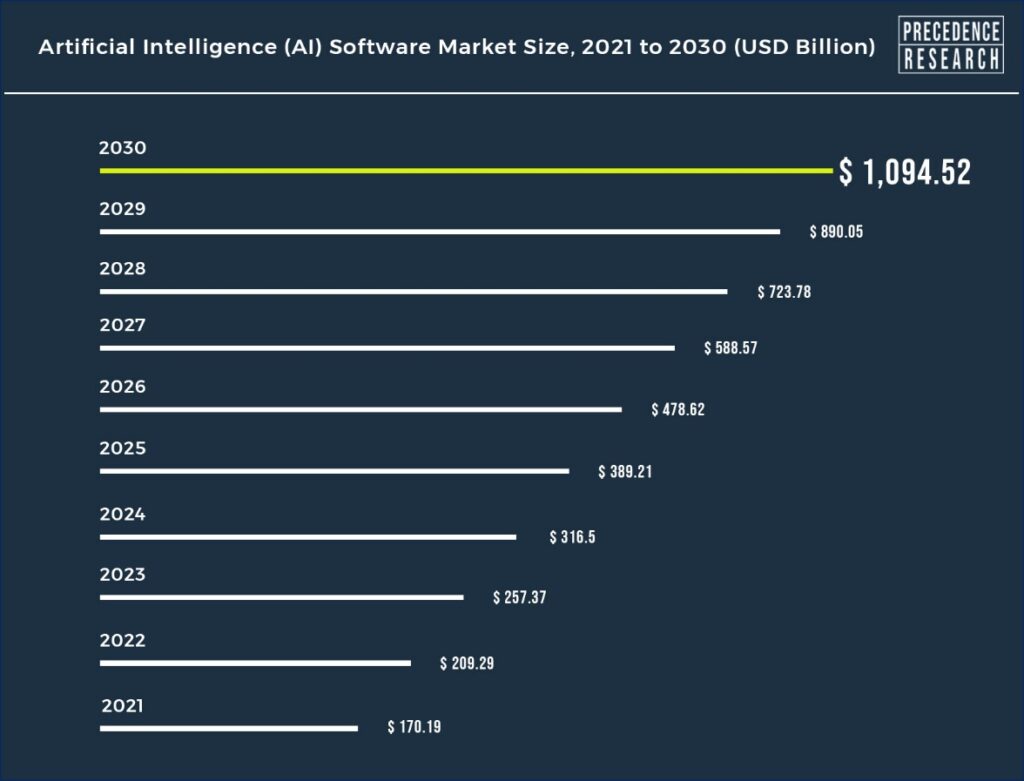 Where the artificial intelligence software market is expected to grow
There are new initiatives across Europe that are leading to AI software market growth. The European Commission has previously announced major investments in AI. The Commission has said it plans to invest €1 billion per year in artificial intelligence, which is predicted to have a big influence on the market across Europe.
North America is seen as a global hub for artificial intelligence software. AI software is appearing more and more in electronic devices for consumers, as well as in the healthcare sector in the wake of the global Covid-19 pandemic. Furthermore, North America is the base for major industry players like Google, Microsoft and Amazon, making the region attractive for investors looking to expand their operations into AI software.
Canada is reportedly developing its AI software market by introducing new strategies, which are funded and coordinated with the Canadian Institute of Advanced Research. Between 2022 and 2030, North America's artificial intelligence software market is expected to grow significantly.
The Asia Pacific region is another region that is forecasted to have significant AI software market growth. AI security software is in demand in industries such as retail, healthcare and manufacturing, with India, China and Japan identified as the main centres for market growth. A growing number of startups in India make the country well-positioned for artificial intelligence software market growth, while China's retail sector is recognised as being a wide adopter of said software. Meanwhile, Japan's robotics industry enables the AI software market to grow in the country.
The Middle East could see AI software market growth thanks to the region's developed gulf countries, as well as committed investments to the development and manufacturing of self-driving vehicles. The Saudi Ministry of Finance recently approved the arrival of AI software companies Faceki and QVALON, as noted by Precedence Research.
In South America, Brazil and Argentina have been identified as two regions with an increasing amount of startups, which the report notes could help drive growth of the region's AI software market.