ARTIFICIAL INTELLIGENCE PLATFORM MARKET GROWING AT MASSIVE 35% CAGR
The artificial intelligence (AI) platforms market is set to grow by US$17.29bn (eds: €15.13bn) at a CAGR of 35% from 2020 to 2025, according to the latest research report from Technavio.
The increased need for automation and optimisation of business operations are driving more organisations to adopt AI-based solutions. The need for automated machine-driven decisions will facilitate artificial intelligence market growth in North America over the coming years. 
Indeed, with the increasing application of robotics in repetitive and risky tasks, end-users are increasingly seeking avenues to eliminate the drawbacks of industrial automation and robotic technologies.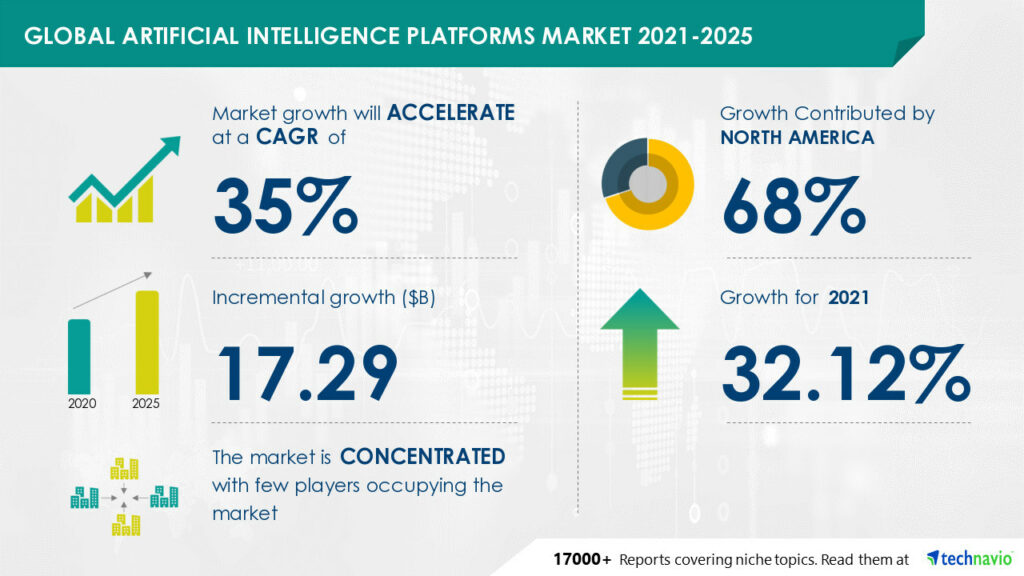 AI provides solutions to issues such as cost, computational capacity, storage, size, power supply, motion mode, and working environment. SMEs are thus adopting cloud solutions to leverage the scalability of hardware and resources offered by cloud providers.
Organisations are able to scale their workload only if and when required and thereby eliminate the need to set up their own data centres that involve high Capex and operational expenditure (Opex).
North America drives market
According to the Technavio report, 68% of the market growth will originate from North America – a key market for artificial intelligence platforms. The US and Canada together hold approximately 26% of all global AI-related patent applications, while IBM has the largest share of AI-related patents, followed by Microsoft and Google. Market growth in this region will be slower than the growth of the market in APAC, Europe, and MEA.
Challenges
The rise in data privacy issues will be a major challenge for the artificial intelligence platforms market. AI applications involve diverse safety and security issues.
The risk of information leakage is high in AI solutions and can result in the misuse or manipulation of data. Also, customers are concerned about the lack of transparency regarding the use and processing of data. These issues can have several legal and security ramifications related to organisational infrastructure, access control, identity management, risk management, regulatory and legislative compliance, auditing, and logging.
AI-based solutions leverage high volumes of data to derive insights for future business planning and optimisation of operations. The data processed by AI can be retrieved from several connected devices, which, however, is affecting data security and privacy through data exploitation, identification and tracking, voice and facial recognition, and customer profiling.
Segmentation & Revenue Generating Segment
The Artificial Intelligence Platforms Market is segmented by Deployment (On-premise and Cloud-based) and Geography (North America, APAC, Europe, South America, and MEA).
Market share growth by the on-premise segment will be significant for revenue generation. On-premises AI platforms are majorly developed and used by large enterprises that have a global presence with the aim of gaining more control and ownership over their operations as well as the data generated and stored within the application.
Organisations apply AI and ML technologies to extract and analyse massive data sets that contain sensitive information. Hence, such organisations prefer to operate through on-premises deployment than in the cloud. 
AI in the supply chain
AI is also being used in several end-use applications where companies can operate without human supervision, facilitating the supply chain.
The machinery and equipment which are AI-enabled can work effectively by acquiring human abilities. Supply chains in manufacturing are quickly adapting AI technologies as part of their digitisation strategies. AI in supply chains helps in organising and analysing data, which helps decision-making problems, ranging from logistics to warehousing.
Such AI-enabled applications in the manufacturing industry are expected to improve efficiency and aid in saving time. The utilisation of computerised reasoning in supply chain management exhibited more subtleties with common sense models from Amazon and Amer Sports.
Amazon is utilising computerised reasoning procedures for web-based shopping and it has automated its warehouse. As the smart warehouses are more advanced in the operations of daily routine. Amazon has used artificial intelligence to provide customers with better satisfaction. Amer Sports is using machine learning successfully to improve the management and predictability of its supply chain. The automation process has taken a big stride because of AI technologies.
…
Photo – top of page – Andrea de Santis / Unsplash